US Senate Confirms Ambassadors to Three Key Asia-Pacific Allies
The Senate yesterday confirmed three nominees, including Caroline Kennedy as ambassador to Australia.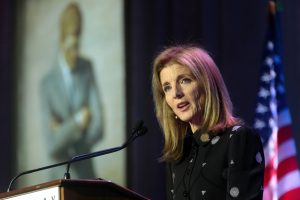 The U.S. Senate yesterday voted to confirm ambassadorial nominees to three important Asia-Pacific allies, partially filling a diplomatic vacuum that has undermined Washington's recent statements of commitment to the region. As the Associated Press reported, the Senate voted to confirm Caroline Kennedy as ambassador to Australia, Phillip Goldberg as ambassador to South Korea, and MaryKay Loss Carlson as ambassador to the Philippines.
Kennedy, the daughter of former U.S. President John F. Kennedy, served as U.S. ambassador to Japan under the Obama administration, while  Goldberg is a career Foreign Service Officer (FSO) who recently completed a tour as ambassador to Colombia. Carlson, another career FSO, comes to her post following postings in Argentina and India.
The clutch of confirmations, which also included the confirmation of the Biden administration's nominees for ambassador for Norway and ambassador-at-large to coordinate the U.S. global efforts to combat HIV-AIDS, represents a significant boost for Washington's diplomatic presence in Asia, as the Biden administration seeks to assemble partners into a regional coalition aimed at containing China's growing influence in Asia.
The confirmations also come after several years in which Washington's frequent statements of commitment to Asia have been undermined by the inability to confirm ambassadors to fill vacant posts. Recently, this has been due in large part due to the partisan stonewalling of Senator Ted Cruz (R-TX), who vowed to block Biden's State Department nominees until the government imposed congressionally mandated sanctions on the Nord Stream 2 pipeline running from Russia to Germany.
The diplomatic shortfall has been most notable in Southeast Asia. At one stage last year, the U.S. currently had no ambassador in Thailand or the Philippines, both of them long-standing treaty allies, nor in Singapore, perhaps the most important U.S. partner in the region. It was also unrepresented in Brunei, which held ASEAN's rotating chairmanship in 2021, and Timor-Leste, while the post of U.S. ambassador to ASEAN sat vacant.
A number of these positions have since been filled. According to the American Foreign Service Association, the Senate confirmed Jonathan Kaplan as U.S. ambassador to Singapore in November, followed in December by Caryn R. McClelland as ambassador to Brunei, and Marc Knapper as ambassador to Vietnam. Among the Biden administration's other confirmed nominees since it took office early last year are new ambassadors to China, Japan, and New Zealand.
This rash of confirmations suggests that domestic partisan sniping has ebbed long enough for the Biden administration's diplomatic deployments to begin to catch up to the rhetoric of U.S. commitment to the region. To be sure, considerable gaps remain. The ASEAN post remains vacant, and indeed no one has even been nominated. In Indonesia, meanwhile, recently confirmed Ambassador Sung Kim has been forced to juggle his duties with his role as Biden's special envoy for North Korea. Meanwhile, the administration's nominees for ambassador to India and Thailand have yet to be confirmed.
There are many more questions still to be answered about the future shape of U.S. engagement with the region – not least, the much-needed economic component to the Indo-Pacific strategy – but these confirmations have fulfilled a necessary first step: filling the crucial gaps in U.S. representation on the ground.