Why Indonesia Banned Palm Oil Exports
Palm oil firms chasing export profits were driving up costs for consumers, creating a potential political headache for the government.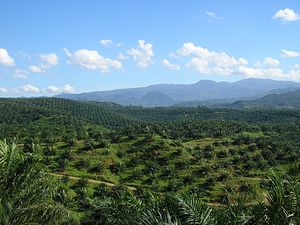 The last several months have been a wild ride for Indonesia's palm oil sector, culminating last week in a blanket ban on exports of both crude palm oil and its refined products, such as cooking oil. Right up until the end the government sent a flurry of mixed messages, walking back its initial plan by saying that exports of crude palm oil would be allowed before reversing itself again at the last minute.
Indonesia is the world's largest supplier of palm oil, so depriving global markets of the commodity is a big deal. It will, among other things, effect the cost of basic goods like cooking oil at a time when food prices are already being squeezed. Trade partners will not be pleased. So why did Indonesia take this extraordinary step?
The simple answer is that it's about prices. According to the Indonesian Palm Oil Association, local production of crude palm oil fell in 2021 compared to 2020, even as global demand surged. When demand increases and supply falls or remains constant, all else being equal, prices will rise. And that is exactly what has happened. In April 2020, a ton of Indonesian crude palm oil was fetching around $545 on the European market. Two years later, that jumped to $1,700.
This has been good for exporters, and for Indonesia's current account. As I wrote last week, booming global demand for commodities that Indonesia has in abundance, such as coal and palm oil, has reversed a persistent current account deficit and placed the rupiah in a relatively solid position as the U.S. Federal Reserve begins raising interest rates this year. It's also drummed up increased revenue for the Ministry of Finance.
But a roaring commodity export market presents a kind of paradox, because while it benefits exporters and the current account, the Indonesian government does not want domestic consumers to pay the global market price for these commodities. A key priority for the government is to ensure that the price of staple goods – such as gasoline, electricity, rice, and cooking oil – remains stable and affordable. Certain types of gasoline have already seen a (quite modest) price hike, and the government is especially sensitive right now to further inflationary pressures.
The problem is that this creates dueling incentives for key actors. The political interests of the state in keeping domestic prices low is at odds with the commercial interests of palm oil producers and exporters, who want to sell as much palm oil as they can at the highest price the market will support. Something has to give, and clearly the government believes that palm oil companies chasing export profits is diverting supply away from the domestic market where profit margins are lower. This has caused the price of cooking oil to surge, and shortages and hoarding were widely reported earlier this year.
To bring the price down, the government first tried some regulatory fixes such as export quotas, domestic market obligations, and price ceilings for cooking oil. Investigations have been launched into palm oil executives and trade officials. But these have been rushed and confusing. They did not bring the price down fast enough and with the Lebaran holiday approaching, when millions gather to celebrate the end of Ramadan, the government felt it needed to be seen taking more decisive action and finally announced a blanket export ban.
Whether this will actually have the desired (or any) effect, on the price of cooking oil in Indonesia is almost irrelevant since I doubt the ban will be in place for long. More fundamentally, this is meant to send a message about the power of the state to discipline markets when it's in the national interest to do so. It echoes actions taken earlier this year, when coal exports were banned to ensure a sufficient supply was available for domestic power plants at below market prices.
As I wrote at the time, that was also primarily about sending a message, which is that the Indonesian economy is pro-market – but only up to a point. When commercial interests are at odds with the political and national interests of the state, the state will intervene to protect these interests. Each time they do this there is a risk of overplaying their hand, as trade partners and investors will not look on these actions kindly, especially when demand for these commodities is not so hot anymore.
But for now Indonesia controls the raw supply of things like coal and palm oil which are in high demand, so their reach can extend pretty far when they want to send a message. And that message – that the domestic market needs to be supplied first and at affordable prices, even if it forces exporters to leave profits on the table – is coming through loud and clear.