A Counter­revolution in the Philippines: Marcos 2.0
What can we expect from Ferdinand Marcos Jr.?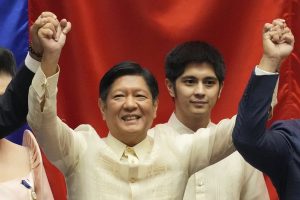 The German philosopher G.W.F. Hegel once claimed that "all great world-historic facts and personages appear, so to speak, twice." For his radical pupil, Karl Marx, the repetition comes with a twist, namely "the first time as tragedy, [and] the second time as farce." Almost 50 years after Ferdinand Marcos placed the entire Philippines under Martial Law, his namesake son has become the country's 17th president. 
In fact, Ferdinand "Bongbong" Marcos Jr., who garnered as many as 31 million votes in the May 9 election, became the first Filipino president in recent memory to win a majority of votes in the Philippines' uniquely bizarre single-round electoral system. (In 1992, Fidel Ramos became the Philippine president with barely a quarter of the total votes.) 
Throughout the campaign, Marcos Jr. largely shunned political debates, including those organized by the Commission on Elections, in favor of well-curated videos on social media platforms, especially TikTok and YouTube, as well as glitzy interviews with trusted journalists and prominent talk show hosts. At once, Marcos Jr. combined elements of authoritarian nostalgia and populist antics: He vowed to bring about "unity" through decisive leadership, law and order, rapid economic growth and massive infrastructure projects, and affordable food for a majority of Filipinos. Soft-spoken and charming, he projected a reassuring image of self-confident leadership, adamantly refusing to directly engage any of his rivals. His campaign shunted aside any criticism of the Marcoses' checkered record as nothing but a smear campaign ("paninira"), while doling out a healthy stream of toxic positivity via a torrent of revisionist vlogs and social media posts. 
In the Catholic-majority country, the Marcos campaign even deployed a "messianic motif" to portray him as a secular savior. Exploiting the Philippines' completely unregulated social media landscape, his army of impresarios and influencers recast the dark days of the Marcos dictatorship as a long-lost "golden era" in Philippine history. In the words of sociologist Randy David, the Marcos campaign construed a denialist-revisionist narrative, which appropriated "the messianic motif" in order to project the ex-dictator's son as "a unifying figure" who would fulfill whatever "promise that his father left unfulfilled." Ultimately, his notoriously vague promises and heavily-sanitized image struck a chord among a majority of voters from all major demographics, especially the youth, but also those from the middle and upper classes of society.
Make no mistake: This was not just another election, but instead a full-fledged counterrevolution.