India's Supreme Court Recognizes Sex Work as a Profession
Voluntary sex work is legal in India but trafficking for sex is punishable under the law.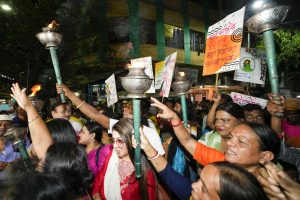 India's Supreme Court recently observed that "sex work is a profession" like any other, and sex workers should not be harassed by the police.
"Sex workers are entitled to equal protection of the law. Criminal law must apply equally in all cases, on the basis of 'age' and 'consent.' When it is clear that the sex worker is an adult and is participating with consent, the police must refrain from interfering or taking any criminal action," the court ruled.
The court ruling is landmark in the sense, that it upholds the dignity of sex workers. It will enable sex workers to avail themselves of the same benefits and facilities like any other citizen.
It should be pointed out that sex work or prostitution is not illegal in India, however trafficking for sexual exploitation is an offence under Indian law. Sex work as an organized trade which involves pimping, soliciting, exploitation, renting out of property for sex work are all punishable as per the Indian Penal Code (IPC) and the Immoral Trafficking Prevention Act (ITPA).
Since there was much hype over the recent court ruling, activists who work to combat trafficking for sexual exploitation have clarified that the court ruling does not legalize the "flesh trade" in brothels. It is aimed at protecting sex workers (prostitutes) and not those who live off or profit from the sex trade such as brothel owners and traffickers, who are liable to be prosecuted.
The three-judge Bench led by Justice L. Nageswara Rao said that sex workers are equally entitled to a life of dignity as guaranteed under Article 21 of the Indian Constitution. Expressing concern over the "brutal and violent" way that police treat sex workers, the court said that it is as if sex workers "are a class whose rights are not recognised. The police and other law enforcement agencies should be sensitised to the rights of sex workers who also enjoy all basic human rights and other rights guaranteed in the Constitution to all citizens."
Rishikant, a long-time activist with Shakti Vahini, a non-government organization that is working to combat trafficking, told The Diplomat that "what is needed is clarity or transparency as far as sex work and sex trade is concerned. For a woman who is forced into prostitution and has no scope to speak out, where is the question of consent."
Rishikant cautions that those with vested interests like brothel owners are deliberately spreading wrong information about the judgment. "They are threatening sex workers into submission, saying that now even the court has said that the police cannot interfere in how sex workers are treated. This is factually incorrect," he says.
Drawing on the recommendations made by an earlier court-appointed panel for the welfare of sex workers, the apex court directed police not to separate a child from her mother merely because the latter is in the sex trade. If a minor was found in a brothel it cannot be assumed that the child had been trafficked. "Basic protection of human decency and dignity extends to sex workers and their children," the court noted.
However, Tapati Bhowmick from Sanlap, an organization that works with trafficked women and their children, disagrees that children of sex workers should stay in the brothel. "We have been running a shelter home for children of sex workers for 30 years now because sex workers who are mothers wanted to keep their daughters away from the brothel. It is not a safe place for children and young girls, who are vulnerable to abuse and molestation," Bhowmick says.
Under child protection norms, the brothel is not a safe place for a child in need of care and protection. During the COVID-19 pandemic when brothels were shut, there were several instances of minor children being pimped for sex work.
Activists are divided over decriminalization of the sex trade. While some maintain that giving it legal sanction and removing the strictures on it will open the flood gates for exploitation of vulnerable women and children, others argue that legalizing the sex trade will give sex workers dignity and human rights.
Significantly, it is only through raids by police and anti-trafficking organizations that minors who have been trafficked get rescued and then have some access to rehabilitation.
The court also directed state governments to do a survey of shelter homes so that the cases of adult women who do not wish to stay there can be reviewed and they can be released.
While the court directions are well intentioned, on the ground they can be detrimental for sex workers, activists have pointed out; like leaving minor children with their mothers in brothels.
Incidentally, even though sex work is not illegal in India, the existing legal provisions make it difficult for any sex worker or prostitute to practice it and they can even be booked for soliciting clients. As with other socially taboo professions, there is a grey area and lack of clarity when engaging in it.
When the court wanted to pass directions, Additional Solicitor General Jayant Sud informed the court that a draft anti-trafficking bill was under process with the government. The Trafficking in Persons (Prevention, Care and Rehabilitation) Bill, 2022 has several progressive provisions for prevention of trafficking, rehabilitation of sex workers. The bill was introduced five years ago.
Questioning the long delay in passing this bill, the court said that sex workers are "a section of society which has not only been forgotten but no one wants to even think about them. They are not even treated as human beings."