Indonesia Confirms President Jokowi's Trip to Russia, Ukraine
Foreign Minister Retno Marsudi said that the Indonesian leader will visit the two warring nations "in the spirit of peace."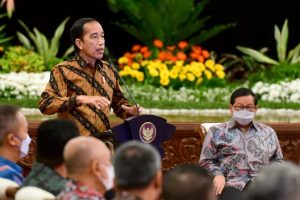 The Indonesian government has confirmed earlier reports that President Joko "Jokowi" Widodo will pay visits to Ukraine and Russia next week to push for a resolution to their ongoing war, the first such visit by any Asian leader.
The announcement was made yesterday by Foreign Minister Retno Marsudi, who said that Jokowi will travel to Kyiv and Moscow after attending the G7 Summit in Germany on June 26-28, and will meet with President Volodymyr Zelenskyy and his Russian near-namesake and nemesis Vladimir Putin.
"The president is showing compassion on the humanitarian crisis, will try to contribute to dealing with the food crisis caused by the war, and the impact felt on all countries, especially the developing and low-income ones," Retno told a news conference, as reported by Reuters. She added, "And he'll keep pushing for the spirit of peace."
Retno did not elaborate on the subject of the talks with Putin and Zelenskyy, nor when those would take place, though an earlier report from the Russian state media organ TASS said that the meeting between Jokowi and Putin would take place on June 30. An Indonesian government official quoted by the Jakarta Post on June 20 claimed that the purpose of the trip was to "persuade Russian President Vladimir Putin to, among other things, allow Ukraine to export the globally needed wheat amid the ongoing war between the two countries."
Jokowi will make the visits not just as president of Southeast Asia's most populous nation, but also as this year's chairman of the Group of 20 (G20) economic bloc. Russia's inconvenient membership in the grouping has threatened to overshadow Indonesia's G20 chairmanship, which has been based on the theme of economic recovery from the COVID-19 pandemic.
Western nations have threatened to boycott the G20 meetings, including its November summit in Bali, if Putin is allowed to attend. Some have argued that Russia should be kicked out of the G20 altogether, much as it was ejected from the G7 after its annexation of Crimea in 2014.
Indonesia has studiously avoided taking a side in the conflict, pledging to keep the focus of its chairmanship on the economic issues that form the G20's traditional focus and refusing to retract its invitation for Putin to attend the Bali summit. To counterbalance its position, and douse Western criticisms, Jokowi has also extended an invitation to Zelenskyy to attend, either in person or (more likely) by videolink.
The threat of a G20 derailment at least partly explains Jokowi's entrée into international conflict mediation, something that he has generally eschewed in the eight years of his presidency. Whether he will have much success in convincing Putin to give up perhaps his main form of leverage over the West – the ability to engineer a global food shortage – remains to be seen, but as I argued last week, the Indonesian leader should be given a certain degree of credit for making the attempt.