Inflation: The Threat to ASEAN Economic Recovery in 2022 and Beyond
Rising food and energy prices are set to weaken economic growth by reducing real private consumption and investment.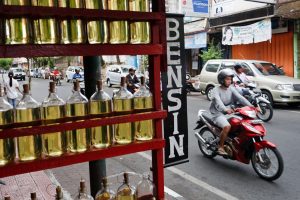 Rising global inflation could weaken ASEAN's economic recovery in 2022. In June, the World Bank projected in its Global Economic Prospects that the inflation rate in advanced economies rose from 1.9 percent to 6.95 percent in the year to April, while the inflation rate in the emerging and developing economies increased from 4.23 percent to 9.37 percent over the same period. The high inflation rate is expected to be persistent rather than transitory, as Russia's invasion of Ukraine has further increased food and energy prices, hitting net food and/or energy importers particularly hard.
The surge in inflation has put pressure on central banks to tighten monetary policy to control rising prices. Tightening financial conditions, especially in major advanced economies, could reduce their foreign direct investment (FDI) outflows to ASEAN economies. The U.S. Federal Reserve, for example, has raised the federal funds rate – the interest rate that commercial banks pay to borrow reserve balances overnight from Fed – three times in the first half of this year, from 0.25 percent in March 2020 to 0.50 percent in March this year, then to 1 percent in May and 1.75 percent in June.
A higher interest rate increases the cost of borrowing for both businesses and consumers. The higher cost of credit reduces domestic private investment and consumption, while discouraging firms to invest overseas. Foreign investors are less able to profit from the expansion of ongoing projects or investment in new ones as the costs of production, usually financed by bank borrowings, rise.
FDI inflows provide the largest source of external finance in ASEAN economies. The U.S. is listed as the largest source of FDI inflows into ASEAN, with $35 billion (or 26 percent) of ASEAN's total FDI inflows in 2020. The reduction of FDI inflows could weaken ASEAN economic recovery by reducing job opportunities for the ASEAN workforce, capital to finance private investment, and corporate tax revenues to finance public expenditure.
The upward trend of inflation is also observed in the ASEAN economies as a group. The average inflation rate in ASEAN countries increased from 0.9 percent in January 2021 to 3.1 percent in December 2021 and then to 4.7 percent in April 2022 (Figure 1). Four ASEAN economies have experienced a rapid increase in the inflation rate in the year to April. These include Indonesia (149 percent), Singapore (161 percent), Laos (206 percent), and Thailand (267 percent). The inflation rate declined in Malaysia, while it remained mostly unchanged in the Philippines and Vietnam.
Unlike the Fed, ASEAN central banks have not yet responded to the rise of inflation by implementing a tight monetary policy. For example, as of June 10, the Bank of Thailand has maintained its policy interest rate – the rate at which the central bank charges commercial banks for their loans – at 0.5 percent since May 2020. This may reflect the need to sustain the economic recovery by maintaining available financial resources for private investment and consumption. This may also reflect the limitations of monetary policy to bring down the high inflation rate caused by supply-side pressures such as the rise of food and energy prices or labor shortages due to the COVID-19 pandemic.
However, rising food and energy prices could weaken economic growth in ASEAN by reducing real private consumption and investment, despite the lack of monetary tightening. Higher food prices decrease the purchasing power of households, as they have to spend more money to purchase the same amount of food. Food inflation could even further increase the number of undernourished people in ASEAN, where the share of undernourished people in the total population in 2019 ranges from 5.3 percent in Laos to 6.5 percent in Indonesia, 6.7 percent in Vietnam, 7.6 percent in Myanmar, 8.2 percent in Thailand, and 9.4 percent in the Philippines.
The impact of rising food prices on household consumption is expected to be particularly large in Thailand and Indonesia as these nations have a relatively high inflation rate and a high share of household expenditure on food. The share of consumer expenditure on food ranges from 7 percent in Singapore to 21 percent in Malaysia, 26 percent in Thailand, 31 percent in Indonesia, 39 percent in Vietnam, and 42 percent in the Philippines. The risk of declining real household consumption may reduce investor confidence, while rising energy prices raise transportation costs. These two factors would discourage firms to expand their businesses.
Global inflation is emerging as a threat to ASEAN's economic recovery in 2022 and beyond. It could weaken economic growth in the region by reducing FDI inflows, real private consumption, and private investment. It could also result in a greater prevalence of undernourishment, which has long-term consequences on the development of human capital in ASEAN economies.