Is There a New Kazakhstan?
Not yet, despite the president's repeated assertions otherwise.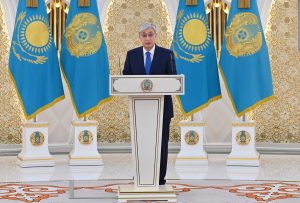 Kassym-Jomart Tokayev has faced protests since shortly after he was made Kazakhstan's acting president on March 19, 2019. The man who handed him the presidency, first President Nursultan Nazarbayev, had many powers and privileges written into the constitution that guaranteed he would continue to be a major influence in Kazakhstan even when he was no longer officially president. This was one of the foremost reasons for the protests in 2019, that the change at the top was cosmetic. And nothing substantial changed for more than two years with Tokayev as president. Some wondered who was actually leading the country.
Peaceful protests at the start of 2022 were hijacked and evolved into the worst violence Kazakhstan had seen since becoming independent in late 1991. It resulted in the end of Nazarbayev's years of influence, but created new problems for Tokayev. Tokayev had served in various roles in Nazarbayev's government since shortly after independence and it was not easy to refute the past and move forward. In the meantime, there were many questions about how Tokayev had quelled the January violence and emerged solely in control of Kazakhstan.
Even after the January violence, Kazakhstan was still not moving forward. So in late April, Tokayev called for sweeping amendments to the constitution that he said would propel the country forward, creating a "New Kazakhstan" and even a "Second Republic." In a nod to the people who had been calling for greater public participation in governing Kazakhstan, Tokayev said the changes to the constitution were so important that a national referendum would be needed, so that the people could decide the country's future.
Tokayev's image in the eyes of many people in Kazakhstan was badly damaged by the events of "Bloody January." His reluctance to pursue investigations of Nazarbayev and his family, who had all become fabulously wealthy through plundering Kazakhstan, irritated many. And Tokayev's continued promises of reforms to come were worn out words with no actions to back them up.
The referendum on Tokayev's proposed amendments to the constitution seemed designed to satisfy many of the demands of the people, and catchy phrases like "New Kazakhstan" and "Second Republic" raised hopes that meaningful changes that would benefit Kazakhstan's people were coming.
Conducting a referendum was something new for most of Kazakhstan's people. The last referendum, also on changes to the constitution, was held on August 30, 1995. Nearly half of Kazakhstan's population were not even born then and another 25 percent would have been too young to vote at that time.
But from the start there were signs that, buzzwords aside, nothing new was coming.