Myanmar Junta to Move Forward With Trial of Australian Economist
Sean Turnell, a former adviser to Aung San Suu Kyi, was arrested shortly after last February's coup d'etat.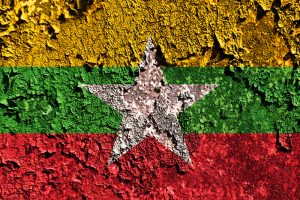 Myanmar's military junta said yesterday that it will push ahead with the prosecution of the Australian economics professor Sean Turnell, after a military tribunal formally charged him with breaching the country's Official Secrets Act.
Turnell was working as an economic policy advisor to civilian leader Aung San Suu Kyi when he was arrested last February, just days after the military coup against her National League for Democracy (NLD)  government.
The Associated Press cited an unnamed legal official to the effect that Turnell and his co-defendants were formally indicted yesterday, and that the trial will proceed at an unstated date. He will be tried along with Aung San Suu Kyi and three former Cabinet members charged in the same case.
Turnell is one of at least 14,055 people who have been arrested since the military coup in February 2021, according to the Assistance Association for Political Prisoners, which has been keeping a running total of those detained. The exact details of Turnell's alleged offense has not been made public, though Myanmar state television claimed at the time of his arrest that he was attempting to flee the country with "secret state financial information." If found guilty, Turnell faces a maximum sentence of 14 years imprisonment under the colonial-era Official Secrets Act, which outlaws the possession, collection, recording, publishing, or sharing of state information that is "directly or indirectly, useful to an enemy."
A former staff member of the Reserve Bank of Australia and associate professor at Macquarie University, Turnell began spending a lot of time in Myanmar after the country's partial political opening after 2011, and eventually took a job as adviser to Aung San Suu Kyi after her party's thundering victory at the 2015 national election.
Turnell's impending trial also raises the question about whether the Australian government could be doing more to secure his release. On the anniversary of his arrest, the Australian government called for Turnell's "immediate release." In a statement timed to the anniversary of his arrest, then Foreign Minister Marise Payne said "Professor Turnell's detention is unjust, and we reject the allegations against him." "We once again call for Professor Turnell's immediate release." She added, "We will continue to work with international partners – and importantly those in our region – to press his case."
But the need to secure Turnell's release has been adduced as a reason as to why Canberra has been relatively moderate in its stance toward the coup government.
Unlike the United States, European Union, the United Kingdom, and Canada, Australia has still failed to impose any targeted sanctions on the Myanmar junta and military-linked enterprises – despite last December passing legal amendments enabling targeted sanctions against serious human rights abusers. In April, there was an outcry when Australia's outgoing ambassador, Andrea Faulkner, paid a visit to coup leader, Senior Gen. Min Aung Hlaing.
Such a stance might be justified if it helps secure Turnell's release. In many past instances, the Myanmar military has usually been willing to release and deport foreign citizens arrested on political charges. Last November, the detained American journalist Danny Fenster was released on humanitarian grounds, six months after his arrest and three days after he was convicted and sentenced to 11 years prison. It is possible that Turnell's "trial" will pave the way for his release on similar "humanitarian" grounds.
But Turnell's closeness to Aung San Suu Kyi may place him in a unique category as far as the junta is concerned, and indeed, his treatment so far suggests that the military might not be so amenable to an early "humanitarian" release. In that case, the Australian government may need to rethink its soft line on the coup government.