NASA to Launch from Australia's Northern Territory
The move could expand the frontiers of space exploration, and enhance Australia's ability to carry out missions of its own.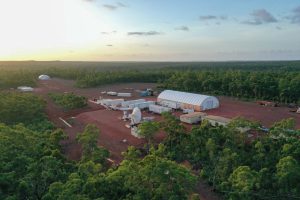 At the end of this month, the U.S. National Aeronautics and Space Administration (NASA) will conduct its first ever launch from a fully commercial spaceport overseas. The Arnhem Space Centre is operated by Equatorial Launch Australia (ELA) and has been hosting NASA employees over the past year, quietly preparing for this moment.
Nearly 75 NASA employees will be in Australia for the launch. Speaking to the Sydney Morning Herald, NASA associate administrator Thomas Zurbuchen said that the launch "opens new access to the Southern Hemisphere's night sky, expanding the possibilities for future science missions."
The three launches planned by NASA between June 26 and July 12 are scientific missions that will help gain insights into several investigations, such as how stars' light affects the atmosphere of planets around them.
Australia's new federal government has strongly embraced the initiative. Minister for Industry and Science Ed Husic, a champion of the space industry in Australia, stated that it marks a new era for the Australian space sector. Husic pointed to the depth of collaboration on the project with the United States, adding "space strengthens our economy."
For Australia, this a significant milestone. Returning to launch is one of the few major pieces of the space industry jigsaw puzzle that will further help accelerate the sector's growth. Importantly, it's a step along the way in the development of sovereign space capability, which was prioritized by the government in its recently published space strategy. Access to space is integral for any nation seeking to build out space power.
Australia's industry has come a long way and now stands on the verge of having the ability to launch Australian satellites on Australian launch vehicles from Australian launch sites. For both civil and military purposes, access to space will ensure Australia's domestic space industry can blossom but also can be an opportunity to support regional countries in building out their capabilities. It also enables a degree of alliance burden-sharing amongst key partners. Moving forward, further opportunities could be realized through the Quadrilateral Security Dialogue and AUKUS, both of which are prime mediums for expanding space-based cooperation.
This is just the beginning for ELA  and the industry collectively. Michael Jones, executive chairman and group CEO of ELA has flagged that the firm is in advanced commercial discussions with nine other major rocket companies and will look to carry out at least two more launches in 2022 before targeting over 50 launches a year by 2024-25.
ELA's location 12 degrees south of the equator on the Gulf of Carpentaria is strategic. Due to the faster rotation of the earth it provides significant savings on fuel, and therefore cost, needed to get into orbit. Australia's unique geography and access to numerous orbits is a key comparative advantage the country is looking to exploit.
The rapid global proliferation of launches is mind-boggling to those who don't follow the industry closely. In 2021, more than 1,700 spacecraft and satellites went into orbit via 133 successful launches. As more spaceports and companies with the capabilities to launch become available, launch costs will continue to tumble. There are an estimated 5,700 operating satellites in space and there are plans for tens of thousands more.
ELA's launch will energize the Australian space community. Launch is the most public facing part of the industry and has a unique ability to shape the public psyche as to what is possible. As noted by Prime Minister Anthony Albanese, "it's also about sending a message to younger Australians."
ELA has worked closely with the traditional owners of the land on which the Arnhem Space Centre sits, the Gumatj people, ensuring they were consulted and kept abreast of all developments. A lot of credit also belongs to the Australian Space Agency, still in its relative infancy, which has worked with the Australian space industry to support its growth.
In Australia, several other companies are leading the charge alongside ELA when it comes to launch. This includes another spaceport leader, Southern Launch, who offer several launch facilities in South Australia, and the Queensland-based rocket company Gilmour Space Technologies, which is due to launch an Australian sovereign rocket later this year.