Philippine Authorities Order News Site Rappler to Shut Down
The news site has published numerous exposes of the Duterte administration's "drug war" and other government abuses.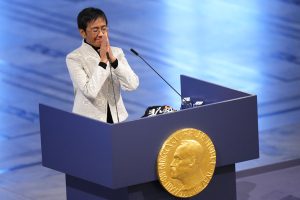 The Philippines' Securities and Exchange Commission has ordered the news organization Rappler to shut down effective immediately, its co-founder and CEO Maria Ressa said yesterday, in a final parting shot by the outgoing administration of President Rodrigo Duterte.
In an address at the East-West Center's International Media Conference in Honolulu, Ressa, a veteran journalist who has served as CNN Philippines' lead investigative reporter for Asia and as head of ABS-CBN News and Current Affairs, said that the SEC had upheld a 2018 decision ordering the shutdown of the pioneering news outlet.
"We were notified by our lawyers of this ruling that effectively confirmed the shutdown of Rappler," Ressa said, adding that the Commission had "affirmed" its earlier decision to revoke the organization's certificates of incorporation.
"We're not shutting down. Well, I'm not supposed to say that," Ressa added. "We are entitled to appeal this decision and will do so, especially since the proceedings were highly irregular."
The shutdown order is shocking, but not surprising. Founded in 2011, Rappler has been tireless in highlighting the Duterte administration's various abuses of power. It has revealed the brutal reality of Duterte's "war on drugs" and criticized his government's use of the law to muzzle dissent. It has also conducted in-depth investigations into the orchestrated mass social media disinformation operations that helped Duterte prevail in the 2016 presidential election. For her organization's investigations of Duterte's abuses, Ressa was awarded last year's Nobel Peace Prize, along with Russian journalist Dmitry Muratov.
In response, Ressa has faced constant harassment from the government and its online proxies and troll-throngs. She has been charged with a raft of politically motivated crimes related to her journalism, including most recently, a conviction on "cyberlibel" charges, which could see her spend time in prison.
In awarding Ressa the 2021 UNESCO/Guillermo Cano World Press Freedom Prize, the United Nations cultural agency added that the veteran journalist has "been subject to a sustained campaign of gendered online abuse, threats, and harassment, which at one point, resulted in her receiving an average of over 90 hateful messages an hour on Facebook."
Coming two days before the end of Duterte's term, the SEC's order is a clear parting shot at a media organization that has stuck in its side like a stiff thorn.
"The order is the latest development in a ceaseless campaign of 'lawfare' to silence @rapplerdotcom & @mariaressa," the Washington-based International Center for Journalists said in a tweet today. "This legal harassment not only costs Rappler time, money and energy. It enables relentless and prolific online violence designed to chill independent reporting."
While the SEC's decision to shut down Rappler may end up being overturned, it is part of a pattern of attacks on media organizations that hold the Philippine government to account. In late 2020, Philippine lawmakers forced the closure of the broadcaster ABS-CBN, which Duterte had previously accused of bias, after refusing to renew its broadcast license.
Earlier this month, the National Security Council ordered internet service providers to block several websites that it said were "found to be affiliated to and are supporting terrorist and terrorist organizations," including communist groups. These included the websites of alternative news sites including Bulatlat, Pinor Weekly, and Counterpunch, as well as various grassroots activist groups including the left-wing political coalition Bayan.
Bulatlat condemned the order, calling it "a brazen violation of its right to publish, and of the public's right to free press and free expression." Government critics also say that this use of "red-tagging" – accusations that government critics have connections to communist and insurgent groups – has often incited violent attacks against those so targeted.
More broadly, recent events demonstrate both the extent to which Duterte has sought to muzzle the Philippines' stridently independent national press corps, and the extent to which politicians and the institutions of the state have facilitated his efforts. As Ferdinand Marcos Jr. prepares to take the presidential mantle this week, it is getting hard to describe the Philippines as a meaningfully democratic country.