Smuggling of Exotic and Endangered Species From Myanmar Increasing
Established routes used for trafficking drugs and gold from Myanmar into India are used to transport wildlife, say Indian government officials.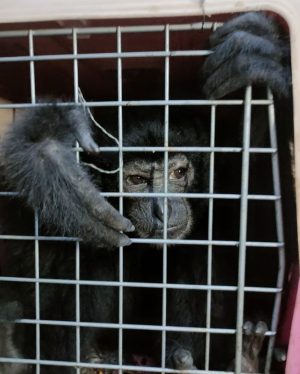 Exotic and endangered species are the latest in the list of items being smuggled from Myanmar into India, evidenced by seizures at regular intervals across different states in the country.
The species that have been confiscated so far range from pangolins to chimpanzees. Wildlife is mostly smuggled through the border states of Mizoram and Manipur in the Northeast, India's frontier region. This zone has a 1,643-kilometer border with Myanmar, most of which is hilly and porous.
Among the incidents of smuggling of exotic animal species that grabbed the media spotlight in recent months was the rescue of three kangaroos from two locations in the state of West Bengal in April.  The carcass of a fourth kangaroo was recovered from another spot.
Some government officials said that there is a "huge demand" for exotic animals from Myanmar in different places across India, which explains the increase in the smuggling of these items.
The largest seizure so far was in Mizoram last month. The smugglers had crossed the border with a consignment that included 442 lizards, 11 snakes (mostly albino pythons), four three-toed sloths, four pottos, four tortoises, two beavers, and a wild cat.  Five persons involved in the racket were arrested.
Existing laws in India and Myanmar facilitate the smuggling of exotic species.  According to a World Wildlife Fund report two months ago, illegal purchases of wildlife through online transactions in Myanmar are increasing. The report points out that the enforcement of bans on such deals has weakened amid the ongoing conflict in Myanmar after the military takeover last year. Transactions rose thereafter by 74 percent over a year. The wildlife offered for sale include 173 species, including 54 threatened with global extinction.
In 2020, Myanmar's forest department permitted private zoos to apply for licenses to breed 90 species, of which 20 are endangered or critically endangered. According to the department, the rationale behind the decision is to reduce poaching of wild species and illegal breeding. On the list are tigers, elephants, different species of vultures, as well as the Irrawaddy dolphin.
The Convention on International Trade in Endangered Species allows captive breeding of a few endangered species but only under strict regulation. However, given the existing trends, it may be safely concluded that breeding of the species in Myanmar goes beyond the control of government agencies.
Investigations by journalists and global agencies have revealed that Myanmar is a major transit route of illegal wildlife smuggling to China and Southeast Asia. Trafficking in wildlife items is the fourth largest form of transnational organized crime (after smuggling of drugs, human trafficking, and counterfeiting), estimated at $20 billion worldwide.
India is both a source and a transit country for illegal wildlife and wildlife items. The country ranks among the top 20 countries for wildlife trafficking, and among the top 10 for wildlife trafficking by air.
Smugglers of exotic wildlife species into India have been misusing the Voluntary Disclosure Scheme notified by the government in 2020, which aims at regulating the growing market of exotic animals in India. There are also glaring loopholes in the laws on ownership of exotic animals in India. People caught with exotic species can be booked for the crime only if it is proven that the animals were smuggled through an international border.
An official at the forest department in Assam claimed that the established routes used for trafficking drugs and gold from Myanmar are also used to transport wildlife and wildlife items. "The demand for guns and ammunition has decreased in India's Northeast over the past several years, which is also evidenced from the reduced instances of insurgency-related incidents in the region. It is possible that a section of these smugglers has begun to get involved with drugs, betel nuts, wildlife, and wildlife items as it is very lucrative," he said.
From the seizures it seems that the most prolific artery that carries the contraband from the border is the highway from Mizoram's Champhai to Silchar in southern Assam, not very far from India's border with Bangladesh. Unlike Manipur, Mizoram is not afflicted by insurgency and so security forces are deployed in smaller numbers along the border here, resulting in slack surveillance on the movement of goods and people.