Thai PM Meets US Defense Secretary in a Bid to Advance Security Ties
The meeting reflects a palpable warming of relations between Bangkok and Washington.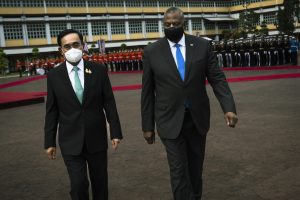 U.S. Defense Secretary Lloyd Austin and Thailand's Prime Minister Prayut Chan-o-cha met for talks in Bangkok yesterday, the latest sign that security ties between the two allies are recovering from the nadir that they touched after a military coup in 2014.
A U.S. Defense Department statement issued after the meeting said that the two leaders "shared perspectives on regional security issues, and discussed opportunities to strengthen the U.S.-Thai alliance." It added that Austin declared Washington's interest in strengthening "interoperability between the U.S. and Thai forces and to support Thailand's modernization requirements."
According to the statement, Austin and Prayut also discussed prioritizing cooperation in emerging technical areas, such as the cyber and space technology sectors, as well as Thailand's desire for "enhanced defense industry cooperation."
A Thai Defense Ministry spokesperson said after the meeting that the two nations had also agreed to hold the U.S.-Thai Cobra Gold military exercise as a full-scale drill next year after it was scaled back due to the COVID-19.
The Austin-Prayut meeting, which followed a meeting between the pair on the sidelines of the U.S.-ASEAN Special Summit in Washington, reflects the palpable warming of relations between Washington and Bangkok, as the U.S. government learns to live with Prayut, who led the 2014 coup, and Thai policymakers begin to chafe at China's increasing economic and strategic inroads in the country.
Austin came to Thailand from Singapore, where he attended the three-day IISS Shangri-La Dialogue. In a speech on June 11, Austin criticized Beijing's growing maritime assertiveness in East and Southeast Asia, which he said "threaten[ed] to undermine security, and stability, and prosperity in the Indo-Pacific." He said that the nations of the region "shouldn't face political intimidation, economic coercion, or harassment by maritime militias."
During his speech, Austin also hailed the fact that Washington's "unparalleled network of alliances and partnerships has only deepened" since Joe Biden took office in early 2021. Thailand has traditionally formed a key node in this network of U.S. alliances, but relations have been shaky since the military coup of 2014, which came amid a broader state of drift in bilateral ties since the end of the Cold War, a period that also saw thickening economic relations between Bangkok and Beijing.
In a recent article in Asia Times, however, veteran Thailand watcher Shawn Crispin argued that recent months had seen a marked turn back toward the U.S., out of a growing concern among Thailand's diplomatic and security establishment that Chinese inroads both in Thailand and in surrounding countries threatened to restrict Bangkok's freedom of maneuver.
Citing comments from a number of anonymous Thai officials, Crispin adduced a number of reasons for the Thai concerns, including Chinese dam building on the upper Mekong, Chinese security patrols on the river, and Beijing's donation of COVID-19 vaccines of dubious efficacy. At the same time, China's COVID-19-induced border closures and restriction of outbound travel have weakened the economic links that have formed the basis of the Thailand-China relationship.
Of particular friction, Crispin argued, was the stalled China-backed high-speed rail project linking Bangkok and Nong Khai, which sits across the Mekong from the Lao capital Vientiane, and the hectoring efforts by the new Chinese ambassador, Han Zhiqiang, to push the project forward. The first phase of the Thai-Chinese railway project runs from Bangkok to Nakhon Ratchasima, is currently under construction and is expected to begin operations in 2026. But since its inception in 2014, the Sino-Thai rail project has been beset by repeated delays over its design and financing – something that Crispin argues is "by now more clearly unstated policy than mere bureaucratic torpor."
"As Beijing transitions from less soft and more hard diplomacy under ambassador Han, the Thais are overtly looking back to the U.S. – and its regional ally Japan – for new diplomatic balance and choice," Crispin concluded. "Thailand's renowned 'bamboo in the wind' diplomacy, on any well-informed compass, is now perceptibly bending back to the West."
The nature of swinging bamboo, of course, is that it only bends so far before fanning back toward the center. All this suggests that what we are witnessing now is more a course correction than a fundamental reorientation, and that balance will remain the essence of Thai diplomacy in an era of increasing Sino-American competition.