Why Are Rohingya Refugees Returning From India To Bangladesh?
India's plans to put them in detention centers before deporting them to Myanmar is driving the reverse exodus.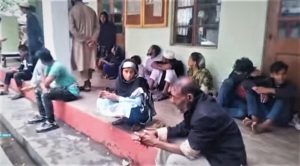 Over the past several years, Rohingya refugees have been apprehended on many occasions while crossing the border illicitly from Bangladesh to India. Last month, two batches were arrested in Assam and Tripura in India's northeast.  But their travel itinerary was different from the past.
This time around, their plan was to return to Bangladesh instead of settling in India.
Twenty-six Rohingya refugees from three families, including 12 minors and eight women were arrested on May 29 and sent to a detention center in Silchar in Assam. The families had come to India from Bangladesh through West Bengal in 2012 and had taken shelter at Malda before moving on to Jammu in north India. Many Rohingya refugees are lodged in camps in Jammu.
"Preliminary investigations suggest that this group of Rohingya refugees were from Jammu and they were on their way to Bangladesh.  Earlier, people belonging to this community had been arrested while making attempts to cross the border from Bangladesh."  Cachar Superintendent of Police Ramandeep Kaur told The Diplomat.
On May 3, another group of 24 Rohingya refugees were apprehended in Tripura as they were planning to enter Bangladesh through Kailashahar. Investigation revealed that they too were from Jammu.
Some refugees successfully managed to escape from India only to be apprehended in Bangladesh. On May 12, a group consisting mostly of women and children were arrested in Bangladesh's Moulvibazar. They were on their way to the camps in the coastal district of Cox's Bazar where most of the refugee camps have been established.
A source at a Rohingya camp in Cox's Bazar revealed that seven refugees were arrested from Camp-26 at Chakmarkul on May 24, a day after arriving from India. Subsequently, they were shifted to the UNHCR Transit Center at Kutupalong in the same district.
What has prompted the Rohingya refugees to hit the return trail to Bangladesh?
Speaking to The Diplomat on condition of anonymity, a New Delhi-based member of the Rohingya community, who is associated with a human rights organization, said that refugees in Jammu have been making "desperate efforts" over the past several months to return to Bangladesh. "Around 2,000 refugees have already reached Bangladesh from Jammu through different routes," he said.
According to the Rohingya human rights activist, the "trigger" for the return of refugees to Bangladesh is the Indian government's efforts "to shift them to detention centers and then deport them to Myanmar."
"The situation in Bangladesh is no less gloomy" but refugees are not sent to detention centers there," he said.
He cited the case of Hasina Begum, who was deported from India last month to Myanmar from where she and her family had originally fled. Prior to her deportation, Hasina had spent nearly a year in jail, separated from her husband and three children. Weeks later, another person identified as Jafar Alam was also deported to Myanmar.
Since last year, the authorities in Jammu have arrested and jailed more than 200 refugees following "verification drives." The fear of separation and deportation has unnerved the Rohingya, who are considered among the most persecuted communities in the world.
The Rohingyas' migration from Myanmar to Bangladesh began from the late 1970s, following military operations launched by the junta. In 2017, nearly a million migrated to Bangladesh while about 40,000 entered India out of which around 5,000 settled in Jammu.
Interestingly, a section of government officials believes that syndicates and touts are active along the border to facilitate the illicit entry of Rohingya refugees into India even as another section among them has been putting in efforts to return to Bangladesh.
Last March, India's National Investigation Agency (NIA) arrested six people who were allegedly involved in a syndicate for the illegal trafficking of Rohingya refugees into India. The agency found evidence of the network operating in the border states of Assam, West Bengal, Meghalaya as well as other parts of the country.
The government swung into action after nine Rohingya refugees, who had arrived from Bangladesh were arrested in Guwahati last year. In the group was Mohammad Aman Ullah, hailing from Hatharpara in Myanmar's Rakhine State. He was found to have played a role in the illicit entry of many refugees into India through several routes along the border. Subsequently, the NIA was tasked by the government to probe the case for identifying the networks facilitating the illegal immigration from Bangladesh.
Some officials also believe that many refugees have assumed fake identities and have settled in different parts of the country. Whether the NIA is able to trace the unknown settlements of these refugees remains to be seen.