Amid Worsening Medicine Shortages, North Korea Cracks Down on Private Drug Sellers
With medicine prices rising over ten-fold since the closure of the border, North Korea recently declared price ceilings for drugs in each region.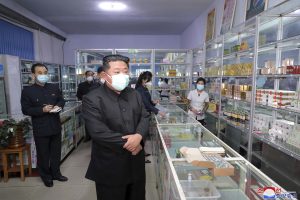 North Korean authorities are cracking down hard on private sales of medications as shortages of medicine in the country continue to worsen. With the authorities recently confiscating the entire drug supplies of people caught selling medications in markets or from their homes without permits, many North Koreans are finding it increasingly difficult to purchase medications in emergency situations.
According to multiple Daily NK sources in North Korea, the "unified command on non-socialist and anti-socialist behavior" has been cracking down on private sales of medicine since early July.
Officially, North Korea bans ordinary people from selling medications, but with so many people trying to acquire drugs from markets, even market management offices have turned a blind eye to people dodging crackdowns to sell medications.
Recently, however, the unified command has been conducting stakeouts in front of homes where drugs are being sold, barging in as soon as they see a deal go down and confiscating the stash to send to hospitals or the military.
North Korea's intense crackdown on private drug sales appears aimed at allowing North Koreans to feel the so-called "love for the people" of North Korean leader Kim Jong Un.
Kim recently donated drugs from his own household to residents of South Hwanghae Province in the wake of a spike in waterborne diseases in the region, asking that they be "conveyed quickly to be of some help to efforts to provide medical treatment."
Following Kim's lead, other key aides and Central Committee cadres have been donating drugs as well, including Kim Yo Jong – the North Korean leader's powerful sister – and Jo Yong Won, the ruling party's organizational secretary and head of the party's Organization and Guidance Department. Even provincial cadres have recently started taking part in the drug donation drive Kim started.
Nevertheless, with drugs in woefully short supply, drug prices are shooting through the roof in North Korea. In fact, a package of antibiotics costs over 20,000 North Korean won, while anti-fever medication such as aspirin is hard to come by.
With drug shortages growing even worse, market merchants have also begun selling medications for 2,000 to 3,000 won a tablet, rather than selling them by the box or by the dose.
With public discontent emerging over these high-priced, under-the-table transactions, North Korean authorities have moved to crack down heavily on drug sales conducted by private sellers.
In particular, with drug prices spiking over ten-fold following the closure of the border, North Korea recently declared price ceilings for drugs in each region.
According to a source in North Hamgyong Province, the order set price ceilings for a list of medical supplies, such as 250 won for butterfly needles, 3,102 won for chloramphenicol (an antibiotic used to treat eye infections), 245 won for disposable injectors, 3,870 won for sodium lactate solution, and 615 won for antibiotic gentamicin, which is used to treat diarrhea and bacterial infections.
These prices are similar to those set by the state. However, the source said private drug merchants could never sell their wares at these prices because they purchase their drugs at much higher wholesale prices.
That is to say, the price ceilings North Korea's government has presented are little more than a charade to show that the state controls drug sales. The authorities would face a tough time implementing those ceilings in reality.
"With supplies running woefully short, it seems the authorities have intensified crackdowns to help supplying drugs through official channels. That being said, pharmacies [in major cities] have no drugs in stock, so when will the handful of drug stores in each region get them?" said the source.
They added, "It will be difficult to completely crack down on private drug merchants because people can easily purchase different kinds of medications by going to the homes of private drug merchants near markets or hospitals, even if they are expensive."
This article first appeared on Daily NK, which contacts multiple sources inside and outside North Korea to verify information. The Diplomat was not able to verify the claims independently.