Ample Opportunities to Level Up Australia-Vietnam Relations
With the election of a new Australian government, the chance to elevate ties between Hanoi and Canberra to the level of a comprehensive strategic partnership is within reach.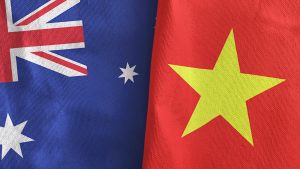 Under Prime Minister Scott Morrison, Australia envisioned brokering a comprehensive strategic partnership with Vietnam, the highest level in Hanoi's hierarchy of diplomatic relationships. In 2019, the two countries introduced the Plan of Action for the Strategic Partnership for the 2020-2023 period, whose main pillars of cooperation focused on economic, strategic, and innovation partnerships. In December 2021, the desired goal was solidified as both sides launched the Australia–Vietnam Enhanced Economic Engagement Strategy, in which Hanoi and Canberra planned to become top 10 trade partners and double two-way investment.
With the election in May of Prime Minister Anthony Albanese, Australia's foreign policy may see nuanced changes, such as a boost to Canberra's engagement with Southeast Asia and a reinforcement of its national interests in dealing with China. Nevertheless, the strong momentum of bilateral ties between Hanoi and Canberra is likely to continue. With Penny Wong's maiden trip to Vietnam as the new Australian foreign minister, Hanoi stood out as one of Canberra's leading priorities in Southeast Asia. In Wong's words, "The partnership between Australia and Vietnam is grounded in trust." She also emphasized that while the ties between Hanoi and Canberra "run deep," the two countries' futures "are tied together." To a certain extent, Wong's messages and Morrison's commitment to buttressing Australia-Vietnam ties in 2019 are following the same lines.
There are currently immense opportunities to advance Australia-Vietnam relations, with trade and investment at the top of the list. In her visit to Vietnam, Wong and Vietnamese President Nguyen Xuan Phuc vowed to make bilateral ties "deeper, more practical, and effective towards a new height." Economic cooperation has played a vital role in pushing forward the bilateral relationship over the years. Vietnam is now Australia's 12th-largest  trading partner, while Canberra ranks 10th among Hanoi's top trading partners. Despite the COVID-19 pandemic, bilateral trade grew by nearly 50 percent in 2021 – the highest volume recorded to date. In the first quarter of 2022, the two countries kept their upward economic growth on track, with trade increasing by a further 32.4 percent over the same period in 2021. As of the end of last year, Australian investors had 550 projects in Vietnam, with a net value of US$2 billion.
Vietnam's wide-ranging exports to Australia include electrical equipment, footwear, machinery, furniture, mineral fuels, and edible fruits. Hanoi's major purchases from Canberra are mostly commodity goods such as coal, iron ore, live cattle, and wheat. Given the rapid growth of Vietnam's economy, Hanoi has become an ideal site for Australian exporters, with high demands for energy, consumer goods, machinery, and professional services. With enhanced trade and investment, Hanoi and Canberra have sought to gradually reduce their mutual economic dependence on their largest trading partner, China, and strengthen their economic resilience in the face of global crises, such as COVID-19 and the Russia-Ukraine war.
Both Australia and Vietnam have made pragmatic moves to enhance ties. In March, the two countries signed a Memorandum of Understanding (MOU) to support Vietnamese laborers taking part in the Australian Agriculture Visa Programme. The MOU has paved the way for around 1,000 Vietnamese employees to work in the agricultural sector in Australia each year. Last month, Canberra and Hanoi launched a new Vietnam-Australia Centre to "bolster Vietnam's leadership training and research skills" by drawing on Australian expertise in several different fields.
Moreover, Vietnam and Australia have widened economic cooperation and strengthened their regional engagement through several key multilateral frameworks, such as the ASEAN-Australia-New Zealand Free Trade Area (AANZFTA), the Comprehensive and Progressive Agreement for Trans-Pacific Partnership (CPTPP), and the Regional Economic Comprehensive Economic Partnership (RCEP). According to the Vietnamese ambassador to Australia Nguyen Tat Thanh, the CPTPP has already helped expand trade and investment between Vietnam and Australia. Additionally, Vietnam is likely to be among the key beneficiaries of the RCEP, and a rosy future for Vietnam's economy could likely help leverage the status of Hanoi in the eyes of Canberra. As members of the U.S. government's Indo-Pacific Economic Framework (IPEF), Vietnam and Australia can have more room for maneuver to collaborate in a range of sectors, including fair trade, supply-chain resilience, decarbonization, infrastructure, and anti-corruption.
By embracing multilateralism in its economic practice, Vietnam has sought to reinvigorate the pursuit of two ambitious national goals: shifting to a market-based economy and increasing workforce quality. Australia, for its part, has described itself as "a strong supporter" of Vietnam's participation in regional multilateral institutions, including ASEAN-led architectures, such as the East Asia Summit, ASEAN Regional Forum, and ASEAN Defense Ministers Meeting Plus, and has made clear its intention to turn beneficial collaboration in these forums into "a cornerstone" of the partnership. Multilateralism continues to serve as the nucleus that drives the Australia-Vietnam relationship.
As middle powers in the Indo-Pacific, Australia, and Vietnam also enjoy a similarly strategic place in great powers' considerations. Given Vietnam's emerging market and Australia's high-performing industry, the two countries are important in the blueprints of both Washington and Beijing, allowing Hanoi and Canberra to enhance their leverage while forging middle-to-middle ties. Given the recent Sino-Australian diplomatic stalemate and Canberra's endeavors to diversify its trading markets in the face of Beijing's economic coercion, Vietnam could be a good fit for Australia's strategy of cementing its regional standing and enhancing its ties with Southeast Asia. Recently, Australia hailed Vietnam as a vital partner that could help Australia "shape an open, secure, and resilient region." Hence, Australia's future in Southeast Asia hinges on an elevation of Australia-Vietnam ties.
Given the maturity of the relationship, Australia and Vietnam are well-positioned to elevate their relationship to a comprehensive strategic partnership. In 2018, a strategic partnership between Vietnam and Australia was established five months before Prime Minister Malcolm Turnbull left office. The milestone was a result of long-lasting efforts that reflected "Australia and Vietnam's mature and diverse bilateral relationship." While the journey of the Albanese administration has only just begun, it has displayed a sense of eagerness and promise about Australia's engagement with Southeast Asia, as can be read from Wong's recent lecture to the International Institute for Strategic Studies in Singapore. Given the flourishing trajectory of the relationship, particularly in terms of economic ties, the creation of a comprehensive strategic partnership would be a substantial step toward taking the Australia-Vietnam relationship to the next level.