Cambodia Should Drop the Charges Against Sam Rainsy – Or Give Him His Day in Court
For nearly seven years, Prime Minister Hun Sen has used every legal trick at his disposal to exclude his main rival from the country's political life.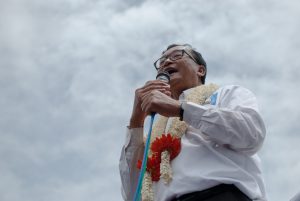 In a kind of reverse title inflation that has spiraled out of control, Cambodian court convictions and prison time handed out to opposition leader Sam Rainsy have continued to accumulate, even as the government allowed the opposition party he founded to contest local elections in June.
Between March 2021 and June this year, Sam Rainsy, who is now 73, incurred three more prison sentences, based on the same accusation of treason, totaling 43 years. This was in addition to the decades of prison time for which he was already liable for rebellion, sedition, interfering with border posts, insulting the king, and running up a long list of defamation convictions.
Yet the country's Prime Minister Hun Sen shows no sign of being willing to let Sam Rainsy enter the country to contest the charges or serve his prison sentences. He prefers to let him remain in exile in Paris, where he has been based since late 2015. Are the charges real or are they simply designed as a political statement? Do Cambodia's courts act as courts or as a part of the government's public relations team? A legal system that wants to be taken seriously would ensure that the charges are tried in court and punished in case of conviction.
Cambodia has never tried to extradite Sam Rainsy, who has dual citizenship, either from France, or any of the numerous other countries which he regularly visits. Sam Rainsy attempted to re-enter Cambodia in November 2019. Hun Sen banned any airline carrying him from entering the country, and also made a successful request to Thai Prime Minister Prayut Chan-o-cha to prevent him from landing in Thailand, which would have made land entry possible. Thai Airways staff refused to let Sam Rainsy board a flight, despite the fact that he had purchased a valid ticket.
Across Cambodia, tens of thousands of police and soldiers were mobilized, ostensibly in case Sam Rainsy should, by some act of magic, appear. The superfluous show of force seemed rather designed to intimidate his supporters. Hundreds of citizens openly supporting the opposition leader's return, including a group of 30 young people who went to greet Sam Rainsy when he traveled instead to Malaysia, were issued arrest warrants, jailed, or forced to go into hiding. They have all been accused of complicity in an alleged "coup attempt."
These are not the actions of a dictator who feels secure, but rather suggest fear and paranoia. The show of force may also have served as a warning signal to those within the ruling party who might be tempted to contest Hun Sen's power – and his plan to at some point hand over power to his son Hun Manet.
The Cambodian government puts heavy stress on the fact that its courts act independently of foreign pressure and in accordance with domestic laws. Yet the courts are widely seen as serving primarily a political function. The World Justice Project's Rule of Law Index for 2021 ranked Cambodia at 138 out of 139 countries, 10 places below Myanmar. Venezuela was the only country in the world that scored worse. In terms of civil justice, Cambodia was the worst country surveyed.
An analysis of the Cambodian legal system by the International Commission of Jurists paints a dark picture. The lack of an independent and impartial judicial system remains one of Cambodia's "central and enduring human rights issues," the report says. Judicial officials "have always been deeply beholden to their political masters . . . not a single independent observer has been able to identify any progress on this crippling issue." The persecution of the country's opposition democratic forces continued last month with the conviction of 31 activists in a mass show trial in Phnom Penh. Those imprisoned included the prominent Cambodian-American lawyer and human rights activist Theary Seng.
Hammering away at the same broken nail, the government drew up made-to-measure laws against Sam Rainsy that forbade a "convict" from leading a political party. In 2021, a constitutional amendment barred dual citizens from holding top political posts including that of prime minister. Sam Rainsy, who spent part of his childhood, completed his higher education, and started his professional career in the private sector in France, holds French and Cambodian citizenship. In resorting to a legal provision to target his main opponent, Hun Sen did not hesitate to risk depriving Cambodia of the precious human resources that can be found in the country's global diaspora.
The peaceful opposition Cambodia National Rescue Party, which Sam Rainsy co-founded, was dissolved by the supreme court in November 2017. That left the way clear for Hun Sen's Cambodian People's Party to win all of the seats in national elections the following year. But the opposition was allowed to contest the local commune elections in June under the banner of the Candlelight Party, which was registered as a political party by Sam Rainsy in 1998.
The government appears, at least for now, willing to let the opposition take part in elections, provided that Sam Rainsy and other leading figures are not allowed to enter the political arena. Some in the international community appear willing to be persuaded that opposition participation is a sign of progress. But if by next year the raft of charges is still floating and Sam Rainsy is still in exile, then Cambodia's national election, scheduled for July 2023, will have the same air of unreality as the last one.