Gotabaya Rajapaksa Is Finally Resigning. What's Next for Sri Lanka?
The country needs a credible government that enjoys legitimacy in the eyes of the people. Forming one will be a herculean task.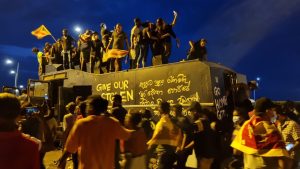 Gotabaya Rajapaksa, who rode the crest of popularity to secure 6.9 million votes to become the executive president of Sri Lanka in 2019, was deposed on July 9 by the Sri Lankan people. Hundreds of thousands of Sri Lankans, who had poured into the capital Colombo that day, stormed his office and residence to literally drive him out of power.
His landslide win in 2019 was followed by another victory in the general elections of 2020, when his Sri Lanka Podujana Peramuna (SLPP) party won an overwhelming majority in parliament. However, these massive victories were not enough to protect him from the fury of the people on July 9.
A rookie who had never been tested politically, Rajapaksa surrounded himself with leaders of big business. He made a series of policy errors; foremost among these was a disastrous agricultural policy that plunged the country into crisis.
More astute politicians, who were somewhat sympathetic to Rajapaksa, attempted to salvage the presidency as well as the country's economy by proposing the establishment of an all-party government, reversing disastrous foreign policy approaches, and attempting economic course correction. These proposals were ignored in 2021 and early 2022.
When popular anger drove Rajapaksa to consider these proposals, it was too late.
Rajapaksa has promised to resign on July 13. If he keeps his promise, he will be the first Sri Lankan executive president who was unable to complete his tenure. The only parallel in Sri Lankan history is the resignation of Prime Minister Dudley Senanayake in October 1953, following protests over a hike in the price of rice.
Rajapaksa's flawed policies and the current crisis have led to the downfall of the Rajapaksa dynasty. His brother Mahinda, who was prime minister until May 9, had to be airlifted to safety after protestors stormed Temple Trees, the official residence of the prime minister. Political analysts say the Rajapaksas are a spent force in Sri Lankan politics, at least for the next few years.
While the current crisis has also severely dented the image of Sri Lanka's political establishment, Gotabaya's resignation gives the country a stab at stability. However, those who come next have a herculean task.
The Road So Far
Sri Lanka has been facing balance of payment issues from the 1950s, which were exacerbated after 1977, when the country's economy was liberalized. The gap between exports and imports has been growing, and Sri Lanka has been bridging the gap through dollars earned from borrowing, tourism, and remittances from foreign workers.
After being elected in 2019, President Rajapaksa slashed taxes, depriving the government of significant income. It led rating agencies to downgrade Sri Lanka's sovereign credit ratings, which made it harder for Sri Lanka to borrow from international capital markets. Sri Lanka has been highly dependent on international capital markets since 2007.
In 2020, the pandemic crushed the country's earnings from tourism and remittances. Some economists warned that Sri Lanka might not be able to repay its foreign debt and urged the government to seek help from the IMF. Others urged the president to ramp up industrialization and to promote strategic industries. Both proposals were ignored by the government.
The Crisis and the Default
From the beginning of 2022, Sri Lankans started experiencing fuel and gas shortages. Health unions warned about shortages of medicine.
In the face of growing protests, the government took several steps to placate the people. The president appointed an Advisory Group on Multilateral Engagement and Debt Sustainability composed of economic and financial experts. He also appointed a career Central Bank official, Dr. Nandalal Weerasinghe, as the governor of the Central Bank and senior bureaucrat K.M. Mahinda Siriwardena as treasury secretary.
Sri Lanka's difficulties in importing essential items, including fuel, gas, and food, increased in May, after the government defaulted for the first time in its history and informed creditors that the country wouldn't be able to make payments until its debt was restructured.
Following Mahinda's resignation, Ranil Wickremesinghe was appointed prime minister for the sixth time in the hope of a quick economic turnaround. However, on June 22, Wickremesinghe told Parliament that he expected Sri Lanka will be able to enter an "official level agreement with the IMF [only] by the end of July."
Economic Woes
A high-powered IMF delegation was in the country at the end of June. However, an agreement did not materialize due to reasons that are still not known.
An IMF Extended Fund Facility (EFF) arrangement, a board level decision that will help pay for Sri Lanka's immediate needs and to revive the economy, will come at the earliest during the fourth quarter of this year. Until IMF aid is received, Sri Lanka needs bridging finance to purchase essential items and intermediate goods to keep the economy going. India is the only nation that has come forward.
India has provided aid worth $3.5 billion, including several credit lines for fuel. However, New Delhi recently clarified that there will be conditions for future supplies. Thus, Sri Lanka's fuel crisis has exacerbated.
Since the end of June, the state-run Ceylon Petroleum Corporation (CPC) had been supplying fuel only for essential services, including power generation. Sri Lanka spends around a $100 million to import fuel needed to run its thermal power plants and the Ministry of Energy purchased 7,500 metric tons of diesel from Lanka Indian Oil Corporation (LIOC) a few days ago for $11 million to run essential services.
A ship carrying diesel is expected to arrive in Sri Lanka soon. However, a shipment of petrol is expected only on July 22. Meanwhile, 16 people have died waiting in fuel queues and clashes between those waiting for fuel and security forces and the police have become a daily occurrence in Sri Lanka.
What's Next?
After Gotabaya Rajapaksa steps down, a government headed by the speaker is expected to lead to a peaceful political transition. However, parliament must choose the next president within a month. It is unclear whether parliamentarians will be able to elect someone who can not only garner the support of the majority of lawmakers but also command respect and legitimacy in the eyes of the people. Given that the SLPP still enjoys majority support in parliament, it appears impossible for parliament to establish a government that enjoys credibility and legitimacy.
Without a credible government, mass protests will continue, given that the public is in no mood for political manipulations and palace intrigues.
Sri Lanka, which is now in the middle of discussions with the IMF for an EFF arrangement, needs a functioning government to continue its negotiations. India, the only country that has provided bridging finance to purchase essential items and intermediate goods to keep the economy going, issued a non-committal statement on Sunday. China has not issued statements on the developments so far.
Remittances to Sri Lanka, which have fallen to less than 50 percent of the 2019 figures, might increase following the departure of the Rajapaksas and the formation of a legitimate government. This in turn could greatly improve the country's ability to purchase the fuel and gas needed to bring normalcy to the economy and help boost tourism.  Sri Lanka also needs a stable government to negotiate an IMF agreement and implement its policy recommendations.