Indonesia's G-20 Chairmanship Couldn't Have Come at a Better Time
Despite the shadow of the war in Ukraine, Indonesia intends to use its chairmanship of the grouping to boost the recoveries of the world's less advanced economies.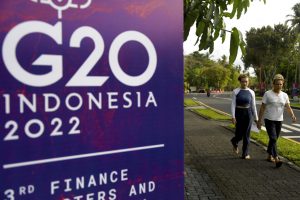 Recover Together, Recover Stronger: These words form the main theme of this year's Group of Twenty (G-20) meetings, which are being chaired by Indonesia.
While the Russia-Ukraine War has come to the fore for the global economy more recently, a large part of the G-20's meetings have centered around the global recovery from the pandemic-induced economic shockwave. At the G-20 finance ministers' and central bank governors' meeting last October in Washington, a review of the grouping's COVID-19 Action Plan highlighted that "most emerging and developing countries will take many more years to recover" from the effects of the pandemic and have already suffered greater losses and economic scarring than advanced economies.
The International Monetary Fund has stated that such an impact could amount to as much as a 10 percent output loss by 2024 for low-income countries.
The high-income G-20 members, which account for more than 60 percent of the world's population, 75 percent of global trade,and over 80 percent of the world's gross domestic product (GDP), had expected to see their economies recover to pre-COVID-19 levels this year. However, the economic effects of the war in Ukraine have likely changed those expectations significantly and will compound disruptions to supply chains and trade flows. Sanctions and other restrictive measures will further complicate the recovery.
Given the integrated nature of today's economies and the dense network of trading relationships, the advanced economies have a vested interest in ensuring that there is more inclusive growth globally, including for the lower-income economies, if their own recoveries are to be sustainable.
Indonesian Leadership

Here is why Indonesia's chairing of the G-20 couldn't have come at a more important time. Classified as a lower middle-income country by the World Bank in 2021, Indonesia aims to use its chairmanship of the world's largest 20 economies to boost recoveries for less advanced economies in order to shore up its growth and graduate into an upper middle-income country – something it expects to happen at the World Bank's next review in July.
Indonesia has already demonstrated its intention to be a bridge builder as President Joko "Jokowi" Widodo has invited both the Ukrainian and Russian leaders to the G20 meetings at the end of the year, indicating that he is more open than most world leaders to providing a platform for them to have a dialogue that might bring the war to an end. Seen by some commentators as an international lightweight in the past, Indonesia has attempted to shed that image by voicing openly its concerns over the political situation in Myanmar and over the South China Sea disputes with China, including Chinese fishermen's incursions into Indonesian waters. These demonstrate President Jokowi's desire to leave a more global mark before the next elections. He will surely use the G-20 chairmanship to further support that desire.
Moreover, Indonesia has also been particularly committed to strengthening diplomacy in the health sector, underlining the current wide COVID-19 vaccine gap between developed and developing countries – an important issue to address to ensure a broader recovery of the global economy.
What's in it for Businesses?

With all that in mind, the question remains: What does Indonesia's G-20 Chairmanship – now almost at the half-way mark – and its 2023 chairmanship of the Association of Southeast Asian Nations (ASEAN), mean for businesses planning to expand into Southeast Asia in the next two years?
In his address to the Davos Agenda 2022, President Jokowi outlined Indonesia's priorities and the G-20's three goals for the year and welcomed contributions from all global business leaders. These are to create a more resilient global health system, to optimize digital technology to support societal transformation, and to drive a fair and affordable transition to clean energy and the circular economy.
Businesses can also anticipate a targeted finance track, which has been listed as a priority in the agenda for the G-20 this year. This includes an exit strategy to support recovery; addressing the scarring effect of the crisis to secure future growth; standardizing payment systems in the digital era; developing sustainable finance in the transition towards a low carbon economy; pursuing digital financial inclusion for underserved communities and Small and Medium Enterprises finance; and working on international taxation, particularly on Base Erosion and Profit Sharing (BEPS).
Interestingly, Indonesia's interests in pursuing structural and financial reforms are also among areas that Cambodia has identified as focus areas as Chair of ASEAN this year. These are recurring focus areas we are likely to see continue therefore during Indonesia's chairmanship of ASEAN next year.
The push for a low carbon economy and clean energy is clear and timely, given the impact of the Russia-Ukraine war on energy prices. The B-20, the official G-20 dialogue forum with the business community and hosted this year by Kadin, the Indonesian Chamber of Commerce and Industry, has already declared that it "will provide policy recommendations and actions for sustainable energy transition" with three focus areas, the Chair of the B-20 Energy, Sustainability, and Climate Task Force Nicke Widyawati told media on March 20.
These are to accelerate the transition to sustainable energy, by ensuring it is just, orderly, and affordable, and by enhancing global cooperation.
With the B-20 already introducing some partnerships with international clean energy players in recent months, businesses should feel that their "green" ambitions will get a lot more support during Indonesia's chairmanship of the G-20.
Opportunities in Indonesia

In his Davos address last year, President Jokowi also welcomed foreign investments in six of Indonesia's core sectors – automotives, especially electric vehicles; export-oriented labour-intensive industries, including healthcare; infrastructure; renewable energy; tourism; and value-added mining.
The focus on FDI for Indonesia will allow businesses to leverage the country's evolving domestic policy conditions and rich endowment of natural resources in these key sectors. This provides businesses access to Southeast Asia's largest economy and consumer base, which will also give the Indonesian economy a long-overdue boost.
Increased FDI could bring significant advantage to Indonesian businesses through global value chain integration, increased productivity, wages, skills development, and the greening of the economy.
Coupled with the impending ratification of the Regional Comprehensive Economic Partnership (RCEP), companies outside of Indonesia seeking to expand their businesses into Indonesia and the region can expect a growing domestic market, young and technically trained workforce, and an improving investment climate. Its Q1 GDP growth of just over 5 percent and consensus targets for 2022 GDP growth of similar proportions suggest that Indonesia is recovering fast from the pandemic shock although the effects of the war in Ukraine are yet to be seen.
Indonesia's leadership of the G-20 is a defining moment for the country. For the G-20, it could be of larger strategic importance to the global economy and regional businesses than it may seem.
Given the deepening geopolitical tensions in the world and with the global economy still nervous about recovering swiftly enough from the pandemic, Indonesia, with its vast economic potential and leading role within the region, could help calm nerves on the geopolitical and economic fronts. Moreover, with President Jokowi looking to leave a legacy in his final term and play a more advanced international role, Indonesia could provide some very valued leadership for the world in 2022.
We should wish ASEAN's largest country and economy well in its efforts.