Key Takeaways From Thailand's Latest Vote of Confidence Battle
The vote gave several hints about the likely direction of Thai politics ahead of next year's general election.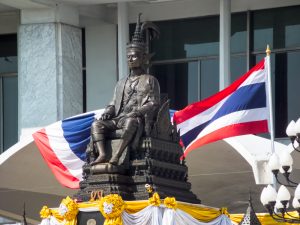 Thailand's Prime Minister Gen. Prayut Chan-o-cha and ten of his cabinet members recently survived the fourth and final parliamentary no-confidence motion since taking office after the 2019 election. The Prayut-led coalition's victory comes as no surprise. Opposition parties do not control enough votes to begin with, and they have further been undermined by defections. Besides, throughout Thailand's parliamentary history, governments have always found a way to sail through censure debates.
Despite the predictable outcome, the latest battle offers several interesting insights into the direction of Thailand's party politics.
An Uncertain Future for Thammanat's faction
Last September, Thammanat Prompao, the then deputy agriculture minister and secretary-general of the main ruling Phalang Pracharat Party (PPRP), made headlines for his failed plot to remove Prayut. Sacked from the PPRP and now the head of the Thai Economic Party (TEP), Thammanat has openly declared an all-out war against the Prayut administration – with the exception of his "former boss," deputy prime minister and PPRP leader Gen. Prawit Wongsuwan.
Thammanat, an influential power broker, boasted that he has command over more than 40 MPs from TEP and other small and micro parties in both the coalition and the opposition that are dissatisfied with their limited roles in parliament, as well as within PPRP factions. If voted in unity with key opposition parties, the Thammanat circle could easily crush any targeted minister.
But Thammanat failed to deliver a fatal blow. The majority of MPs from small and micro parties ended up favoring the government. Although some PPRP MPs voted against their party mandate, they all gave support to the prime minister – Thammanat's arch enemy. Even within Thammanat's own TEP, four MPs voted for Prayut – a great betrayal.
Thammanat's announcement to join the opposition, which came abruptly following the TEP's by-election defeat in Lampang province just a few weeks before the no-confidence fight, was also met with resistance from the second-largest opposition Move Forward Party (MFP). Even if Thammanat is deadly serious about sticking with the opposition, it is hard to see the MFP embracing him. After all, the MFP relies on young voters who generally see Thammanat as an irredeemable minister convicted of drug trafficking.
It is widely speculated that there are some sort of behind-the-scenes deals between Thammanat and the leading opposition Pheu Thai Party (PTP). Still, like the MFP, the PTP is seeking to secure youth votes to achieve a "landslide victory" in the upcoming general election. It is therefore important for the PTP to maintain some distance from Thammanat.
'Weed Party' on a Roll
I have previously written about the Bhumjaithai Party (BJTP), the second-biggest governing party and mastermind behind the country's recent marijuana decriminalization, as the dark horse of Thai politics. Indeed, the BJTP was the only major party that walked out of the no-confidence battle with a unified voice. All 62 BJTP MPs voted in the same direction – an ironic twist for a party sometimes labelled a "snake farm."
A significant number of opposition MPs voted to support targeted BJTP members, namely Health Minister Anutin Charnvirakul and Transport Minister Saksayam Chidchob, enabling them to rise as the second and third most trusted ministers behind Gen. Prawit, respectively. Sooner or later, more defectors from big and small parties alike are anticipated to jump into the BJTP's waiting arms.
Democrat Party Rushes to its Extinction
Three targeted ministers from the Democrat Party, Thailand's oldest party, all had high abstention votes. Democrat leader and Commerce Minister Jurin Laksanawisit, in particular, was humiliated by a member of his own party and smaller coalition partners, emerging as one of the worst performers with the highest abstention count of 23 votes. This, to a degree, underscores Jurin's shaky leadership and limited leverage.
In recent years, the Democrat Party has been bombarded with many existential challenges. Unless there is a groundbreaking structural change, or a miracle, things are looking very grim for the Democrats. Defeat in the next national election could spell the end of the party.
Growing Rift Among the Generals?
The "Three Ps" military leaders who have dominated Thai politics since the 2014 coup – Prayut, Prawit, and Interior Minister Gen. Anupong Paochinda, nicknamed "Pok" – are all backed by the PPRP. Unlike Prawit, however, Prayut and Anupong are not actual members of the party, making their positions in the parliament quite vulnerable.
Last week's no-confidence debate has fueled the much-discussed speculation of a rift between the three generals. Six MPs from the PPRP's Paknam faction under Prawit's control voted against Anupong, presumably in an attempt to force a cabinet reshuffle. Whether Prawit was secretly pulling the strings remains a rumor, but it is clear that these Paknam MPs want Anupong out and Prawit in as Thailand's interior minister – a very powerful post. Prayut, meanwhile, was reportedly unhappy with this development.
Even as the election looms close, it remains to be seen whether Prayut and Anupong will establish their own political party, seize control of another party and consolidate their powers, or retreat into the shadows after completing their terms in March 2023.