Qatari Telecoms Firm Ooredoo Negotiating Exit From Myanmar: Report
News that the Doha-based company is seeking to offload its Myanmar unit follows the exit of Norway's Telenor earlier this year.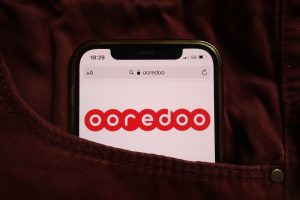 Reuters reported yesterday that the Qatari telecommunications firm Ooredoo is in talks to sell its Myanmar unit, a move that would deprive the country of its last foreign telecoms operator after the departure of the Norwegian firm Telenor earlier this year.
Citing two people familiar with the matter, the news agency reported that Ooredoo has informed Myanmar's Posts and Telecommunications Department of its intention to sell its local operation.
Ooredoo launched with much fanfare in 2014, but like many foreign investors in Myanmar, has been hit hard by the political turmoil that has engulfed the country since last February's coup d'etat. The Doha-based firm's customer base in Myanmar shrank from 15 million subscribers in 2020 to just 9 million customers in 2022.
Reuters reported three potential buyers for Ooredoo's Myanmar unit: Myanmar conglomerate Young Investment Group; the Singapore-headquartered network infrastructure operator Campana Group; and the telecoms company SkyNet, which is owned by the local Shwe Than Lwin group of companies.
Ooredoo would become just the latest foreign company to bail out of the country since the coup, which has transformed Myanmar from one of the most promising investment opportunities in Asia to one of its worst. As I noted yesterday, Fitch Solutions has projected that the country's economy will shrink by 5.5 percent in the current financial year to September, after recording an astonishing 17.9 percent contraction in 2020-21 – largely a result of the military coup, and the conflicts and instability that it has unleashed.
This is inhospitable investment terrain for any international company, but telecoms firms also faced unique challenges, such as the junta's shut down of mobile data and internet restrictions in parts of the country. The military administration has also pressured telecoms firms to acquiesce to its repressive demands to hand over user data and implement mandatory surveillance capabilities.
The latter consideration has weighed heavily into the decision of Telenor, Norway's largely state-owned telecoms provider, to withdraw from Myanmar last year. In May 2021, just three months after the coup, Telenor announced that it had decided to write off the value of its operation in Myanmar, in light of the country's "irregular, uncertain, and deeply concerning situation."
After a tortuous process of negotiation, Telenor officially completed its exit from Myanmar in March of this year, after having sold its unit to the Myanmar firm Shwe Byain Phyu, with the Lebanese investment firm M1 holding a minority stake. It is unclear how much concerns about acquiescing to the junta's repressive demands have played into Ooredoo's decision to sell its Myanmar unit.
The other remaining telecoms firms in Myanmar are MPT, a large state-backed operator, and Mytel, a venture between Myanmar's army and Viettel, a firm owned by Vietnam's Ministry of Defense. Due to their links to the military, both have been boycotted and targeted by anti-regime militias; last year, resistance fighters reportedly destroyed more than 400 telecom towers across the country.
While the past year has seen many foreign companies pull out of Myanmar, including many who entered the country during the limited economic and political opening of the mid-2010s, the exit of Myanmar's foreign telecoms majors is particularly symbolic. The arrival of Telenor and Ooredoo in 2014 transformed the country's information environment nearly overnight, granting millions access to affordable mobile communications, including 3G internet access. Prior to their arrival, the military junta tightly controlled access to SIM cards by ensuring that they cost thousands of dollars each.
While the impact of this connectivity explosion was decidedly mixed – social media networks like Facebook would later be accused of facilitating and amplifying hate speech and ethnic cleansing – there is no doubting the excitement that attended the arrival of Ooredoo and Telenor, and the sense that Myanmar was now a "normal" country after decades of military dictatorship.
The withdrawal of these two foreign investors is far from the most tragic thing that has happened to Myanmar since the military coup. But it is a particularly stark sign of the country's recent lurch back into repression and pariah status.