'We Live With Our Losses': What the Indo-Pak Ceasefire Means to Locals Along the LoC
Over a year since the ceasefire took effect, locals say they continue to live under the shadow of trauma caused by the Kashmir conflict.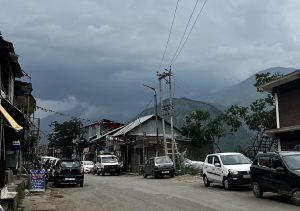 In 1986, Ghulam Mohammed Bhat took his sheep to graze in a nearby pasture in Sahoora, one of the last villages on the Line of Control (LoC), which separates the Indian- and Pakistan-administered sides of Kashmir. A splinter hit his right leg during cross-border shelling. After a 24-hour wait, Bhat reached Srinagar, the capital of Indian-administered Jammu and Kashmir, only to have his leg amputated as the infection from the splinter ate his leg.
Many like Bhat have over the years lost limbs to the near-constant violence along the LoC and survive this trauma with prosthetics. Recently, on December 22, 2021, a 20-year-old girl lost her leg to a landmine blast in Hathlanga, a village along the LoC in Uri.
Uri is located a mere 104 kilometers from Srinagar and has a population of more than 75,000, according to the last conducted census in 2011. The last block along the Srinagar-Muzaffarabad Road, which opens into Pakistan, Uri houses around 41 villages, of which a dozen lie next to the LoC. Villages close to the LoC that used to be routinely minced by bullets and shells include Thajar, Sahoora, Silikote, Tilawari, Hathlanga, Chirunda, and Kamalkote.
February of this year marked the first anniversary of the 2021 ceasefire along India and Pakistan's northern border in Kashmir. Yet villagers living along the border continue to carry the repercussions of residing in a region that has continuously inflicted trauma and terror during seven decades of conflict between the two nuclear-armed nations.
Today, 36 years later, despite a ceasefire being in place, Bhat feels a deeper sense of insecurity for the generations that are yet to be born.
"My prosthetic leg is a reminder of the location we live in. We live beyond a line that divides people," says Bhat, with his crystal blue eyes holding an ocean of dismay.
Looking Over the Line of Control
In October 1947, Jammu and Kashmir (J&K), a princely state, acceded to India under the duress of a tribal invasion. India and Pakistan fought over the region in 1949, eventually demarcating a ceasefire line. It was the 1971 war between India and Pakistan over the status of Bangladesh that turned this ceasefire line into the Line of Control (LoC), as it is known today.
Locals believe that the LoC tears apart the people, culture and history of Jammu & Kashmir. They see J&K not as belonging to India or Pakistan, but as a region that exists independent of these national affiliations.
About 10 kilometers east of the LoC is Uri. Uri sits in Baramulla district and is located on the left bank of the Jhelum River. For years, the Uri sector has received serious blows as India and Pakistan continue to combat physically and politically. On September 16, 2017, at least 17 soldiers were killed in an attack in Uri after four militants stormed an army camp.
But on February 25, 2021, villagers living along the LoC woke up to the news that from now on India and Pakistan were to strictly adhere to all ceasefire agreements along the LoC and other sectors.
Constant Chaos
Barbed wires, boards that warn of active landmines, a thick army presence, and lofty green mountains surround Silikote, a village on the Indian side of the volatile border with Pakistan. A minuscule village of 25 homes, Silikote breathes under the shadow of Pakistani army pickets placed on the higher mountain ranges. It is defenseless against every incident of fire from Pakistan.
For Tanveer Chalkoo, a resident of Silikote, life has always meant uncertainty and uneasiness. Located in the "no-man's land" area, Silikote lives a nightmare even during daytime. With dismal health, education, and transport facilities, residents of Silikote are locked inside a black hole.
Chalkoo explains the local sentiment: "Today is ours, we may not live to see the next day."
In 2003, Chalkoo lost his aunt to a ceasefire violation in Silikote. His aunt, who was right outside her home, readying her cattle for grazing, was hit by fire from Pakistan and died on the spot. Her son, too, was left handicapped as a shell tore away the skin from the bone.
In 2018 as well, one of his neighbors saw their home reduced to rubble as the wooden structure failed to survive heavy shelling. "The family has now moved to a nearby village, Thajar, and lives in a community center as they have no resources to build a new home," says Chalkoo.
He also explains that this trauma is manifesting itself in the new generations. He suspects that children living closer to the border are often born with hearing and speech disabilities, just like his own sister. Most of these cases, he explains, are not genetic.
"This uncertainty is our daily routine because not everyone has the resources to move out and resettle in other towns or Srinagar," says Mohammed Ayyub, a farmer from Thajar, another village near the LoC.
Locals claim that the generational trauma that they have suffered forces them to live every day like their last. "We don't think about the future like you do," Ayyub says. "We just manage to stay alive, as long as we can."
Residents who call this "no-man's land" their home have longed for bunkers since the previous ones were destroyed in the deadly 2005 earthquake in the region. Locals from border villages allege that the few bunkers they do have do not serve the purpose of shielding them from shelling; rather the structures increase their vulnerabilities. Locals from Sahoora, Silikote, Kamalkote, and Thajar told The Diplomat that if a ceasefire violation were to happen, the bunkers wouldn't be able to accommodate more than 25 people in each village. Locals also claim that they are using up their savings to build community bunkers as the government fails to assess the situation humanely.
Bhat and Ayyub share that they have lived in bunkers for up to 72 hours without moving out during heavy shelling. With this reality, they ask an important question, "What will save us if the ceasefire is violated? Are we on our own?"
Politics and Policies
Haji Asadullah Lone, 88, a resident of Uri town, whose family was separated during Partition, says that personal loss is a characteristic of the region. "Everyone has lost something: limbs, lives or livelihood," says Lone.
Bhat, a former teacher, confirms this sense of loss: "Yes, the ceasefire exists, but life doesn't change with it. We live with our losses. We now consider our losses as normal. You will find plenty of victims of shelling and landmine blasts here, almost in every home."
India and Pakistan have fought over who should rule the Muslim-majority Jammu and Kashmir ever since acquiring independence from Britain. They have fought two of their three wars over Kashmir.
On August 5, 2019, the Indian government led by Prime Minister Narendra Modi, who is known for his Hindu supremacism, altered the territorial status of J&K. The Modi government arbitrarily abrogated constitutionally mandated rights and guarantees given to the region. These guarantees in a sense were the basic foundation of the contract that connected Kashmir to India.
Life on the LoC bestows upon locals a trauma that terrorizes them, resources that restrain them, and a location that locks them in their own land. Unstated rules limit LoC locals to their own villages after sunset.
"We can't even argue like before, the army exercises a stronger control here now," said a local on the condition of anonymity.
Since the Modi government's arrival, it has labeled the situation in Kashmir as an "internal issue" even when the issue was highlighted in the United Nations afterAugust 5. India's previous governments had labelled it a bilateral issue between India and Pakistan.
Even during 2020, as the world battled COVID-19, Kashmiris on the LoC struggled to escape bullets being shot from either side of the border. From February to April 2020, locals claim they experienced the deadliest phase of violence as Pakistani shells reached the upper area of Uri town, when even the local police station was damaged.
While locals remain hushed about whether Modi's decision to strip constitutional guarantees from Kashmir resulted in a harsher life at the border, the sequence of events suggests that Pakistan increased fire at the border after the theft of guarantees from J&K.
According to the data released by the Indian Ministry of Home Affairs, 2020 proved to the worst year in terms of losses along the LoC since the last ceasefire in 2003. The two antagonistic armies violated the ceasefire more than a thousand times, affecting both villagers as well as the armies.
Junaid Babzada, a resident of Kamalkote, another village near the LoC, feels that when any political changes happen in India, it is the common man on the border who deals with their repercussions first.
Babzada, a local businessman explains that the ceasefire agreement has acted as a breather for the residents of Uri. "But," he adds, "whoever has the means are doing everything to escape this place."
While locals do credit the current ceasefire as a "temporary relief," they told The Diplomat that they're trying to not get used to the peace. Their lived experience of the seven-decade old enmity tells them that the region can change at anytime.