Who Will Lead Indonesia's PDI-P Into the 2024 Election?
As President Joko Widodo approaches the end of his second term, it is shaping up as a race in two.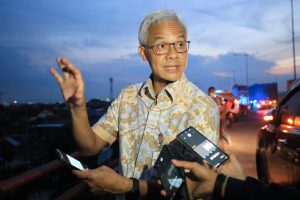 The Democratic Party of Struggle (PDI-P) is currently the largest political party in Indonesia, with 128 seats in the national parliament, exceeding the threshold of 115 seats needed to nominate a presidential candidate under Indonesia's election laws.
In other words, it is the only political party in Indonesia today with the ability to nominate a presidential candidate without the need to form a political coalition with other parties. Commensurate with its parliamentary presence, five PDI-P politicians serve as ministers in President Joko "Jokowi" Widodo's cabinet.
The PDI-P is also strong electorally in the key battleground provinces of Central Java and East Java, home to more than 70 million Indonesians, as well as the Outer Island provinces of Bali, East Nusa Tenggara, and Papua.
Given its power and influence, PDI-P's electoral strategy and choice of its presidential nominee will have a large effect on the trajectory of the 2024 presidential elections and what is likely to happen during the next presidential term. As a result, Indonesian political parties and political observers will most certainly be paying close attention to PDI-P's electoral strategy.
The PDI-P has two potential presidential nominees. Puan Maharani is the speaker of the Indonesian Parliament and one of the key personalities on the party's national board. She is the daughter of current party chairman Megawati Sukarnoputri and has been groomed as a likely successor to Megawati.
The other potential presidential nominee, Ganjar Pranowo, is the governor of Central Java province. The governor has gained national prominence in recent years and is a favored presidential candidate, according to pollsters. For instance, a May poll by Charta Politik highlighted that not only is Ganjar the preferred choice of 68.5 percent of PDI-P voters surveyed, but that more PDI-P voters will vote for Prabowo Subianto, who ran against Jokowi in the 2014 and 2019 elections, than for Puan Maharani (9.7 percent vs. 6.2 percent).
Megawati has claimed survey results are less important than choosing a leader who is able to carry on the party's legacy, especially that of Sukarno, simultaneously Indonesia's first president and Megawati's father. Separately, PDI-P Secretary General Hasto Kristiyanto echoed the sentiment, stressing that ideology, patriotism, and capability are more important than survey results in choosing a presidential candidate.
Therefore, the choice of presidential nominee for PDI-P's Chairman Megawati appears to be one of electoral pragmatism versus principle. While Ganjar is the more popular PDI-P figure, Puan is more able to carry on the party's legacy and her presidential bid will follow in the footsteps of both Sukarno and Megawati.
The challenge is determining which way Megawati is likely to lean, as she is both likely to be politically pragmatic and hold fast to her chosen course and principles. For instance, in 2014, Megawati decided to nominate Jokowi as the presidential candidate virtually at the last minute, acknowledging that a Jokowi nomination would strengthen the party's electoral fortunes. Similarly, between 2004-2014, the PDI-P remained a staunch opposition party, despite efforts by then President Susilo Bambang Yudhoyono to bring the PDI-P into his coalition.
With Puan being tasked by Megawati to explore the possibility of cooperation between PDI-P and other political parties in Indonesia, Puan looks like the preferred PDI-P presidential candidate. The most probable scenario sees PDI-P offering the vice-presidential position to another political party that is willing to form a coalition with it. However, it may not be easy for PDI-P to find a political party with an acceptable ideological profile willing to accept the vice-presidential position.
Such a scenario may lead Ganjar to decamp from PDI-P to another party willing to nominate his candidacy. In June, another political party, Nasdem, proposed Ganjar as one of three potential presidential candidates that the party was likely to support. If Ganjar was to join another party, this could also split PDI-P's voter base and affect its electoral performance.
Another possible but less likely scenario is a Puan-Ganjar ticket. As PDI-P does not need to form a coalition with another party, it can go it alone. The main benefit of such a configuration is that it would avoid splitting the party both within and without; the 2009 elections also showed that a vice president need not have an independent political base. However, the duo's uncertain personal chemistry is a potential concern; a recent Tempo article only managed to find one photograph, from 2012, of the two politicians sitting side by side.
A third scenario sees a Ganjar presidential ticket with Puan taking over the leadership of the party. It is highly unlikely that Puan will want to play second fiddle to Ganjar, however; the PDI-P will most likely seek to find another political party willing to bandwagon with it.
Jokowi's candidacy in 2014 was exceptional because he was a major beneficiary of direct regional elections with few links to established political elites. A Ganjar candidacy would recapitulate Jokowi's trajectory as a regional leader thrust into national prominence. On the other hand, a Puan candidacy would represent a return to the pre-Jokowi norm in Indonesia, whereby presidential nominees tended to hail from either the ranks of party elites or party chairmen.
Either candidacy will underscore PDI-P's strategy to retain its political dominance in the post-2024 period. The key for PDI-P is to avoid a damaging internal party split, find strong political allies, and continue to play to its strengths as a centrist party with a strong grassroots network.