Blinken Bound for Southeast Asia and Africa Amid China Tensions
The top U.S. diplomat will visit Cambodia and the Philippines en route to a three-nation tour of Africa.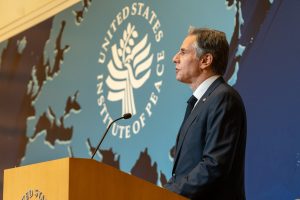 U.S. Secretary of State Antony Blinken will depart this week for a five-nation tour of Southeast Asia and Africa, amid the growing tensions with China and Russia over Taiwan and the Russia-Ukraine war.
In a statement Friday, the State Department said that Blinken will first travel to Phnom Penh, Cambodia, where he will attend a number of events connected to the Association of Southeast Asian Nations (ASEAN) Foreign Ministers' Meeting from August 3-5. Blinken will then visit the Philippines, before flying on to Africa, where he will stop in South Africa, the Democratic Republic of Congo, and Rwanda.
While in Phnom Penh, Blinken will represent Washington at the U.S.-ASEAN Ministerial Meeting, the East Asia Summit Foreign Ministers' Meeting, and the ASEAN Regional Forum. According to the State Department, Blinken will use these opportunities to "emphasize the United States' commitment to ASEAN centrality," in addition to addressing "the COVID-19 pandemic, economic cooperation, the fight against climate change, the crisis in [Myanmar], and Russia's war in Ukraine."
Blinken's attendance at these meetings comes amid a battle between Washington, Beijing, and Moscow for influence in the Global South, as tensions between the three nations increase.
The latter two of these ASEAN-hosted meetings are newsworthy because both Russian Foreign Minister Sergey Lavrov and Chinese Foreign Minister Wang Yi are expected to attend. This sets up a potentially awkward encounter with the top U.S. diplomat, amid the tensions over Ukraine and Taiwan. The latter has been particularly notable as of late, with Beijing vociferously protesting reported plans by U.S. House Speaker Nancy Pelosi plans to visit the island.
These encounters come after Blinken spoke to Lavrov by phone on Friday for the first time since before the Russian invasion of Ukraine, a day after President Joe Biden spoke for two hours with China's paramount leader Xi Jinping. The last time Wang and Blinken met was at last month's meeting of foreign ministers from the G-20 group of nations in Bali, Indonesia.
According to The Associated Press, "there was no immediate indication" that Blinken would meet separately in Phnom Penh with either Wang or Lavrov.
While Cambodia is less the subject of Blinken's visit than the backdrop, the State Department said that while in Phnom Penh, Blinken would take the opportunity to hold sideline meetings with Cambodian Prime Minister Hun Sen and Foreign Minister Prak Sokhonn to "discuss U.S. support for ASEAN and efforts to strengthen our bilateral relationship with Cambodia."
Relations between Phnom Penh and Washington have been in a dire state for some time, as Washington has grown concerned about Beijing's growing influence in the country, particularly its role in the refurbishment of a Cambodian naval base,  even as Hun Sen's government has accused the U.S. of using democracy promotion to interfere in the country's politics. Whether the bilateral meetings result in any substantial improvement in relations remains unlikely, given the entrenched mistrust on both sides, though Blinken may succeed in addressing broader issues of salience to Cambodia's chairmanship of ASEAN, such as the increasingly desperate situation in Myanmar.
Blinken's next stop in the Philippines will give him a chance to check in with the new administration led by President Ferdinand Marcos Jr., a key ally in the U.S. efforts to hold the line against China's maritime assertiveness in the South China Sea, after the tumultuous Duterte presidency. In Manila, the Philippines, on August 6, the Secretary will meet with Marcos and his Foreign Secretary Enrique Manalo to "discuss bilateral efforts to strengthen the U.S.-Philippines alliance, including through increased cooperation on energy, trade, and investment, advancing our shared democratic values, and pandemic recovery."