Is Southeast Asian Football Finally On The Cusp Of Success?
After years of under-performance, green shoots are visible both in the region's domestic leagues and at the national level.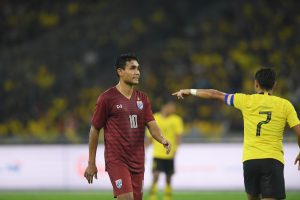 Putting it nicely, Southeast Asia underperforms in world football. Put bluntly, soccer in the region has been in the "dark ages" for decades. Despite having four countries in the world's top 20 by population, and publics that happen to be football mad, the region's national teams perform dismally at international competitions. No Southeast Asian team has qualified for a FIFA World Cup since Indonesia – then the Dutch East Indies – took part in the 1938 tournament. Thailand and the Khmer Republic (now Cambodia) reached the semi-finals of the regional Asian Cup in 1972, the last time any Southeast Asian country made it that far.
Not surprisingly, most Southeast Asian countries sit toward the bottom of the world rankings compiled by FIFA, football's global governing body. Vietnam tops the list for Southeast Asia at 97th. Thailand follows up in 111th place, followed by the Philippines (134th), Malaysia (147th), and Indonesia (155th). Laos, Brunei, and Timor-Leste are ranked in the bottom 30 of the world's 211 national sides. "Population-wise and given their undisputed passion for the sport in the region, it's clear the region is underachieving currently," Martin Lowe, a journalist who writes about football in Asia, told me.
The reasons are many. Investment in the local game has been lacking. Academies for children are relatively new. Relatively low wages disincentive youngsters from taking the risk of trying to turn professional. Some blame history; the sport's development has been waylaid in parts of the region by atrocities. Cambodian football was experiencing a "golden age" in the 1960s but that was decimated by the genocidal Khmer Rouge regime in the 1970s.
Politics and corruption have also held back the game across much of the region. Timor-Leste is barred from next year's AFC Asian Cup, a quadrennial regional football championship because it was found to have fielded ineligible players in past games. In 2014, FIFA suspended the Football Association of Indonesia, the nation's governing body, because of prolonged government interference in the association, meaning all Indonesian domestic and national teams were banned from tournaments hosted by FIFA and the Asian Football Confederation (AFC), the governing body for Asia and Oceania. (The suspension was lifted in 2016.)
Last October, the AFC banned 22 Cambodian and Laotian players after a years-long investigation into match-fixing in Laos' domestic league. Most were from club side Lao Toyota FC. Vietnam's domestic league has been dogged by graft allegations for years. Many of the region's football associations, which run the domestic and international games, are politically connected. The president of the Football Federation of Cambodia is Sao Sokha, head of the military police. Since 2016, the Football Association of Thailand has been run by Somyot Poompanmoung, a former commissioner-general of the Royal Thai Police.
Professionalism in domestic leagues is relatively recent. Thailand's domestic league, known as T1, only went professional in the 2000s. Vietnam's V.League 1 wasn't professional until the 2000-01 season. "The lack of professionalism in the domestic league is a major issue holding these countries back," Gian Chansrichawla, a Bangkok-based journalist and Southeast Asia editor at Football Tribe, a news site dedicated to the Asian game, told me.
"The standard of training sessions, expectations for players' behavior off the pitch, and the organizational aspects of the clubs are still lacking. As a result, the standard of play is not particularly high," he said.
After speaking to coaches from abroad, Gian says most reckon the level and structure of young player development in Southeast Asia lag behind that of their respective home countries. "They say that Thai kids are no less talented than their counterparts in Europe, but they are not given the same facilities or exposed to the same level of training in their adolescence, and are not given the chance to move into highly professional structures once they become adults," said Gian. "I assume it is a similar story in other parts of Southeast Asia."
Not that the sport doesn't have powerful patrons, past and present. King Vajiravudh, the Siamese king, formed Thailand's first football association in 1916. Thailand has hosted the King's Cup, a tournament between international teams, since 1968. Cambodia's prime minister, Hun Sen, is an avid fan of football – although not the ablest of footballers.
However, there are reasons for optimism.
Except for the Thai side Police Tero FC, which finished runners-up in the 2002-03 iteration, no Southeast Asian domestic side has advanced deep in the AFC Champions League, the Asian club tournament, since it was rebranded and formatted in 2002. But Malaysia's Johor Darul Ta'zim made it through to this year's round of 16, and Thailand's BG Pathum United was knocked out of the quarter-finals last weekend.
An important day came on April 18, matchday two of this year's AFC Champions League, when three teams from Southeast Asia – BG Pathum United, Johor Darul Ta'zim, and Singapore's Lion City Sailors – beat teams from South Korea, which have a far greater pedigree at the tournament. According to Gian, "the biggest sign of progress for Southeast Asia, and specifically Thailand, over the past few years has been interesting in our players from abroad."
"This is significant both because it shows us that the gap in quality between ASEAN and the strongest teams in Asia is shrinking and because it gives national team stars the chance to improve and play at a higher level without having to wait for the local league to catch up," he added.
Japan's J.League, its first-tier competition, is brimming with young Southeast Asian talent. Heading in the other direction, many aging players have returned home from abroad. Teerasil Dangda, 34, the captain of Thailand's national team, returned from Japan to play for BG Pathum United in 2021 – and helped them advance in the AFC Champions League this year. Theerathon Bunmathan, the first Thai player to win Japan's J. League, transferred to Thai-based Buriram United this season.
Perhaps the brightest star of Southeast Asian football is Vietnam's Nguyen Quang Hai, the current holder of the ASEAN Football Federation's player of the year. In June he completed a move from Hanoi to Pau, which plays in Ligue 2, France's second-tier league. Doing so, he became the first Vietnamese player to join a French football club, and one of the few Southeast Asian footballers to play in Europe.
"His move to Europe is a punt into the unknown, one that very few succeed in," said Lowe. "However, the important factor here is that he has gone for it. More players need to start taking that risk if a route to Europe is ever going to be established for players in a decade's time."
Improvements in the domestic game appear to be having a knock-on impact at the national level. Thailand and Vietnam reached the final round of World Cup Qualifying in 2018 and 2022, respectively. Although they missed out on gaining a place in the actual tournaments, they advanced deeper into the qualifying rounds than most Southeast Asian nations had previously gone. (In January, Vietnam became the first Southeast Asian nation to win a match in the final round of the FIFA World Cup qualifiers.)
"Vietnam has been probably the spearhead of this; both in their significant investment in youth structures, but also in the consistency of approach at the national team level," said Lowe. "While success has ebbed and flowed, their identity remains broadly intact throughout, which while it has had its detractors, creates a stable environment for players to grow."
Praise should go to Park Hang-seo, a former South Korean footballer, who was brought as the Vietnamese national team's current coach in 2017 (as well as to manage the under-23s team, which got to the final of the AFC U-23 Championship in 2018). His Vietnamese side won gold at the 2019 and 2022 Southeast Asian Games. Vietnam's national side has progressed from 112th in FIFA's World Rankings in 2017, when Park took over, to 97th currently.
All eyes will be on next year's AFC Asian Cup, for which Vietnam, Thailand, Malaysia, and Indonesia have qualified. Only two Southeast Asian nations qualified for the 2019 iteration and none for the 2015 tournament. There is also the possibility that a Southeast Asian nation could qualify for a FIFA World Cup for the first time since 1938. The 2026 World Cup, which will be held in Canada, Mexico, and the U.S., will have eight teams from Asia, up from five at the last tournament. (Overall, it will expand from 32 to 48 teams.) Lowe reckons Vietnam and Thailand stand a good chance of qualifying for the tournament.
Whether Southeast Asian football is now entering a new "golden age" remains to be seen. "Next year's Asian Cup and the subsequent AFC Champions League campaigns should tell us whether this is just a one-off, or indicative of an overall improvement in ASEAN football," says Gian.