Seven Decades After It Was Abolished, 'Untouchability' Continues to be Practiced in India
The recent killing of a Dalit child for drinking water out of a pot meant for upper caste people lays bare the extreme discrimination, exclusion, and violence that Dalits suffer.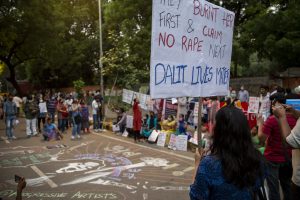 A nine-year-old boy from the lower caste Dalit community died after being beaten by his teacher for drinking water from a pot meant for upper caste teachers. The death occurred on the eve of the 75th anniversary of India's independence from British colonial rule.
The violence unleashed on the Dalit child and the resulting death serves as a reminder that independent India has brought little freedom for Dalits.
Formerly known as "Untouchables," Dalits are in the lowest rung of India's millennia-old caste hierarchy. So impure are they regarded by the four main castes – the Brahmins, Kshatriyas, Vaishyas, and Shudras – that Dalits are in fact looked upon as "outcastes," those who fall outside the caste categories. They have been traditionally tasked with menial jobs like leather work and manual scavenging and are perceived to be so "unclean" that even their presence or touch is seen to be polluting.
India's constitution abolished "Untouchability." The practice — i.e. subjecting a Dalit to any form of social, physical, and political exclusion or violence — is, therefore, a crime in India, which is defined as an atrocity.
Yet caste atrocities are a daily occurrence with as many as five atrocities being committed against Dalits per hour. Despite attempts at social reform, the Brahmanical elite and upper caste Hindus have ensured that this ancient hierarchical structure continues to hold sway in India even today.
The Dalit boy who was killed on the eve of Independence Day this year was Indra Meghwal from Jalore district in Rajasthan in the western part of India. He had been so severely assaulted by his upper-caste teacher that he was hospitalized for several weeks, after which he succumbed to his injuries. Indra's father, Devaram Meghwal said the drinking water pot the child had touched was used only by teachers. The distraught father alleged that the teacher had beaten his son so brutally that he became unconscious.
This, however, is not an isolated incident. According to National Crime Records Bureau (NCRB) data, over 130,000 anti-Dalit crimes were registered between 2018 and 2020. The highest number of anti-Dalit crimes was reported from Uttar Pradesh (36,467), followed by Bihar (20,973), Rajasthan (18,418), and Madhya Pradesh (16,952).
The incident in Jalore evoked anguished memories among many Dalits. Former speaker of India's lower house of Parliament, Meira Kumar, recalled the violence her father Jagjivan Ram, a towering Dalit leader who served as deputy prime minister in India, suffered as a child a hundred years ago. He was prevented from drinking water from a pitcher meant for upper caste Hindus in school. "It was a miracle his life was saved," she said. Highlighting the death of the nine-year-old Dalit boy "for the same reason," she went on to stress that "75 long years after Independence, caste system remains our greatest enemy."
Chhail Singh, the teacher who beat young Indra, has been arrested and booked for murder and violation of the Scheduled Caste and Scheduled Tribe Prevention of Atrocities Act. Unsurprisingly, upper caste Hindus have come out in support of the teacher.
Police authorities insist that there was "no caste angle to the crime," a claim that has been refuted by Indra's family. This isn't surprising as India's police and judicial institutions are predominantly upper caste.
Discrimination against Dalits is endemic in Indian society, especially with regard to notions of "impurity" and "contamination." Even Dalit children bear the brunt of such discrimination in school, not just from teachers but from upper caste fellow students.
A child laborer in Bihar who dropped out of school due to caste discrimination told this writer that people from lower castes always have to use separate drinking glasses. She was made to sweep the classroom and was forced to sit separately from other students.
It does not matter whether a Dalit is in school, at work, or at play, they are constantly reminded of their impurity and caste.
Several Dalit rights groups have pointed out that atrocities against Dalits have increased with the rise to power of the Hindu right-wing Bharatiya Janata Party (BJP) in 2014. The BJP and its mentor the Rashtriya Swayamsewak Sangh are unabashed champions of Hindutva and have promoted Brahmanism.
The rising frequency of crimes against Dalits is a reflection of the increasing exploitation of Dalits by upper-caste Hindus.
The brazen act of violence in Jalore has brought back horrific memories of the gang rape and murder of a Dalit girl by four upper caste men in Hathras, Uttar Pradesh. The BJP government in the state did everything in its power to hush up the incident. The Uttar Pradesh police even forcibly burned the body of the rape victim in the middle of the night to destroy evidence. The widespread public outrage led to the Allahabad High Court taking suo motu cognizance of the case.
Incidentally, in Jalore too, upper caste Rajputs, the community to which the accused teacher belongs, have tried to pressure the Dalit family not to register a case. The Congress-led government in the state has received a lot of flak for the incident, with several councilors and a legislator resigning in protest from the government.
Caste segregation is so deep-rooted in Indian society that Indians carry their caste biases even when working and living abroad. Several tech companies in the United States have taken note of discrimination on the basis of caste and put in place policies to ensure zero tolerance for caste prejudice. Companies such as Apple have revamped their training, recruitment, and employee conduct policies to prohibit discrimination or harassment on the basis of caste.
Back home in India, prominent Dalit activist Bezwada Wilson hit out at the hypocrisy of India's claims of being a free and developed nation. Tweeting about the Indra Meghwal incident, he said "Choothachoot roz kisi masoom ki jaan leti hai…. #STOPKILLINGUS #DALITLIVESMATTER." Untouchability kills some innocent every day.