Southeast Asia and China's Global Security Initiative: Between Rhetoric and Reality
While China has begun integrating the GSI into its approach to Southeast Asia, it remains unclear how Beijing's promises will translate into actions.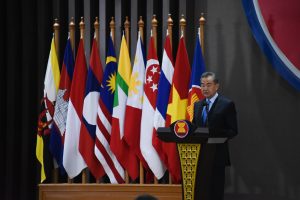 Last month, China's Foreign Minister Wang Yi introduced China's Global Security Initiative (GSI) to an audience at the ASEAN Secretariat in Jakarta, as part of a whirlwind tour of Southeast Asia. During a speech on ASEAN-China relations, he spotlighted Beijing's efforts to promote the GSI and integrate it into its existing approach to the Association of Southeast Asian Nations (ASEAN) as a grouping and Southeast Asia as a region.
China's security initiatives in the Indo-Pacific region in general and Southeast Asia, in particular, are far from new. China began articulating initiatives such as the New Security Concept as early as the 1990s, and began making selective inroads with individual Southeast Asian countries in the 2000s and early 2010s. These included the inking of the China-Malaysia defense pact in 2005 and the kicking off of new Mekong joint patrols in 2011. As I have argued previously, beyond headline developments such as China's presence at Cambodia's Ream Naval Base or the regional pushback (or lack thereof) Beijing has received for its continued assertiveness in the South China Sea, China has expanded its efforts to build a network of security partnerships with Southeast Asian states, leveraging aspects including arms sales, formalized dialogues, and exercises, including with U.S. allies such as the Philippines and Thailand.
Seen from this perspective, GSI is the latest manifestation of Beijing's efforts to articulate its growing security role and position its approach to the international order. Since Chinese President Xi Jinping formally rolled out the initiative at the Boao Forum for Asia Annual Conference in April, Chinese diplomats have framed it as China's solution to prevent conflict and promote stability amid the challenges posed by COVID-19, intensifying geopolitical contestation, and Russia's invasion of Ukraine. China counterpoises the GSI to what it claims are the bloc-based, zero-sum approaches of countries such as the United States.
GSI is undergirded by "six commitments" which integrate past language advanced by Beijing, including maintaining common, comprehensive, cooperative and sustainable security; respecting sovereignty and territorial integrity; maintaining security in traditional and non-traditional domains; and addressing the "legitimate security concerns" of all countries.
While GSI remains quite vague, China has begun rolling out the initiative with individual countries, with Southeast Asia being among the priority regions. Soon after GSI was unveiled, Chinese diplomats began delivering speeches and writing op-eds messaging the initiative in individual Southeast Asian countries, along with the Global Development Initiative (GDI) which Xi unveiled in his address to the U.N. General Assembly last year. Chinese state media began including support for GSI in individual interactions with Southeast Asian officials starting in May, including with Indonesia's Coordinating Minister Luhut Binsar Pandjaitan and Lao Foreign Minister Saleumxay Kommasith. Wang Yi also told Cambodian Deputy Prime Minister Prak Sokhonn that China wanted to work with ASEAN under Cambodia's chairmanship to implement both the GSI and GDI, as the two sides advance the new ASEAN-China comprehensive strategic partnership inked last year.
Last month, China's efforts to promote the GSI were in the spotlight with Wang Yi's speech at the ASEAN Secretariat. The July 11 speech, which came amid a five-country, nearly two-week tour around Southeast Asia that took Wang to Indonesia, Malaysia, Myanmar, the Philippines, and Thailand, was the first public speech in which a Chinese official sought to integrate the GSI into China's broader approach to ASEAN as an institution and Southeast Asia as a region.
In the speech, Wang mentioned the GSI as part of an effort to advance regional peace and stability, which was emphasized early on in his remarks as part of the second of five key directions for advancing ASEAN-China relations. (The first involved supporting ASEAN centrality, while the three others focused on development, science, technology, innovation, and people-to-people ties). Specifically, Wang indicated that China would work with ASEAN countries to implement GSI cooperation in priority fields such as counterterrorism, joint maritime search and rescue, disaster management, and the countering of transnational crime. This, he said, would help build on the "steady progress" China has seen in its security ties with ASEAN, with military and security exchanges being deepened, and cooperation advanced in non-traditional security areas such as climate and cyber, and the management of "differences and disputes" on the South China Sea.
Wang's speech, and Beijing's promotion of GSI within Southeast Asia more generally, are significant for a number of reasons. The reference to GSI implementation suggests that Beijing is openly incorporating the initiative into its approach to ASEAN states, which we could see developed further in the rest of 2022 and into 2023 on a bilateral, minilateral, and multilateral basis. To take just one example, Wang's reference to the Mekong as a "pilot zone" for the GSI at the recent Lancang-Mekong Cooperation foreign ministers' meeting in Myanmar, and the inclusion of non-traditional security areas like digital, space, and health in its list of priorities, suggests that this minilateral mechanism remains something to watch. Similarly, early discussions on China-Philippine maritime cooperation under new President Ferdinand Marcos Jr. – including the development of a coast guard hotline, a maritime search and rescue pact, and maritime governance capacity-building – also remain important to monitor given the inroads that Beijing made under his predecessor Rodrigo Duterte.
To be sure, whether the GSI translates from rhetoric to reality remains to be seen and is not without challenges. Much like the early stages of China's other proposals such as the Belt and Road Initiative, GSI remains vague, and its future is unclear with upcoming developments such as China's National Party Congress later this year. Traction is far from guaranteed, and seasoned ASEAN officials rightly point out that while China has proposed a dizzying array of repackaged frameworks to Southeast Asian countries in recent years, only a few of them have eventually gained ground beyond Beijing's own hyping of initial rhetorical support.
China's more pointed positioning of the GSI as an "Asia for Asians" vision relative to "outside" alternatives is already facing pushback, as we saw when Singapore Prime Minister Lee Hsien Loong indirectly but pointedly cautioned that it was "neither realistic nor wise" to exclude actors from outside of Asia, including the United States. More broadly, Southeast Asian states are not unaware of the huge gulf between rhetoric and reality when it comes to Beijing's management of differences, including on the disputes in the South China Sea.
Yet none of this should detract from the GSI's significance or China's efforts to promote it in Southeast Asia and within ASEAN. Rather, it should further reinforce the importance of viewing initiatives like GSI as just one part of China's growing regional security role, and its evolving efforts to knit together its expanding array of activities into proposals that can gain traction within the region and position itself more favorably relative to other perceived competitors.