Taiwan's KMT: Between a Rock and a Hard Place
China's aggressive maneuvers are making it harder for Taiwan's main opposition party to finesse its cross-strait stance.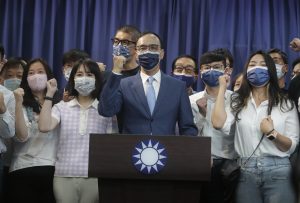 When China reacted to U.S. Speaker of the House Nancy Pelosi's recent Taiwan trip with its largest-scale military flexing in 26 years, including four missiles evidently fired over the island nation and numerous incursions into its air defense identification zone, Taiwan's main opposition party Kuomintang (KMT) excoriated Beijing for the show of force.
The party issued a flurry of statements via its official Twitter account, warning the exercises damage cross-strait relations and destabilize the region and calling on "the entire civilized world" to denounce the "belligerent acts." These rebukes have a sharpness to them rarely seen from the KMT, which has been Taiwan's more China-friendly party since the 1990s.
In addition, the KMT's Culture and Communications Committee stated in a press release that the Republic of China (Taiwan) is "a sovereign and independent nation," a sentiment most often used as a rallying cry by the party's arch-rival: President Tsai Ing-wen's independence-leaning Democratic Progressive Party (DPP).
Does this signal a paradigm shift for the KMT's Beijing policy? Likely not, says Yeh-chung Lu, chair of National Cheng-chi University's Department of Diplomacy. Yet a significant debate seems to be ongoing, one largely being waged between the old guard and the new. "The debate is to what extent they should engage with China, and then what are the principles and the big noes," Lu told The Diplomat.
The Chinese authorities have in recent years not made things easy for the party that is the closest they have to an ally across the strait. The Chinese Communist Party's crackdown on the pro-democracy movement in Hong Kong was a major factor in Tsai's landslide 2020 victory, and the KMT is struggling to make inroads with an electorate that is increasingly wary of closer economic and political ties with their authoritarian neighbor.
How the KMT Might Have Handled Pelosi's Visit
KMT Department of International Affairs Director and U.S. envoy Alexander Huang pointed out it was the KMT that repelled Chinese Communist forces after Chiang Kai-shek and his forces fled the mainland for Taiwan in 1949. "Our position is firm and has never changed," Huang said. "We do our best to maintain peace and stability in the Taiwan Strait through the strong defense and necessary dialogue. We do not give up hope in peace but if diplomacy and deterrence both failed, we will defend our homeland without compromise."
He observed that KMT administrations in years past also went to great efforts to invite top American political leaders to Taiwan. Yet in Pelosi's case, he claimed the KMT would have handled the trip in a more sensitive manner to avert a crisis.
"We would work with the U.S. government together on the possible impacts on our bilateral interests and then inform Washington that there is a need for us to make an effort (through cross-strait communications channels) to let Beijing know that we would emphasize that we see her as the highest representative of the American people — the House represents the people — with much less focus on her position in political succession," he said. A KMT administration would have greeted Pelosi as a friend from a fellow democracy and assuage Beijing's anxiety by reaffirming the party's commitment to the "1992 Consensus" and "anti-Taiwan independence," Huang went on.
He stressed that it is in Taiwan's interest to resume communication channels with China to reduce tension and prevent a crisis. The DPP is not likely to change its posture, which increases the risk of escalation in the future, he added.
China has frozen nearly all official ties with Taiwan since Tsai's election and ramped up its gray-zone military exercises as well as efforts to squeeze Taiwan's international space. Despite multiple attempts by Tsai to extend an olive branch, Beijing has made acknowledgement of the so-called "1992 Consensus" a precondition for resuming talks.
KMT-U.S. Relations in Flux
The KMT's relationship with Washington has stagnated since Ma Ying-jeou occupied the Presidential Office. Wu Den-yih, who replaced Ma as KMT chairman, did little to engage with the United States. In the "two-level game, U.S. ties and local politics," he was far more focused on the latter, Lu said, which reduced mutual trust with Washington.
While Wu's replacement, Johnny Chiang, tried to restore this trust, the party's resounding defeat in 2020 mired him in intraparty intrigue on one hand and battles with the DPP on the other. Further straining the KMT's image in Washington was the party's high-profile campaign to block American pork imports containing the leanness-enhancing drug ractopamine.
Current KMT Chairman Eric Chu is hastening to make up for lost time. In June, the party opened a liaison office in Washington, D.C., 14 years after the last one shuttered.
Huang, who heads the new office, says party officials are hitting the streets in Washington and "expanding our reach" in large cities like New York, Los Angeles, San Francisco, and Houston. The office is in contact with "key stakeholders in the U.S. government, congressional members and staff, and experts in major policy think tanks." Various activities are being planned, such as summer camps and workshops for young Americans.
Meanwhile, Chu embarked on an 11-day public relations mission to the U.S., where he declared the KMT historically "pro-U.S." and "pro-democratic" and met with national security officials, think tanks, and lawmakers on both sides of the aisle. He referred to the so-called "1992 Consensus," which the current Taiwan government does not recognize, as an ambiguous "non-consensus consensus" between both sides of the Taiwan Strait.
It is no longer viable for the KMT to be seen as the "pro-China" party in the current political climate, but there are also inherent risks in appearing to hedge its bets in Washington. Hardline nationalist KMT members regard a pivot toward the U.S. as incompatible with eventual unification with China and a misguided imitation of the DPP, Lu said, while the Chinese government now openly touts its plans for "One Country, Two Systems" for Taiwan.
"1992 Consensus"
There was a struggle over the party's emphasis on the "1992 Consensus" under the chairmanship of Johnny Chiang. Chiang made waves when he said he supported a 1992 Consensus, but one rooted in the Constitution of the Republic of China. This led more conservative members within the party to fear he was jeopardizing cross-strait harmony.
The term itself was created by former Mainland Affairs Council Minister Su Chi in 2000, with the implicit understanding that there is but "one China" and each side of the Taiwan Strait is free interpret what this means. Tsai has not accepted the "1992 Consensus." Notably, the concept was dismissed out of hand by the late Lee Teng-hui of the KMT, who was president while the cross-strait exchanges of 1992 took place.
On August 10, a white paper published by China's Taiwan Affairs Office, the first such document released on Xi Jinping's watch, confirmed that "One Country, Two Systems" is fundamental to Beijing's vision of unification with Taiwan. This is makes a rapprochement with a KMT, or indeed any Taiwanese administration, more difficult to achieve given how "One Country, Two Systems" played out in Hong Kong. Even pro-China former President Ma has declared the framework "dead."
2022 Local Elections and Beyond
While the KMT fills 39 of the Legislative Yuan's 113 seats and accounts for more county magistrates and mayors of special municipalities than the DPP, the party has struggled to exceed 20 percent of popular support since the last election. July's Taiwanese Public Opinion Foundation poll shows only 14.9 percent of Taiwanese currently back the party, putting it neck and neck with Taipei Mayor Ko wen-je's upstart Taiwan People's Party. The DPP, meanwhile, is riding high with 34.2 percent support among the electorate.
As Taiwan looks toward November 26 local elections, there are some opportunities for the KMT to make gains. There is also ample potential to run afoul of public opinion in the sensitive months ahead. One such example is Vice Chairman Andrew Hsia's "fact-finding" mission to southern China, which he embarked on merely a week after China conducted live-fire drills near Taiwan. The mission's stated goal was to study the situation of Taiwanese expats there and provide aid.
Hsia's visit has been widely criticized by the DPP and even some fellow KMT officials, with criticisms ranging from questioning the timing of the mission to accusations of colluding with the enemy.
With such little time between China's military drills and unification propaganda and the upcoming local elections, "it will be very difficult for the KMT to make any meaningful adjustment," Lu remarked, "even though I personally see this as necessary for the KMT to win any (national) elections in the future."