Unprecedented Rainstorm Exposes South Korea's Blind Spots
The extreme flooding in Seoul highlighted South Korea's lack of preparation for natural disasters – or climate change in general.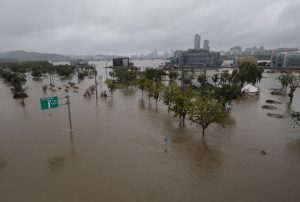 On August 8, the heaviest rainfall in 115 years unleashed the worst deluge in Seoul's history. Alongside boisterous thunders, the extreme rains inundated streets, businesses, subway stations, and numerous homes, causing outages for hours. Local reports indicated that the flooding had killed at least eight people by the morning of August 9, a day after the downpour began. Rainfall in the southern part of Seoul reached a maximum of 141 millimeters (5.5 inches) per hour, prompting landslides in hilly areas and thousands of evacuations to safer locations. The rainstorm is expected to last the whole week, leaving residents powerless as they wait for the next downpour.
Many commuters were trapped in floodwaters on their way home, and adjacent hotels and Airbnbs were completely filled. Expensive shops and luxurious residences in Gangnam, South Korea's wealthiest area, were not spared from the natural disaster. Luxury automobiles costing tens of thousands of dollars were abandoned on the street.
Yet, the natural disaster cost poorer neighborhoods of Seoul much more than automobiles. Sillim-dong, a town in Seoul about 11 kilometers from Gangnam, witnessed the drowning of a whole family trapped in a semi-underground flat. The dramatic downpour parallels a symbolic movie sequence in the Oscar-winning film "Parasite," in which impoverished dwellings are overwhelmed with rain while the wealthy are shown enjoying their safe mansions.
Citizens were outraged when there were no official guidelines and preventative measures immediately after the disaster. Even hours after the rainfall began, President Yoon Suk-yeol was still working from home, giving commands over the phone. Officials with the opposition Democratic Party officials lambasted Yoon's remote working, saying it demonstrates the president's unreliability as a leader. Upon taking office in May, Yoon relocated the presidential house from the Blue House to Yongsan, which is further away from the office. That effectively created a leadership void at the government's emergency headquarters. On August 9, the Korean word for "anarchy" was shared over 10,000 times on Twitter, calling into question the leadership vacuum early in the disaster.
The issue of leadership extended to the local government as well. People were enraged by Seoul Mayor Oh Se-hoon's late return to work after 10 p.m. while millions of stranded citizens were unable to find their way home. Another Mapo-gu district head in Seoul experienced a public backlash after uploading photos of himself having a feast on social media during the unprecedented rainfall. A number of people criticized him for his lack of leadership during emergency, savaging his excuse of "supporting small businesses."
This was not the first time Seoul has been subjected to catastrophic rain. Eleven years ago, the Gangnam district saw a massive landslide that resulted in 18 deaths, which were also exacerbated by subsequent rainfalls and floods. Oh, who was mayor at the time, resigned immediately after the incident; now he is facing similar criticism in his second term.
Despite Seoul's recurrent natural catastrophes, flood prevention funding was cut by 17.6 percent, or 89.6 billion won, this year, compared to last year's figure.
New President Yoon's energy policies are not helping the situation either. The Yoon administration intends to scale down South Korea's earlier full commitment to attaining carbon neutrality by 2050 and to reduce the proportion of renewable energy. The government also plans to enhance South Korea's nuclear power output by 30 percent or more by 2030. In keeping with his pro-business views, Yoon suggested the gradual privatization of the Korea Electric Power Corporation, which is under government control.
Critics point out that his neoliberal energy policy weakens crucial governmental intervention in the unfolding climate catastrophe, especially as the war in Ukraine and global warming deepen the global energy crisis. Reversing the previous carbon neutrality scheme exposes the Korean Peninsula to new climate challenges. According to the Korea Meteorological Administration, the heavy torrential rain and unusual weather this week were the results of climate change, and South Korea has just begun to feel its effects.
South Korea is increasingly experiencing record-high summer temperatures of 40 degrees Celsius and winter temperatures of -15 degrees Celsius. The unusual heavy rainstorms might be only the start of future natural calamities. Scientists anticipate that the Korean Peninsula will be partially submerged by 2030, including three of South Korea's largest cities: Seoul, Incheon, and Busan. Current energy policies that rely primarily on depleting fossil fuels and refurbishing nuclear facilities are unlikely to mitigate the projected climate threats. Along with the high inflation rate and pandemic, the Yoon administration has many hurdles to overcome.
As the number of casualties rises, so do national grievances. The president's initial approval rating of 52 percent in May is currently hanging around 20 percent, while his disapproval rating reached a record-breaking 70.1 percent on August 8. In comparison to the previous Moon administration, which had a nationwide approval rating of roughly 46 percent, Yoon's current approval rating is tepid at best. Following a recent controversy over lowering the school entry age for children, Yoon continues encountering ever-worse public sentiments amid the historic rainstorms and an impending economic slowdown.
The president's poor emergency management hastened the arrival of his lame-duck session – just three months after his inauguration. The opposition Democratic Party currently has 171 of the 300 seats in the National Assembly, while Yoon's People Power Party has just 109. The next parliamentary election is scheduled for April 2024, and Yoon's party must win at least 180 seats to be able to follow through on its presidential commitments. However, even among major conservative constituencies, including as Daegu and Gyeongbuk regions, Yoon's dwindling approval rating is hindering this objective. The latest natural calamity, which was unparalleled in its scope and severity, will continue to stymie the new leader and his party's prospects at the next election.
Fortunately, as of this writing the subways and highways in Seoul have been restored, and the Ministry of Land, Infrastructure, and Transport is considering multiple options for providing temporary accommodations to those displaced by the floods. Despite this, many other businesses and households, particularly Koreans with physical disabilities, are still scrambling to make it through the continuing rainfalls.
The catastrophic rainstorm has sent a grave warning across the country that the apocalyptic visions of ecologists may not be a far-off future. At a critical juncture where the country lies utterly underprepared for natural disasters, only long-term precautionary actions and a carbon neutrality objective will save Koreans from future downpours.