Why Was the UN Secretary General Planting Trees in Mongolia?
Antonio Guterres' participation in a tree-planting ceremony was a high-profile boost for the Mongolian government's One Billion Trees campaign.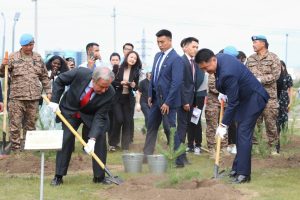 The planting of trees could be imbued with a lot of different metaphorical values, but when U.N. Secretary General Antonio Guterres paid Mongolia a visit to plant trees, this is not just a metaphor for luring Mongolia further into U.N. activities. It was literally about planting trees.
Guterres' arrival marked the fifth visit of a U.N. secretary general to Mongolia and the first since Ban Ki-moon came in 2009.
A highlight of Mongolia's contributions to U.N. activity has been peacekeeping operations; Mongolia organized a conference focused on female peacekeepers in June. Not surprisingly, Guterres emphasized this aspect of Mongolian engagement in a visit to a monument dedicated to peacekeepers in Ulaanbaatar.
While Mongolia is represented in many U.N. bodies, it recently seems to have quietly dropped a bid to be elected to the U.N. Security Council to support Japan's candidacy. Nevertheless, Guterres praised Mongolia's engagement with the U.N. and mentioned Mongolia's many other contributions to non-proliferation through its declaration of nuclear-free status and its engaged multilateralism more generally. He praised the country as "a symbol of peace in a troubled world."
Yet the main focus of Guterres' trip was his engagement in a tree-planting ceremony. So why did Guterres fly all the way to Ulaanbaatar to plant trees?
After attending COP26 in 2021, Mongolian President Khurelsukh Ukhnaa announced that he was embarking on a campaign for 1 billion trees to be planted in Mongolia. This was portrayed as a response to or attempt at mitigation against the climate emergency, but it is also very much as a beautification project for the nation.
The geographic location of Mongolia, with high elevations and an extreme continental climate, makes it a harsh environment for trees to grow. Forests covered over 10 percent of the territory through the 1980s, but have dwindled to 8 percent since then due to changing climate and active exploitation. The vast majority of forests are located in the north-central parts of Mongolia, in the transition zone between the southern edge of the great Siberian boreal forest (the taiga) and Central Asian steppe, making it sensitive and vulnerable to changes. There is a reported correlation between forested land cover and permafrost, whereby degradation of latter is adding more stress to forest resilience, the ability of forests to withstand disturbance and maintain basic function. In addition, other factors such as wildfires, drought, insect infestation, livestock, and logging are adding more pressure.
The announcement of the One Billion Trees project was a surprise, which was reflected in mass media and social media reactions. Although the project matches the need for restoration to stop desertification (which is transforming 80 percent of Mongolia's territory) and is in line with global initiatives to plant trees in order to mitigate effect of global warming, it raised mixed reactions recalling results of previous similar initiatives. The plan is quite ambitious but feasible and not unique; for years Mongolian governments endeavored to plant trees twice a year. Another big ongoing movement is the so-called Green Belt National Program, a joint Mongolian and South Korean initiative that intends to plant trees in three stages from 2005 to 2035 to withstand desertification. Under this program, a 3,700-kilometer green strip is planned to connect the east and west of the country. However, the outcome of the first stage (2005-2015) was announced to have planted only 12 percent of the proposed number of trees. Nevertheless, the Green Belt initiative is still ongoing, and an official meeting was held in December 2021 to coordinate this program with the One Billion Tree project.
To date, tree planting initiative is conducted with an enthusiasm that is somewhat reminiscent of communist subbotniks of the past. Aimags (provinces), towns, and even smaller administrative units are reporting on thousands of planted trees, and many more are reporting plans to plant millions in the years to come. All told, 1 percent of Mongolia's GDP will be redirected to fund the project. Business entities and banks are actively donating to the project and even the diplomatic corps was involved in events. The top 21 mining companies operating in Mongolia confirmed their willingness to plant 608.5 million trees. By March of 2022 1,000 arborists were trained to care for the trees after planting.
The tree that Guterres planted together with Khurelsukh outside of Ulaanbaatar hardly adds to the number of trees, but it added great symbolic value.
Clearly, Guterres' visit has come at a challenging time for the Mongolian government. This was aptly signaled by the previous visitor to Ulaanbaatar: Chinese Foreign Minister Wang Yi, who was there on August 8, the day before Guterres landed. Only month before that, Russian Foreign Minister Sergey Lavrov had stopped by.
Mongolia has always felt squeezed between its two overbearing neighbors but even more so now, when the Putin regime is clearly currying favor with the Xi regime, a development that rarely spells good news for Mongolian foreign policy. At the same time, some elements of Mongolian civil society are upset with the lack of a clear condemnation of Russian aggression against Ukraine.
It is in this context that Prime Minister Oyun-Erdene Luvsannamsrai chose to emphasize a hydropower project in western Mongolia that presumably was also the subject of discussions with Wang, but that is, along with other hydropower projects, opposed by Russia on somewhat flimsy environmental grounds.
The symbolic importance of official foreign visits has always been highly appreciated in Mongolia. Guterres' visit was thus widely reported in Mongolian media, even though much of the capital is away on vacation at this time in the summer. Whether these kind of gestures actually assuage the fears of North American and European governments about Mongolia's precarious position and its resultant wavering on commitment to democracy remains unclear. Relations with the U.N. remain a neutral ground that Mongolia has long emphasized in its foreign policy and the very positive tone of Guterres' visit overall was somewhat of a reward for the current government.