Australia Needs a Smarter Strategy for Investing in Vietnam
Bilateral relations have advanced considerably over the past decade, but Canberra can do a lot more to engage economically with Hanoi.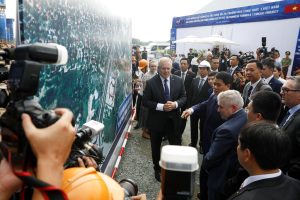 Australia wants to be a partner of choice for Southeast Asia. At the same time, we're trying to compete with China for influence across all domains: security, development, infrastructure, investment, and soft power.
But we need to take a reality check.
Australia's economic capacity is limited. We'll never be able to compete with China on volume. So if Canberra wants to play a more meaningful role in the region, it needs to be smart about it. A key priority – one of the few that unifies this diverse region – is the need for investment and economic development.
Take as an example Vietnam, Southeast Asia's emerging bright star of post-COVID-19 recovery.  With its projected 2022 GDP growth of 7 percent already exceeding its pre-pandemic growth and outpacing its neighbors, Vietnam is attracting global players who are investing big in the country. This year alone, Apple, Foxconn, Samsung, and Korean Lotte have topped up already sizable investments, while the American chip software maker Synopsys shifted investment and engineer training to Vietnam.
Last year, despite the impacts of COVID-19, Vietnam attracted $31.15 billion of foreign direct investment, up 9.2 percent from 2020, most of it focused in the semiconductor, technology, and garment and textile industries.
Australia is late to the party. As the 20th-largest foreign investor in Vietnam, Australia accounts for just 0.51 percent of total registered investment in the country. That's A$1.38 billion, less than the single investment that the Danish company Lego made last year when it announced plans to build a new factory in Vietnam.
Last year, bilateral trade between Australia and Vietnam hit A$16.7 billion, up 49 percent on 2020 figures, making Vietnam our 12th largest trading partner. But the two complimentary economies should be doing better and have let opportunities slip.
To be sure, there is a good base from which to start. Diplomatic relations between Hanoi and Canberra are longstanding, and 2023 will mark the 50th anniversary of their establishment. Australian companies like ANZ Banking Group were among the first commercial actors in the country when Vietnam started to open up its economy in the early 1990s. But commercial ties have stagnated over the past two decades, a period when the Vietnamese economy has experienced rapid development.
Shared strategic concerns more than political and economic interests have driven Australian engagement with this increasingly important Southeast Asian country. But souring relations with China have given Canberra a wake-up call about the need for economic diversification, on which Vietnam offers Australia good opportunities.
In 2019, former Prime Minister Scott Morrison visited Hanoi, the first sitting PM in three decades to do so. The aim of the visit was to consolidate the strategic partnership signed in 2018, and elevate bilateral economic relations. What followed was the Australia-Vietnam Enhanced Economic Engagement Strategy in 2021, which set the goal of making the two countries top-ten bilateral trade partners and doubling two-way investment.
Vietnam, and Southeast Asia as a whole, is a competitive space. The market is enormous, and businesses make their own decisions independent of government. Australia cannot compete in volume, not with the giants already in play. Instead, Australia needs to compete smartly.
Currently, Australian investment is concentrated in manufacturing and processing industries, food services, agriculture, forestry, and fisheries. But there are emerging areas in which Australian businesses need to get involved: innovative agritech, renewable energy, and critical supply chains. Our recent report recommends focusing on strategically important sectors, and in partnerships with other important partners of Australia and existing top investors in Vietnam – Japan, South Korea, and Taiwan in particular.
Renewable energy is an area of mutual interest and enormous potential, now that the new Labor government is in office. A young, rapidly urbanizing, and rapidly industrializing country of 100 million people has a huge demand for energy.
To meet its goal of net-zero emissions by 2050, however, Vietnam needs to massively increase its renewable energy capacity, particularly solar and wind. This will require substantial investment: the most recent iteration of Vietnam's Power Development Plan 8 estimates an annual financing need of over $11 billion, much of which will be allocated for renewables. Similarly, green hydrogen is in great demand in Vietnam and presents another opportunity for Australia and regional partners.
Moreover, Australia is surprisingly yet to address the potential LNG export, gas exploration, and gas infrastructure opportunities in Vietnam, despite our world-leading expertise in this sector. The LNG and gas sector must be a continued focus of our energy partnerships.
As a manufacturing hub, Vietnam is highly dependent on raw inputs from China and other countries, while Russia and Ukraine are major suppliers of nickel, krypton, aluminum, and palladium, critical for the production of semiconductors. But with China's enduring lockdowns, and minimal movement out of major ports, it has become challenging for Vietnam to get the raw materials and component products it needs.
As an exporter of raw materials, Australian policy makers should explore what role it can play in responding to the supply chain challenges facing Vietnam's manufacturing industry.
Vietnam is already looking to Australia to play a bigger role in its manufacturing supply chains. In May 2020, Vietnamese steelmaker Hoa Phat Group purchased the Northern Territory Roper Valley iron ore project. The company will source half its iron ore supplies from Australia and is looking at further vertical integration into the country by buying coal mines. And the demand for Australia's export of raw materials such as rare earths, lithium, zinc, and cobalt will only grow.
Smart competition means targeting critical areas and multiplying the effect by partnering with key regional powers, particularly Japan, South Korea, and Taiwan. They already have a strong economic presence in Vietnam, and we are already exploring cooperation with them on critical supply chains, energy, and infrastructure.
The opportunities to work more with Vietnam are there, the policy framework is in place, and the timing is right. Both sides need to seize the moment.