Can You Separate the Monarch from the Colonial, or Rather, Should You?
India's decision to fly its flag at half-mast for Queen Elizabeth, someone who was also a colonial ruler until her last breath, is antithetical to the country's post-1947 identity.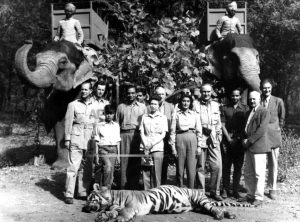 The death of Queen Elizabeth II marks the end of a seven-decade reign, where she served in arguably the most geopolitically compact and dynamic period in global history. Her reign was a temporal measurement of technological advancements, landmark political events, as well as social justice movements that unshackled some bearings of oppressive colonial systems. Her death has been met with sadness and mourning while reflecting the love and respect for the deceased head of state and maternal figure of the British people in the aftermath of WW2.
However, in  former colonies, her reign is correctly associated with the British expansionism that captured and enslaved nations across the globe. In his first address, the incumbent monarch, King Charles III, issued a note of gratitude to his late mother, which not only displays the loving relationship between mother and son but also captures the national sentiment of loss and appreciation. Queen Elizabeth played different roles: a mother, a British monarch, and a colonial ruler. While it is not for me to comment on her role as a mother, we must ask ourselves whether we can separate her role as a loving British monarch from her colonial heritage and legacy. More importantly, should we?
One of the critical lessons of effective and great leadership is that you can never be such a leader for everyone. History has repeatedly taught us that great leadership inevitably leads to particular sections feeling alienated or marginalized from the same. The imperative of a leader is to reduce these sections, and marginally affect that alienation – either through benevolence or force.
When the British arrived on Indian shores, through political, economic and military maneuvering, they turned her into a colonial satellite. The Crown bore the responsibility of leadership and rule under the supposed white man's burden. However, as the Indian independence movement reflects, that leadership faced sustained resistance from the indigenous people who did not consider the Crown as the legitimate ruler that effectuated empathetic leadership.
The British implemented brutal policies to suffocate the independence struggles in the colonies. The regal figure in Great Britain was a figure of disdain amongst freedom fighters (the alienated) in the colonies. By inheriting the Crown in 1952, Queen Elizabeth figuratively and literally wore this legacy on her head.
In her first monarchical statement, she promised to conduct her duties in service of the British imperial family, which is synonymous with Britain's colonialism and associated travesties. The British family of nations was laden with deep scars, and buried skeletons. One of the monarchical roles evidently was to intentionally remain amnesic about the horrors conducted in its name, and witness the family fall apart as their consequences come to fruition. Since 1952, 56 former colonies have achieved independence (with much British resistance), while 14 still held her as their constitutional head of state.
While being cognizant of the ceremonial character of the British monarch in Britain's policies, her role in enjoying colonial riches, privileges, and sustaining practices cannot be dismissed. To the British people, she lived and delivered on her promises and ushered the state through each decade and societal changes with poise and grace. She embodied the progressive character that swept Britain across the 20th century as she remained steadfast in witnessing them first-hand. By being a precedent-setting monarch, she adopted positions that were overwhelmingly progressive at the time for British royalty; her standing dispute with Thatcher over Apartheid in South Africa epitomizes this. A Queen that evolved and adapted as time passed. Simultaneously, she remained a product of a time (that should be considered a national shame) when she carried on with her imperial duties in British colonies while remaining silent on the colonial injustices of her government conducted in her name.
In my opinion, when India chose to declare a day of mourning and fly the Indian flag at half-mast in her memory, a fracture deepened in India's post-colonial identity. India's relationship with the British has largely remained in the interest of strengthening economic and strategic ties, especially in the post-Cold war moment. Beyond the colonial-celebrating attitude of a specific class of British people who inevitably have found comfort in the Crown, in India, intended amnesia has started to inform the separation of its diplomatic undertakings from its past. While a pragmatic foreign policy is welcome, the historicity of values presented within the same policies must be considered.
Indian independence was achieved before Queen Elizabeth's ascension. With her name and stamp, the British strongly opposed the decolonization of Africa, the non-aligned movement, and the reclamation of national trajectories by all its former colonies. Independent India, meanwhile, supported the struggles of the African and Pacific peoples for freedom well into the Queen's reign.
India's colonial memories informed not only its relationship with decolonized states but also its approach to security. The fundamental tenet of India's military and strategic policies is "strategic autonomy," which stems from India's colonial experience of having to fight someone else's wars.
On the cultural side, the rise in post-colonial narratives in popular Bollywood movies such as "Lagaan," "Rang De Basanti," "Sardar Udham," and "RRR" acknowledge India's harrowing colonial experiences. Its decision to fly its flag at half-mast for the Queen, someone who was also a colonial ruler until her dying breath is antithetical to its post-1947 identity. This anathematic visual is further compounded by the (ironic) fact that India exuberantly celebrated the Azadi ka Amrit Mohatsav, 75 years of independence from British rule less than a month prior.
The Queen's ascension and death are rare historical moments which rightly bifurcate time into befores and afters. Before her ascension to the throne, the British empire was on its last legs; during her reign, the British colonial empire dissolved, and, in some ways, it had to reckon with its colonial past. However, this dissolution was met with enough resistance in her imperial promise and continued atrocities in her name.
After her death, we're in a moment where introspection is beckoned upon the Commonwealth. Do we celebrate arguably the most sustained and steadfast head of state in modern times? A leader who managed to stitch multiple generations of British citizens together and represent them with a progressive and adaptive posture to global politics. Or, do we solemnly recognize her as the colonial ruler in these modern times? A ceremonial figurehead, who was used to justify continued violence and monopolization of power within oppressive systems in non-European spaces. Someone who was effectively yet another cog within the colonial juggernaut with an imperial promise.
This dichotomous but tangled identity of the Queen and the royal family will foster a great conversation to come in the coming years, especially given the revelations of colonial injustices, and more assertive calls for reparations are slowly starting to emerge. For now, I don't think I can speak for other people; however, I can say that maybe for 70 (presumably, fulfilling) years, the god(s) did save the Queen. But assuredly, no Indian gods were amongst them.