Dissident Myanmar Supermodel Granted Asylum in Canada
The 23-year-old has vowed to "carry on the struggle for Myanmar" from abroad.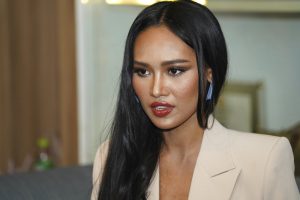 A fashion model from Myanmar who has spoken out about the country's repressive military government arrived yesterday in Canada after the country granted her political asylum.
Thaw Nandar Aung, also known as Han Lay, left on a flight from Bangkok's Suvarnabhumi Airport early on Wednesday morning, The Associated Press reported, citing a senior official at Thailand's Immigration Bureau. The 23-year-old "has arrived safely in Toronto," Tin Maung Htoo of the Burmese Canadian Action Network confirmed to Agence France-Presse yesterday.
Han Lay made headlines in March of last year when she urged the world to "save" her country while in Bangkok competing in the Miss Grand International contest – becoming one of many Myanmar nationals who have left or remained outside the country. "I want to say from here to the world: please support the Myanmar people," she told Thailand's Khaosod English news outlet at the time. "So many people die in Myanmar by the guns of the military … Please save us."
After that, she remained in Thailand and applied for political asylum, living on a tourist visa while the local office of the United Nations High Commissioner for Refugees (UNHCR) processed her claim.
But Han Lay's future was cast into doubt on September 22, when she was detained at  Suvarnabhumi airport after returning from a visa run to Vietnam. Thai immigration authorities released a statement saying that Han Lay was "denied entry to Thailand because she lacked the required travel documents under Thai immigration law." This raised fears that she might be extradited to Myanmar, where she would almost certainly face harsh treatment at the hands of the military junta.
In September 2021, Thaw Nandar Thaw was reportedly charged in absentia with sedition for speaking out against the military junta. The statute criminalizes attempts to "bring into hatred or contempt, or excite or attempt to excite disaffection towards the government," and the military or its personnel, and carries a maximum penalty of 20 years in prison. As the rights group Amnesty International noted at the time, "Critics of Myanmar's military have been arbitrarily detained, tortured and killed in detention. These are the real risks faced by anyone who highlights, exposes and documents the appalling human rights abuses since the coup."
Another international advocacy group, Human Rights Watch (HRW), accused the Myanmar military authorities of revoking her passport in a bid to deprive her of citizenship, and potentially force the Thai authorities to deport her from the country. Over the past 19 months, the military junta has done the same with countless opponents of the regime who have fled into exile, casting them into statelessness as a punishment for opposing the regime.
"There is no doubt that what transpired was a trap to try to force Han Lay to return to Myanmar, where she would have faced immediate arrest, likely abuse in detention, and imprisonment," Phil Robertson, HRW's deputy Asia director told The Associated Press. "Fortunately, she got good advice to stay put at the airport, and wait for the kind of protection she needed. This was a victory for rights, and refugee protection."
In an interview with Radio Free Asia published on September 27, Han Lay confirmed that she had been granted asylum in Canada, and pledged to "carry on the struggle for Myanmar" from abroad.
"I have spoken out for Myanmar wherever I go," she told the U.S.-funded broadcaster. "I have talked to the media about my country while I was staying in Thailand. Since Canada is a safe place for me, I will have more opportunities to speak out on the issue. And as you know, there is a large Myanmar community in Canada, so I'm sure I'll be able to carry on the struggle for Myanmar with their help."