New Party's Entry Could End 3-Year Impasse in Kashmir's Politics
The party, which is led by former Congress leader Ghulam Nabi Azad, is expected to divide the anti-BJP vote in Jammu and Kashmir.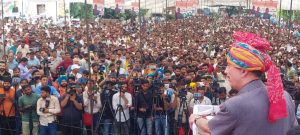 Since August 2019, when the Indian government revoked Jammu and Kashmir's autonomy and jailed, detained, or put under house arrest hundreds of Kashmiri political leaders for opposing its unconstitutional moves, politics in the state-turned-federally administered Union Territory has been dormant.
However, the announcement of a new political party by Ghulam Nabi Azad, a senior political leader of the Indian National Congress, India's largest opposition party, who resigned from the party on August 26, has triggered a wave of political calculations, speculation, and uncertainties in J&K. In many ways, it has breathed new life into J&K's politics.
J&K has been without an elected government since June 2018. While India's ruling Bharatiya Janata Party (BJP) government is not expected to hold elections here this year, elections to the J&K assembly are long overdue and electoral strategizing among parties has begun. Azad's floating of a new party, which he announced at a public rally in Jammu on September 4, his first since exiting the Congress, could herald the start of a new era in J&K's mainstream politics.
A politician from the Doda district in the Jammu region, Azad served as J&K's chief minister between 2005 and 2008. He held ministerial positions in successive Congress governments at the national level since 1980 and was the leader of the opposition in the Upper House of India's parliament between 2014 and 2021.
Azad's exit from the Congress has triggered a flurry of resignations not only from the Congress but also from J&K parties like the People's Democratic Party (PDP) and the Apni Party.
Laying out his political roadmap at the Jammu rally, Azad said that he would "fight for the restoration of full statehood and the right to land and employment to native domiciles. We don't want an assembly with a Lieutenant Governor but a Governor."
When J&K's autonomy was revoked in August 2019, the erstwhile state was split into two – J&K and Ladakh – and made into Union Territories that are directly ruled by New Delhi. Since then, New Delhi's rule in J&K has been carried out by a lieutenant governor.
On the question of employment, Azad said, "We don't want outsiders to apply in J&K for jobs… If they (outsiders) apply, jobs will vanish for locals."  He has promised to prioritize employment for local youth.
Local Kashmiri leaders have drawn attention to the timing of Azad's resignation and his announcement of a new party. The NC's chief spokesperson, Tanvir Sadiq, told The Diplomat that Azad's resignation suggests that "there has been movement in political back channels, which may have prompted him to think that this was the appropriate time to resign and float a party."
Sadiq said that parties close to the BJP have begun engaging in electoral mobilization. It is likely that these parties have received indications of when elections could be held.
There are concerns that Azad's new party in J&K will divide the anti-BJP vote. "Many Congress leaders and workers have followed Azad out of the Congress," Sadiq pointed out. "I hope this doesn't end up helping the BJP," he said.
Among those who followed Azad out of the Congress is Salman Nizami, who sees Azad as a "pro-people" leader. His "announcement of a new party has definitely caused a wave in Kashmir," Nizami said, pointing out that although Azad hadn't even named the party yet, they "are already receiving good support."
Azad has a "following among people across party lines," Nizami said, attributing this broad support to his advocacy of Kashmir's issues in India.
However, J&K mainstream parties like the PDP, which partnered with the BJP in a coalition government that ran J&K between 2015 and 2018, are not worried about Azad eating into their support base. PDP General Secretary Ghulam Nabi Lone Hanjura said that since the PDP's ideology is different from that which Azad professes, the latter's entry "would hardly make a difference."
To the PDP the restoration of J&K's constitutional status and rights, which gave it a semi-autonomous constitutional character, is important, Hanjura stressed.
Recently, J&K's Chief Electoral Officer (CEO) announced that non-locals living ordinarily in J&K could register as voters. This would mean the addition of 2.5 million non-local voters to J&K's electoral rolls.
The announcement has angered Kashmiri parties. Since the BJP has failed to bring any positive change to J&K in recent years, its plan to include non-local voters is seen as aimed at shoring up its position with outsiders' support.
"Why should someone from Bihar, Uttar Pradesh, or any other state get to elect legislators to the J&K assembly?" Hanjura asked, describing the decision as a "deeper disempowerment of the Kashmiri people."
Kashmiri leaders are drawing attention to Azad's long association with Congress as a factor that could stand in the way of his making a big impact in J&K politics. They are asking if he will stand with the People's Alliance for Gupkar Declaration (PAGD), which was formed by several J&K parties in the wake of the August 2019 decisions, to strive for the restoration of J&K's constitutional status and rights.
Would Azad stand with the PAGD to undo the abrogation of rights? Or would his stand on Articles 370 and 35A reflect his past association with Congress?
In his speech at the Jammu rally, Azad avoided mention of Article 370. Neither did he seek restoration of the status J&K enjoyed prior to August 5, 2019.
How his political roadmap evolves will be closely watched in New Delhi as well as Srinagar.