Where are South Asia's Green Parties?
Pakistan's floods highlight the dire risks of climate change in South Asia, so why is there so little Green politics in the region?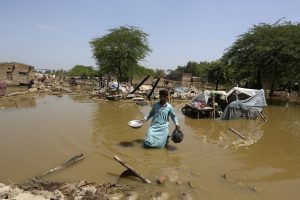 In 2014, then-opposition leader Imran Khan announced the "Billion tree Tsunami" plantation drive in the northwestern Pakistani province of Khyber Pakhtunkhwa. Even though the drive had its fair share of critics, it turned out to be a success and was completed in 2017 with praise from both domestic and international observers.
Buoyed by the success of the project, Khan, who had then become prime minister, launched a "10 Billion Tree Tsunami" plantation drive across Pakistan in 2018. This time, however, the reactions were more mixed. Many sections of Pakistani society, especially the political opposition, mocked Khan for misplaced priorities and suggested his obsession with "tree politics" was an attempted escape from the real problems of foreign debt, poverty, and inflation.
Khan's so-called "tree politics" continued as he raised the issue of Pakistan's environmental precariousness in his United Nations General Assembly address of 2020. He even pitched a mechanism of debt waiver for environmentally progressive policies like the plantation drive he was leading. By this time, the associated mockery had also increased and reached an incredible level. 
Cut to August 2022, and Pakistan is facing one of the worst floods in its history. A national emergency has been declared, more than a thousand people have lost their lives, and more than 30 million have been affected. One-third of the country is submerged in water, and initial estimates suggest a financial loss of more than $10 billion in housing and infrastructure. The events in Pakistan, along with the latest wave of wildfires in the Americas and unprecedented heat waves in Europe this year, serve as a stark reminder of the potential catastrophe that climate change has in store for us that we so conveniently refuse to acknowledge.
Khan's political career may have consisted of more misses than hits but looking back, the fact that he attempted to bring the environment and climate change to the forefront of Pakistan's domestic and international politics when it wasn't particularly popular to do so deserves appreciation at the least if not applause.
Earlier this year, Anthony Albanese led the center-left Labor Party to power in Australia after an election in which climate change was a top issue. Australian Greens — a coalition of political parties which have combating climate change at the core of their political agenda — staged their best-ever electoral performance and are now important stakeholders in Australia's national legislature. According to a survey by the Australian Broadcasting Corporation, climate change was the most important electoral issue for 29 percent of voters in these elections. This, however, is not the first time that a Green Party has made noteworthy inroads into the electoral politics of a country. Green Parties originally started to flourish in Europe where its members occupied important offices in many countries like Finland, Germany, Italy, Belgium, France, and Ireland. Latvia even had a prime minister from a Green Party.
If we compare this to the recent elections in South Asia, where poverty and overpopulation put people at even greater risk due to climate change than in a country like Australia, election campaigns barely even mention environmental concerns. In the last general election in India, two of the three major national political parties — the Congress and the Communist Party of India — only had vague references to sustainable development in their manifestos with no real promises and plans on this front. Unsurprisingly, the ruling Bharatiya Janata Party (BJP) failed to mention climate change in its manifesto. 
The justification that many give for the absence of climate change from mainstream political discourse in South Asia is that there are more immediate and visible threats like poverty and hunger that people from the global south face. However, that explanation seems flawed as other parts of the global south, especially Latin America, despite facing similar issues of poverty, inflation, and hunger, have taken environmental concerns much more seriously. Green Parties like Mexico's Ecologist Green Party and sundry coalitions like Columbia's Green Alliance hold significant positions in the legislative and executive frameworks of their respective countries. 
Green Parties all over the world were, at their inception, protest groups that pressured governments into rethinking their climate policies. With time, these groups broadened their political concerns which helped them enter mainstream politics. In South Asia, however, there is a very visible absence of significant political parties that have environmental concerns at the core of their politics. There have been protests and mobilizations on the issues of climate change, but a conversion of these movements into election success is yet to be attempted.
In the complex polity of South Asia, it may be difficult for new political actors to rise and champion the cause of combating climate change. The alternative is that the existing political parties make the issues of the environment and climate change more central to their politics. 
All in all, electoral politics in South Asia need to turn green one way or the other. Climate change is happening to the whole world but it is happening to us first. The global climate risk index shows that India and Afghanistan were among the top 10 countries affected by climate change last year, while Pakistan, Nepal, Myanmar, and Bangladesh were among the top 10 countries affected by climate change over the past 20 years.
One thing that is common to almost all green parties across the world is that they emerged after horrible natural disasters. If there is one good thing that is to come out of the devastating floods in Pakistan, let it be a shift of the discourse of climate change to the center of electoral politics in South Asia. The only way bigger disasters can be averted in the future is through public awareness and collective action.