Cambodian Court Sentences Opposition Leader to Life Imprisonment
Sam Rainsy is accused of plotting to cede four Cambodian provinces to the country's indigenous peoples.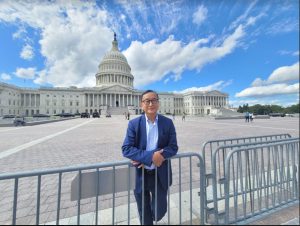 A court in Cambodia yesterday sentenced the exiled opposition leader Sam Rainsy to life in prison for attempting to cede four Cambodian provinces to a foreign state, adding to the long list of ginned-up criminal charges that have effectively sidelined him from the country's political life.
The conviction and sentence, which also includes a ban from participation in politics, relates to a meeting that Sam Rainsy had nine years ago in which he promised to uphold the rights of Cambodia's indigenous people.
In yesterday's hearing, judges at the Phnom Penh Municipal Court accepted prosecutors' argument that the exiled opposition figure had effectively agreed to cede four provinces in northeastern Cambodia – Mondulkiri, Ratanakkiri, Stung Treng and Kratie – to indigenous minority groups.
This is based on the most incriminating possible interpretation of a 2013 video that surfaced on an anonymous Facebook account in 2018. The video showed a meeting between Rainsy and Kok Ksor, a U.S.-based ethnic Jarai leader. Prior to his death in 2019, Kok Ksor headed the Montagnard Foundation, which advocated for the rights of the indigenous minority groups that live on either side of the Vietnam-Cambodia border.
In the video, Rainsy promised that if his Cambodia National Rescue Party government won that year's national election, "we will ensure that Montagnard, the Degar people, will live as free citizens in Cambodia." He added, "Their lands, their forests, their mountains will be returned to them."
Court prosecutors depicted this as a secret pact to give up Cambodian territory. "It was lucky that CNRP did not win the election. Otherwise, we will have a bitter history," court prosecutor Plang Sophal said during an August hearing. "It will be a pain to the Cambodian people if a leader hands over territory to a foreigner."
Rainsy was talking not about ceding territory to a sovereign entity, but about redressing the spate of land grabs and other land-related conflicts that have blighted indigenous minority communities across north and northeastern Cambodia over the past two decades. These once-isolated regions have been subject to well-connected tycoons, and land developers are granted preferential access to land, either for plantation development or clear-felling of trees. Given linguistic barriers and their lack of access to what little mechanisms of redress exist in Cambodia, indigenous minority groups are particularly vulnerable to falling victim to land-grabs.
Sam Rainsy, who has lived in exile since late 2015, has already been subject to a raft of politically motivated charges that have so far seen him sentenced to a total of 47 years imprisonment. As The Associated Press noted, yesterday's life sentence is mostly symbolic since the government has on several occasions prevented him from returning home to face trial. Indeed, the string of prosecutions should best be seen as a form of legal-political theater designed to broadcast Sam Rainsy's list of treasonous acts.
The particular accusation of ceding Cambodian territory is telling. Sam Rainsy himself has long accused the long-ruling Prime Minister Hun Sen and his Cambodian People's Party (CPP) of ceding territory to Vietnam via a series of allegedly unequal border treaties in the 1980s, and a border delimitation agreement signed in 2005. Indeed, Rainsy has long accused Hun Sen and his party, which were installed in power by the Vietnamese military in 1979 of being traitors to the nation and colluding in what many Cambodian nationalists view as Hanoi's long-term goal of annexing Cambodian land.
This accusation explains at least a portion of the bitterness that Hun Sen continues to harbor for his long-time rival. Despite forcing him into exile in late 2015, banning the CNRP, and driving most of its leadership abroad, Hun Sen can't quite leave Sam Rainsy alone.
In a speech the day before yesterday's conviction, Hun Sen described his rival as the most treacherous person in the last 500 years of Cambodian history, adding that treason had run in Rainsy's family for three generations. The speech came after Sam Rainsy posted a video on Facebook in which he called for his supporters "to liberate our country from Hun Sen's family line. Don't let Hun Sen consider Cambodia as his personal possession and his family's."
Saying that he was "determined to get rid of the extremist ideology of the traitor's family line," Hun Sen warned that any political party associated with the exile would, like the CNRP, face dissolution.
"Remember! Any party that links themselves to this convict will face a court complaint. Clearly remember!" said Hun Sen, according to a report by the local news outlet Voice of Democracy.
"I would like to remind the Cambodian people in the country that if you dare to link yourselves with this person, you will be in danger yourselves," he added. "Don't think that Hun Sen won't dare to do it."