India Bans Popular Front of India and its Affiliates for Five Years
An Islamist group that uses the grievance discourse to mobilize supporters, the PFI has over 500,000 members across India.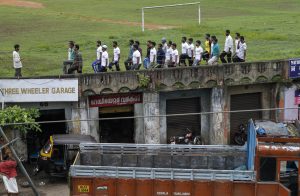 On September 28, India's Ministry of Home Affairs (MHA) outlawed the Popular Front of India (PFI) and eight affiliate organizations for five years under the Unlawful Activities (Prevention) Act (UAPA), 1967. The ban came close on the heels of raids on PFI offices across the country. Hundreds of its leaders have been arrested.
The PFI has been declared an "unlawful association." According to the gazette notification of the ban, "the PFI and its associates or affiliates or fronts have been indulging in unlawful activities, which are prejudicial to the integrity, sovereignty and security of the country and have the potential of disturbing public peace and communal harmony of the country." Its cadres have been "engaging in violent and subversive acts." It has carried out several "cold blooded killings of persons associated with organisations espousing other faiths, obtaining explosives to target prominent people and places and destruction of public property."
The government has alleged that the PFI has links with terror groups such as the Students Islamic Movement of India (SIMI), the Jamat-ul-Mujahideen Bangladesh (JMB), and the Islamic State of Iraq and Syria (ISIS).
The PFI and its affiliates "operate openly as a socio-economic, educational and political organisation but, they have been pursuing a secret agenda to radicalise a particular section of the society working towards undermining the concept of democracy," MHA said in a statement.
The ban on the PFI means that "its members will be criminalised and its funds frozen."
Founded as a Muslim socio-cultural organization in India in 2007 in the aftermath of the ban on SIMI, PFI emerged out of the merger of three Muslim organizations – the National Democratic Front in Kerala, the Karnataka Forum for Dignity, and the Manitha Neethi Pasarai in Tamil Nadu. The NDF's roots can be traced back to the communal riots that erupted across India in the aftermath of the demolition of the Babri mosque in Ayodhya in December 1992.
The PFI was set up mainly with the idea of protecting Muslim rights in India. It describes itself "as a non-governmental social organisation whose stated objective is to work for the poor and disadvantaged people in the country and to oppose oppression and exploitation." With the aim of safeguarding freedom, justice, and security for minorities, PFI was registered in Delhi under the Societies Registration Act XXI of 1860.
In its preamble, the PFI states that it works to ensure socio-cultural, economic, and political empowerment of the deprived and that its main goal is to achieve the welfare of Dalits, tribal people, religious, linguistic, cultural minorities, and backward classes and women. Its 18-point agenda for India includes "promoting national integration and social harmony, upholding the country's democratic and secular order, working for peace, advancing the cause of minorities, protecting civil and political rights, and speaking out against human rights violations."
In his book "Islamic Movements in India: Moderation and its Discontents" (Routledge, 2019) Arndt Emmerich argues that the PFI uses the grievance discourses to mobilize support by promoting collective victimhood. He points out that PFI adopts Islamic pragmatism to advance its goals.
A vice-president of PFI, who Emmerich had interviewed, explained the concept of Islamic pragmatism as follows: "Whenever you mobilise, you should have some common areas, which you share with your supporters such as symbols, belief systems, basically something that is easy to communicate. In our case, our core supporters are Muslims and instead of wiping out and ignoring their racial and cultural identity like secular groups or the state have tried to do it in the past, we are using Islam to our advantage."
The PFI uses Islam as a vehicle for attracting supporters.
"Islam says that you will attain jannah [Islamic concept of paradise] for the good you have done on earth. On average human beings have 40 to 50 years of an active working period, if you subtract childhood and old age. These 40 to 50 years are very crucial, as crucial as the 100 of 1000 years you will spend in heaven," Emmerich cites the PFI's vice president as saying.
Other PFI leaders describe Islamic pragmatism as seeking to promote Islam as a social force that eradicates social and cultural evils. PFI's members believe that they practice a "disciplined and trained cadre-base stems from the inspiration of the prophetic movement that came to Kerala in the early days of Islam."
Some PFI leaders and activists believe that "they are 'harakis' or 'people of the movement', who share a similar vision of Islam with Islamic movements such as Hamas or the Muslim Brotherhood." A PFI video says the organization is not like the Tablighi Jamaat or the Salafists. They are "more like Hamas, a religiously inspired community organisation."
In March 2022, when the Karnataka High Court ruled that "wearing the hijab is not an essential religious practice and upheld a state government order on students adhering to uniform in educational institutions," PFI described the verdict as "disappointing" and "shocking" and called for a massive protest.
The PFI found traction in 23 states across India but is most active in Kerala, Tamil Nadu, Assam, Rajasthan and Uttar Pradesh. It initiated some educational campaigns like the "School Chalo," "Sarva Shiksha Gram" and "Adopt a student" programs to encourage education among the masses.
As of 2017, it had over half-a-million members and maintains a cadre-based country-wide network. It is well-organized.
Regarding the PFI's funding, the gazette notification says that it is "conspiring and raising funds from within India and abroad through the banking channels, and the hawala, donations, etc. as part of a well-crafted criminal conspiracy, and then transferring, layering and integrating these funds through multiple accounts to project them as legitimate and eventually using these funds to carry out various criminal, unlawful and terrorist activities in India."
The PFI maintains that its funding comes mostly from the charity of its members. Islam urges Muslims to pay zakat (charity) for poverty alleviation, but PFI requests its members pay 1 percent of their income towards PFI charity funds. It also receives funds come from the Middle East.
PFI appears to have high online engagement. The group's YouTube channel is subscribed to by over two hundred thousand members over 320 different videos. Over 10 million have viewed its videos. The group is also active on other social media platforms, including Twitter.
Banning a group pushes it to operate underground. Besides, outlawing a group that has over half-a-million members could create chaos in society. Many could fall prey to more militant ideologies offered by ISIS and al-Qaida. It is likely that the global jihadist organizations will try to capitalize on the grievances of the PFI.