International Financial Watchdog Adds Myanmar to Blacklist
The Financial Action Task Force said the move was a result of the country's persistent failures to combat money laundering and terrorist financing.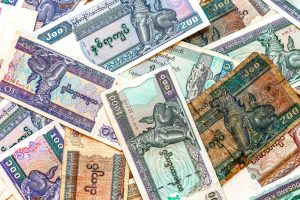 An international watchdog has added Myanmar to its blacklist for money laundering and terrorism financing, alongside North Korea and Iran, dealing a firm economic blow to the country's military government.
In a statement Saturday, the Paris-based Financial Action Task Force (FATF) announced that it had added Myanmar to its category of "high-risk jurisdictions subject to a call for action," commonly known as its blacklist. It cited the country's failure to make enough progress in combating money laundering and terrorist financing.
FATF, a Paris-based intergovernmental body established by the G-7 nations in 1989, describes itself as a "global money laundering and terrorist financing watchdog," which helps to coordinate international efforts "to prevent organized crime, corruption, and terrorism." This is the first time that the group has added Myanmar to its "call for action" list, which will create burdensome compliance reporting for any company or financial entity operating in Myanmar.
While the FATF move is a financial vote of no-confidence in the military junta that seized power in February 2021, inflaming a nationwide conflict and sending the country's economy into a nose-dive, the core issues predate the coup. As FATF President T. Raja Kumar told Bloomberg, the failures "were first identified in a report in September 2018; more than four years later many of those issues remain." He added, "I urge the authorities of Myanmar to swiftly complete their targeted action plan to address the strategic deficiencies identified in the country."
Myanmar's blacklisting represents a significant blow to the military junta, which is already struggling to wrest control of the country's economy in a deteriorating political environment. It effectively places Myanmar banks and financial entities outside the mainstream of the international financial system, and forces firms dealing with Myanmar citizens or companies to fulfill onerous reporting requirements. While it will not cut Myanmar off totally from the outside world, it will drastically reduce the already small pool of foreign entities that see any benefit to investing in the conflict-torn country.
At the same time, the FATF policy toward Myanmar contained a significant carve-out for humanitarian assistance, something that exists in the case of neither Iran nor North Korea. "When applying enhanced due diligence measures, countries should ensure that flows of funds for humanitarian assistance, legitimate NPO [non-profit organization] activity and remittances are not disrupted," it states.
The ensuing compromise, which Gwen Robinson, the editor at large for Nikkei Asia, described as "blacklist-lite," is likely a way to address concerns, aired in recent weeks, that a FATF blacklisting would affect ordinary people more severely than the ruling class of generals and crony tycoons. Non-government organizations also worry that the blacklisting will complicate their ability to operate inside the country.
While the exception seems fair in practice, it is far from obvious that governments will find it simple to disentangle economic interactions with a humanitarian purpose from those that could conceivably strengthen the military junta. As a result, the exception, if it has any impact at all, may end up ameliorating the heaviest economic impacts on the coup government.