Kyrgyz Security Chief Flaunts Turkish Drone Connection
Tashiev posed recently with the latest Bayraktar Akıncı attack drone, suggesting Kyrgyzstan had added the platform to its arsenal.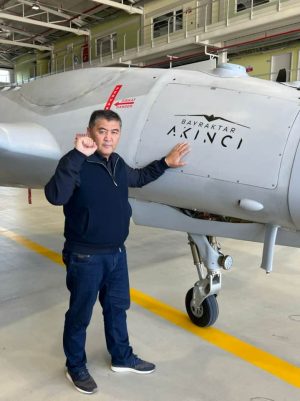 On October 12, the head of Kyrgyzstan's State Committee for National Security, Kamchybek Tashiev, posted a series of photographs on Facebook in which he posed, with an upraised fist, beside a Bayraktar Akıncı drone. In the brief caption, Tashiev wrote "'Akıncı' is ours!" and the date, with his thanks. 
Kyrgyz news outlet Kloop sought additional information from State Committee for National Security (SCNS) and the press service of the presidential administration, but both refused to answer journalists' questions. 
On Instagram and Twitter, however, Baykar — the Turkish company which manufactures various unmanned systems, including the Bayraktar TB2 and the Bayraktar Akıncı — posted about the visit of a Kyrgyz delegation to the Özdemir Bayraktar National Technology Center in Turkey. The delegation included Tashiev, as well as the head of the Kyrgyz Cabinet of Ministers Akylbek Zhaparov, Deputy Minister of Transport Taabaldy Tillaev, and an adviser to Zhaparov, Nurlan Sulaimanov.
The Bayraktar Akıncı is Baykar's latest offering, having entered service in the Turkish military first in August 2021. The drone (for the more pedantic readers, it's technically an "unmanned combat aerial vehicle" or UCAV) was also reportedly acquired by the Azerbaijani air force earlier in 2022. Pakistan also is reported to have plans to acquire both the Bayraktar TB2 and the Bayraktar Akıncı next year.
Kyrgyzstan acquired three Bayraktar TB2s in 2021 and in September Kyrgyz President Sadyr Japarov inaugurated a new drone base in the country. That event, on September 13, came just one day before violence erupted on the Kyrgyz-Tajik border. Tajikistan claimed that 15 people were killed in a mosque that was struck by a Kyrgyz drone. Kyrgyz authorities neither confirmed nor refuted the reported use of the country's new Bayraktar TB2s.
The newer Akıncı model has a more robust set of capabilities than the TB2, which took its first flight back in 2014. The TB2 is a medium-altitude long-endurance (MALE) drone while the Akıncı is categorized as a high-altitude long-endurance (HALE) drone. The Akıncı, at 12.2 meters, is almost twice as long as the TB2, and has a 20 meter wingspan compared to the TB2's 12 meters. Consequently, the Akıncı's total payload capacity is larger. Notably, the Akıncı is reported to be the first Turkish drone capable of deploying an air-launched cruise missile (ALCM).
In recent years, several Central Asian states have invested in acquiring various drone technologies. Aside from Kyrgyzstan's purchase of at least three Bayraktar TB2s last year, there were reports in April 2022 that Tajikistan had also purchased TB2s. Those reports, which came from Kyrgyz officials, were never confirmed. Although Tajik Defense Minister Sherali Mirzo and Hulusi Akar, his Turkish counterpart, had signed a Military Framework Agreement in Ankara in early April and Mirzo was photographed visiting Baykar's facilities, no deal appears to have been reached on the supply of Turkish drones to Tajikistan. The Kyrgyz SCNS put out a statement saying that Tajikistan and Turkey had not settled a deal and Tajik authorities have not discussed the matter.
Instead, in May 2022, Iran inaugurated a drone factory in Tajikistan to manufacture and export the Ababil-2, a much smaller drone than either of the Turkish models discussed above and a much older in design.
Also in May 2022, Kazakhstan inked a deal with Turkey's TUSAŞ, another drone manufacturer, to produce ANKA attack drones in Kazakhstan. Turkmenistan, meanwhile, acquired TB2s back in 2020 and Uzbekistan has ambitions of producing its own drones.
Militaries around the world strive to acquire the latest and greatest technology and platforms, and no modern military is complete without a set of drones, for both surveillance and attack. That said, Tashiev's posting about the drones lands with a distinct populist flare at a time of continued high tensions with neighboring Tajikistan. What plays well for a domestic audience may also, problematically, serve to exacerbate tensions with Dushanbe.