Malaysian Authorities Deported Asylum Seekers to Myanmar: Report
The reported deportations seem to contradict Kuala Lumpur's active approach to resolving the crisis in Myanmar.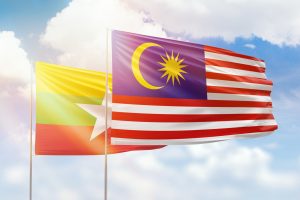 Yesterday, Reuters published a report claiming that the Malaysian government this month deported 150 Myanmar nationals who had fled to the country following last year's coup, undercutting the country's efforts to orchestrate a tougher regional response to Myanmar's military junta.
The report, which cited four anonymous sources with knowledge of the matter as well as a post on the Facebook page of Myanmar's embassy in Malaysia, stated that 150 Myanmar nationals were deported by plane on October 6. The deportation reportedly took place in cooperation with Malaysian immigration authorities and included registered asylum seekers.
According to sources that spoke with Reuters, this group included six former Myanmar navy officers arrested in September, all of whom were detained by military authorities upon their arrival in Yangon. It is unclear what they have been charged with, but it is presumably related to opposition or suspected opposition to the military junta.
Most importantly, Reuters' sources reported that at least three of the former officers and the wife of one had sought protection from the United Nations High Commissioner for Refugees (UNHCR) and had formally applied for political asylum prior to their deportation. The sources said that Malaysia plans to send back more despite the various risks that they face if forced to return to Myanmar.
In a statement given to Reuters, the U.N. refugee agency said it was "gravely concerned" by the deportations. "Not only in Malaysia but in the region, people fleeing Myanmar must be allowed access to territory to seek asylum and be protected against refoulement," UNHCR said. "People from Myanmar, already abroad, should not be forced to return when seeking international protection."
As the Reuters report pointed out, the deportations jar with the Malaysian government's unusually open criticisms of the military junta that seized power in February 2021, and its attempt to rally the Association of Southeast Asian Nations (ASEAN) to take a tougher stance against the military junta.
Driving this effort has been Foreign Minister Saifuddin Abdullah, who has openly called out the military junta's near-total non-compliance with the bloc's Five-Point Consensus peace plan, and condemned its continued campaign of terror against those resisting its rule.
Saifuddin has been the only ASEAN foreign minister to meet publicly with representatives of the National Unity Government (NUG), which is spearheading the resistance to the military junta's rule, and has urged other Southeast Asian nations to do the same. He has been among the few Southeast Asian officials to raise the possibility of junking the ASEAN Five-Point Consensus and formulating a new approach to Myanmar's post-coup crisis.
But the current goals of Saifuddin's Foreign Ministry clearly diverge from that of the Immigration Department of Malaysia, which sits under the Ministry of Home Affairs. To its credit, Malaysia has taken in relatively large numbers of refugees from Myanmar over the past decade, particularly Muslim Rohingya from western Myanmar. As of the end of last month, around 183,430 refugees and asylum-seekers were registered with UNHCR in Malaysia. The vast majority of these – 157,910 – were from Myanmar, "including some 105,870 Rohingyas, 23,190 Chins, and 28,840 other ethnic groups from conflict-affected areas or fleeing persecution in Myanmar."
Despite (or perhaps because of) the burden of dealing with such large numbers of arrivals, the country's Immigration Department has recently toughened its stance toward would-be asylum seekers, deporting increasing numbers to their countries of origin.
According to human rights groups, this has included registered asylum seekers, who under the principle of nonrefoulement have a right not to be returned to any nation where they are likely to face severe mistreatment. (While Malaysia is a signatory to neither the 1951 U.N. Refugee Convention nor its 1967 Protocol, human rights groups claim that the principle of nonrefoulement "is recognized as part of customary international law and is binding on all states.")
In February 2021, shortly after the military coup, Malaysia deported more than 1,000 undocumented migrants to Myanmar, ignoring a court order granting a temporary stay against their return. A representative of the rights group Amnesty International described the decision as "inhumane and devastating."
All this suggests the need for more coordination between the various branches of the Malaysian government, which, through their actions, are sending very mixed messages about the importance of human rights and democracy in Myanmar.