Vietnamese War Victims' Struggle for Justice: A Tale of Two Lawsuits
Two Vietnamese women have filed lawsuits seeking justice for the American use of Agent Orange and atrocities committed by Korean soldiers. The government only endorses one of them.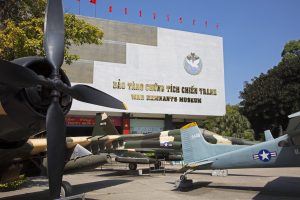 Nearly 50 years after the end of the Vietnam War, the tragedies of the war remain vivid for some. Among them are two Vietnamese women, an Agent Orange victim and a survivor of Korean wartime violence, who are leading legal battles against those responsible for their plight.
In 1968, the French-Vietnamese woman Tran To Nga lost her newborn daughter to heart defects. Nga blamed herself for decades until she learned that "the poison Agent Orange" was the true culprit.
A tactical herbicide sprayed by the U.S. military over southern Vietnam from 1961 to 1971, Agent Orange contained dioxin – a toxic substance linked to multiple chronic illnesses and severe forms of disability.
Nga was exposed to Agent Orange while working as a war correspondent in 1966. She has since also been diagnosed with dioxin-related ailments, including cancer and diabetes.
The sufferings caused by Agent Orange set Nga on the path of advocacy. In 2014, at the age of 72, she filed a lawsuit in France against Agent Orange producers, including U.S. companies such as Dow Chemical and Monsanto. Nga aims to gain recognition for all Agent Orange victims and raise awareness about the damage that the infamous herbicide continues to inflict in Vietnam.
Halfway across the world, 62-year-old Nguyen Thi Thanh has also devoted her life to fighting for overdue justice. She recently became the first Vietnamese to testify to a South Korean court on mass killings of civilians by Korean soldiers during the Vietnam War. The historic trial commenced on August 9 of this year, two years after Thanh filed a suit against the South Korean government for its troops' past heinous violence.
Thanh survived a massacre in Phong Nhi and Phong Nhat villages in Central Vietnam on February 12, 1968. On that tragic day, Korean soldiers shot eight-year-old Thanh and murdered five people in her family.
South Korea sent around 320,000 troops to Vietnam between 1964 and 1973 to support the U.S. war against North Vietnam. During that time, Korean fighters allegedly killed an estimated 9,000 civilians in 80 massacres. There are also multiple accounts of Korean soldiers' sexual violence, victims of which are also pressuring the South Korean government to repent and amend these past wrongs.
Like Nga, the personal loss was so unbearable that Thanh carried a heavy sense of guilt. "Sometimes I wished they had killed me as well so I did not have to live such a miserable life," Thanh once told the Vietnamese press. Turning her pain into strength, Thanh seeks South Korean atonement for past misdeeds through reparations and an official apology.
In lieu of reparations, the U.S. and South Korean governments have provided humanitarian assistance for Vietnam to address war consequences. Among other activities, Washington has appropriated funds for the U.S. Agency for International Development (USAID) to implement environmental remediation projects and health and disability programs in dioxin-contaminated Vietnamese provinces. Similarly, Seoul has channeled assistance through the Korea International Cooperation Agency (KOICA) to build schools and hospitals, remove unexploded ordnance (UXO), and support landmine victims in Vietnamese provinces where Korean forces operated.
This approach allows Washington and Seoul to mend ties with Hanoi without admitting wrongdoing. The U.S. accepts no formal responsibility for spraying toxic herbicides, while chemical firms deny liability on the ground that they produced Agent Orange under U.S. government pressure. The South Korean government has not acknowledged allegations of massacres and rapes in Vietnam, while the Vietnam Veterans' Association of Korea dismissed them. As such, historical memories of these two war legacies are still being contested, with ongoing efforts to unveil historical truth and establish accountability by various actors.
Vietnam publicly endorses Nga and other Agent Orange victims in their truth- and justice-seeking efforts, sharing the view that American chemical firms must repair the harms caused by Agent Orange.
In fact, Hanoi has long been vocal about Agent Orange. During the war, North Vietnam publicized the possible health problems caused by the herbicide as a propaganda tactic against the United States. Vietnam has regularly brought up Agent Orange victims in bilateral exchanges with the U.S., even before the normalization of diplomatic relations in 1995.
In 2004, the Vietnam Association for Victims of Agent Orange (VAVA) was established by the Ministry of Home Affairs to protect the legitimate rights and interests of Vietnamese affected by dioxin. In the same year, VAVA filed a class-action lawsuit in a U.S. court against Agent Orange producers. When the case was dismissed in 2008, the then-spokesperson of the Ministry of Foreign Affairs said the verdict "denied a truth" that American use of Agent Orange had been known to inflict severe damage on the Vietnamese people and environment. As Tran To Nga is carrying on the struggle for justice, VAVA has backed her with material and moral support.
The Vietnamese government's fervent endorsement of Agent Orange lawsuits contrasts with its silence on the case against South Korea. Vietnamese officials have not commented on Thanh's legal actions. There is no VAVA equivalent for victims of South Korean atrocities. Instead, they have had to rely on support from South Korean civil society groups, such as the Korea-Vietnam Peace Foundation.
Vietnam stands behind Nga's lawsuit but not Thanh's because Agent Orange and the Korean massacres are war legacies of different sensitivity and magnitude.
First, Agent Orange is a less sensitive issue.
The alleged perpetrators, in this case, are American multinational corporations, not the U.S. government (in the United States, the U.S. government cannot be sued without its consent due to the doctrine of sovereign immunity). Meanwhile, survivors of Korean massacres are seeking to prove the South Korean government's culpability. Thus, supporting victims like Thanh means challenging the South Korean government on a sensitive subject. It is not in Hanoi's interests to squabble with Seoul – a strategic partner and top foreign investor.
Furthermore, Vietnam and the U.S. have dealt with their historical animosities head-on. The two nations have engaged in decades of reconciliation, even before normalization, on humanitarian issues like POW/MIA, UXO clearance, and assistance for landmine victims. Even though mired in contention, cooperation on post-war humanitarian issues eventually facilitated rapprochement. Today, Agent Orange is no longer a taboo topic. Overcoming initial gridlocks and acrimonies, the two former enemies have recognized that there are disabilities that may be related to the use of Agent Orange.
The opposite dynamic occurred in the Vietnam-South Korea rapprochement, whereby both countries shelved historical controversies in the interest of normalization. Vu Minh Hoang, a historian of 20th-century Vietnam, explained that since the 1986 Doi Moi economic reforms, Hanoi has been "willing to play down the past atrocities" to enhance political and economic ties with Seoul. Since the two countries have not developed the habit of managing their historical differences, it is necessary for Hanoi to err on the side of caution in dealing with the past.
To be sure, memories of Korean atrocities are not forgotten in Vietnam. Local authorities in provinces where massacres took place have erected memorial monuments and organize annual commemoration ceremonies.
In several instances, Vietnam has contested Korean narratives about the war. For example, in 2017, Hanoi opposed then-South Korean President Moon Jae-in's remarks that honored veterans who fought in Vietnam. In early October of this year, Vietnamese authorities requested Netflix Vietnam to block the Korean series "Little Women," citing falsification of history. The move came after Vietnamese netizens rebuked certain depictions in the TV series as blatant distortions of the Vietnam War and insulting glorifications of Korean involvement in the conflict.
However, these responses were reactive and reticent. Vietnam has never brought up alleged war crimes committed by Korean troops nor demanded South Korean reparations or apologies. Unlike accounts of American atrocities, South Korean atrocities are not mentioned in government-issued textbooks.
Vietnamese mainstream news outlets have not shied away from writing on commemorations of Korean massacres, yet they have not covered Thanh's lawsuit. The sensitive nature of the case might have resulted in censorship or self-censorship. In contrast, Tran To Nga's lawsuit is widely reported.
Second, as the most visible legacy of the Vietnam War, Agent Orange resulted in far more consequential and long-lasting impacts that demand active state intervention and attention.
American herbicides destroyed vast areas of Vietnamese forests and cropland (many of which remained unproductive to this day), disrupted the ecosystem, and polluted food sources. Vietnam claims that some 4.8 million Vietnamese might have been exposed to Agent Orange, 3 million of whom experience illnesses or disabilities. Moreover, the health effects of Agent Orange can be transferred to the descendants of those exposed to dioxin in the form of birth defects. There are currently up to four generations of victims, and it is unclear when this will stop. As both a large-scale ecological and humanitarian catastrophe, the Agent Orange legacy cannot be ignored and downplayed.
As such, dioxin decontamination and support for victims have long been among Vietnam's national priorities. In addition to its own efforts, Vietnam has mobilized medical, financial, technological, and capacity-building assistance from other countries and international organizations. Hanoi hopes to gain additional resources from Agent Orange producers to resolve the lingering impacts of dioxin.
On the other hand, public awareness and the human impacts of past Korean violence in Vietnam are relatively limited. Thus, the government can afford a more restrained approach: mourning war victims and protesting controversial narratives but stopping short of demanding redress. Such an approach allows Vietnam to maintain cordial ties with South Korea while keeping memories of the war alive in support of its nationalist project.
Vietnam has put a dark past behind it in order to deepen future-oriented cooperation with its former enemies. However, this tale of two wartime lawsuits shows that war victims refuse to let past atrocities go unaccounted for, and Hanoi's reconciliation processes with Washington and Seoul are fundamentally different. They share one thing in common: calls for justice will not cease until past wrongs are acknowledged, and accountability is established.