After Lula's Victory, India and Brazil Can Join Forces on the Global Stage
During his previous term, Lula focused on "South-South cooperation," aiming to increase the influence of emerging states like Brazil and India in global governance.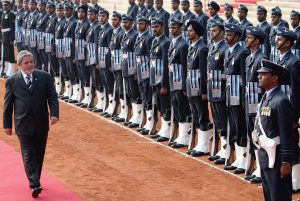 On October 30, Brazilians elected former President Luiz Inácio Lula da Silva (commonly known simply as Lula) to the Brazilian presidency once again. The unexpectedly tight race was decided by a margin of only 2.1 million votes, Lula taking 50.9 percent against incumbent President Jair Bolsonaro's 49.1.
Much attention will be given to Lula's domestic policy plans and implementation, which is understandable considering Brazil's many internal challenges. Besides, on the global stage Brazil's role has diminished since Lula left office in 2010, with the once emerging great power suffering corruption scandals and political crises that coincided with its worst recession in decades. Bolsonaro further damaged Brazil's international standing through his anti-globalist rhetoric while pulling Brazil out of several international institutions, accelerating the destruction of the Amazon rainforest, and cozying up to former U.S. President Donald Trump and Russia's Vladimir Putin.
In short, today Brazil's role on the global stage might seem less impactful than during Lula's earlier presidency (2003-2010). Still, it merits close attention, especially from states located in the Global South and particularly from India. To understand why, one needs to look at Brazil's international role under the earlier Lula administration and the ambitions that the president-elect's foreign policy advisor, Celso Amorim, expressed recently.
During the 2000s, Lula and Amorim, who was Lula's minister of foreign affairs, shifted Brazil's foreign policy focus from so-called North-South to South-South relations, aiming to increase the influence of emerging states like Brazil and India in global governance. When taking office in 2003, Amorim stated Brazil's priorities: narrowing the gap between rich and poor states and "democratizing" the international system. He pursued these objectives through various means.
The first was to stimulate Latin American and, more specifically, South American integration. Lula's Brazil worked to strengthen the Common Market of the South (MERCOSUR) bloc made up of Brazil, Argentina, Paraguay, and Uruguay, and the administration was one of the main forces behind the establishment of the Union of South American Nations (UNASUR) in 2008.
But Brazil's South-South cooperation initiatives were not confined to Latin America. Relations with African states were increased, and, together with Russia, India, China, and South Africa, Brazil established BRICS, in which Amorim played an important role. The IBSA (India, Brazil, and South Africa) became another coalition of emerging powers that aimed to combat global poverty through the establishment of a cooperative development agenda.
Third, feeling strong and confident through its various new and growing partnerships, Brazil directly challenged the hierarchy of global governance and trade on various occasions, presenting itself as an awoken great power steering an independent course. In 2003, Amorim led a group of 20 developing states (not to be confused with the G-20 group of largest economies) that included India to block a deal at the WTO Doha Round meeting in Cancún, Mexico. The deal was pushed by the United States and European Union but perceived as detrimental to developing states' interests.
Merely a few months later, Brazil opposed and ultimately derailed the U.S.-dominated negotiations for a Free Trade Area of the Americas that was supposed to span the entire American continent. As reasons for its objections, the Lula administration cited the United States' unwillingness to make the concessions that Brazil demanded and believed were fair.
Furthermore, throughout Lula's time in office Brazil made repeated demands about U.N. reform, seeking to become a permanent member of the U.N. Security Council (UNSC). It shared this aspiration with Germany, Japan, and India, leading to the formation of the G-4. And finally, in 2010, the Lula administration attempted to mediate between the United States and Iran in the crisis over Iran's nuclear program (which was much to Washington's displeasure). In short, during the 2000s Brazil presented itself as a global player, demanding a seat at the table of global politics.
But times have changed. Where a good part of the 2000s was marked by geopolitical stability, rising commodity prices, low U.S. interest rates, and high foreign investment in Brazil and Latin America, today the Russian war against Ukraine is causing geopolitical tensions, global instability, inflation, rising interest rates, and food shortages. Meanwhile, much of the world, including Brazil, is still recovering from the COVID-19 pandemic. Lula's third term will expectedly be more turbulent than his first two as he faces a resistant if not hostile Brazilian Congress while his mandate is notably less strong following a narrow election win.
That said, Lula's presidency will likely revitalize South-South cooperation. Although not yet confirmed, Amorim, the main architect of Lula's earlier foreign policy, has been widely mentioned as a candidate for the post of foreign minister in Lula's new cabinet. And even if the position goes to another candidate, as Lula's main foreign policy adviser Amorim's views undoubtedly will find reflection in Brazil's international priorities.
And his views have not changed much. In a recent interview, Amorim re-emphasized the need for stronger ties with Africa and argued for renewed Latin American integration, an objective that seems pursuable now that the region is experiencing a "New Pink Tide" of like-minded leftist governments to which Lula's victory further adds (even if the challenges facing these leftist governments remain great). Amorim has also been vocal about his support for Argentina joining BRICS.
But so far there has been little mention in Lula's circles of India or even of Asia more broadly, with the notable exception of China, Brazil's largest trading partner. That is surprising because Brazil and India seem to make convenient bedfellows. First, much like India's External Affairs Minister Subrahmanyam Jaishankar, Amorim believes global governance needs to be made – precisely – "global," meaning less Western-centric. He continues to argue strongly for U.N.-reform and for emerging states like Brazil and India to steer their own course, independent of the United States and European Union.
Amorim has even proposed a more institutionalized G-20 that includes more developing states and fewer European states. This body might eventually come to replace the U.N. Security Council, which Amorim perceives as an ineffective instrument kept hostage by permanent-member veto power. This call for reform echoes Jaishankar's similar calls for reformed multilateralism and more "contemporary" global governance.
Relatedly, because both India and Brazil are well aware of the obstacles standing in the way of an extensive reshuffling of core international institutions, they both continue their calls for UNSC reform, particularly seeking their own permanent seats. As before, this is an obvious area in which they can cooperate, together with their G-4 companions Germany and Japan.
Third, much like India's current leadership has been unequivocally clear about its intent to steer an independent course in foreign affairs, Lula's Brazil seems set on rejecting a return to Cold War bipolarity that would force it to choose between the United States and China, NATO and Russia, or democracy and authoritarianism. This shared desire for non-alignment finds expression in both states' responses to the Russian invasion of Ukraine. While Brazil's incumbent Bolsonaro administration voted to condemn Russia's aggression against Ukraine in March, it abstained more recently in a UNSC vote on whether to condemn Russia's annexation of eastern Ukrainian provinces. Amorim, meanwhile, has refrained from taking a clear position, stating that Brazil under Lula will seek global cooperation instead of antagonism and that negotiations and not sanctions are the only way forward. And in May, Lula scandalized many in the West when he said that Ukrainian President Volodymyr Zelenskyy wants war and should negotiate. India, in turn, has consistently claimed to be "on the side of peace," while equally consistently rebutting Western accusations that it is sitting on the fence over the conflict.
Finally, both states wish to diversify their foreign relations. India, worried about its geopolitical rivalry with China, seeks a pragmatic balance between close relations with the United States and other regional actors – such as in the Quad – while also maintaining its long-held ties with Russia. Brazil has historically sought to mitigate U.S. influence in South America and is likely to continue to do so under the new Lula government. However, it is also aware of its economic vulnerability stemming from high dependence on commodity exports to China and its current undersupply of foreign investment.
During the campaign, Lula emphasized his desire to go out into the world to encourage overseas investment in Brazil. India might be a good destination in this regard, while increased trade between both states, too, has serious potential, especially considering India's growing demand for agricultural imports and Brazil's strength in this sector. Today, Brazil's trade with India is only a fraction of its trade with China or the United States. Expansion of commercial ties between both states seems feasible, while it can also be conducive to Brasilia and New Delhi's autonomy in matters of global governance and geopolitics.
This month, the G-20 leaders will meet in Bali, where the group's presidency will be handed over to India – which, in turn, will pass it on to Brazil in late 2023 (followed by South Africa in 2024). If Brazil and India wish to join forces on the global stage in pursuit of common objectives, it is hard to think of a better opportunity. Through the IBSA, BRICS, and their consecutive presidencies of the G-20, both states can combine strengths to push their reform agenda and form a bloc that distinguishes itself from the West, from China, and from Russia.
Brazil-India relations have never been particularly intense, but under Lula's third presidency this might very well change; that is, if Brasilia and New Delhi seize the opportunity presented to them.