Bangladesh's 'War on Drugs' Shoots Up Narcotic Supplies From India
Myanmar-made yaba, heroin and brown sugar, and India-produced phensedyl are flowing into Bangladesh via India's northeast.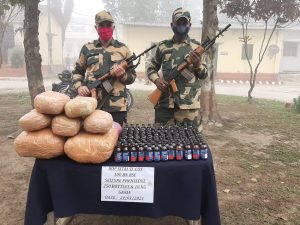 A wide range of narcotics are among the contraband items regularly confiscated in some areas of India bordering Bangladesh. An interplay of many factors has ensured the continuous flow of these commodities from far-off destinations.
Drugs that are frequently seized by the Indian Border Security Force (BSF) are yaba, phensedyl, ganja (cannabis) and opium. Occasionally, heroin and brown sugar have also been confiscated by the border police in lesser quantities than the other items.
Yaba, heroin and brown sugar, which are manufactured in Myanmar, flow into India's northeast through the two states of Mizoram and Manipur and are then smuggled out to Bangladesh through several exit points along the border. The same routes are also utilized by drug cartels to transport heroin and brown sugar.
Phensedyl is a cough syrup manufactured at several locations in different states of India. Large quantities are transported to meet the demand not only in Bangladesh but across India's northeast. Trucks carrying large consignments have been seized on many occasions in the frontier region at places far away from the border.
Opium and cannabis are grown in many places across the country's northeast and north Bengal. Different government agencies have intermittently been engaged in burning crops at remote locations. The demand for these two commodities, and especially cannabis, is more in the local market than in Bangladesh, according to some government officials in the border districts.
Data provided by India's Border Security Force (BSF) on these commodities reveal that there was a sharp escalation of seizures between 2018 and 2020 along the Guwahati Frontier Zone of the border but it came down last year. Government officials believe that of all the drugs that flow from India into Bangladesh yaba and phensedyl have a larger market in Bangladesh.
The trends of seizures for the current year are not yet known although the BSF has been dispatching press releases after drug consignments are seized. A BSF officer attributed the declining trend in 2021 to increased surveillance along the border. However, some Assam government officials in the border districts of Dhubri and South Salmara-Mankachar said that the drug cartels have identified "safer routes" for trafficking along certain stretches, which are porous and devoid of intensive patrolling by the border force.
Besides Assam and north Bengal, Tripura is another state in the northeast that has supposedly emerged as a corridor between Myanmar and Bangladesh. Last month, Tripura Chief Minister Manik Saha told the media that he has requested that the central government enhance surveillance along the state's border with Bangladesh to check drug smuggling. Incidentally, Home Minister Amit Shah too broached the issue at a meeting of the North Eastern Council in Shillong last year.
Most officials attribute the increased and continuous flow of drugs from India to Bangladesh to the Bangladesh government's war on drugs, which is similar to the operations launched in the Philippines several years ago.
Within a year of its launch, Bangladesh's war on drugs resulted in nearly 300 people killed being and around 25,000 arrested, in addition to the surrender of several prominent drug barons. The Awami League government has also passed a law stipulating the death penalty for those involved in drug trafficking.
Bangladesh's "war on drugs" has sparked allegations of extrajudicial killings against the government.  Amnesty International claimed that there were 466 suspected extrajudicial executions in 2018, a three-fold increase over 2017.
While the killings have continued to fuel controversies in Bangladesh, it is quite certain that the drug barons have established secure routes and means of trafficking given the enormous demand in the country. Bangladesh has an estimated 8 million drug addicts, according to its Home Minister Asaduzzaman Khan Kamal.
The craze for yaba or the "crazy medicine," which comes in a wide array of bright colors can be gauged from the fact that the country consumes 2 million of these brightly colored tablets every day.
According to a report compiled by Indian security agencies, the closure of the arteries that crisscross the Myanmar-Bangladesh border through which drugs were being transported and the crackdown on the drugs trade in Bangladesh has resulted in the enhanced flow of drugs through India's northeast. The report also said that yaba and other drugs such as brown sugar are being retailed in the northeast besides being transshipped to other regions of India in increasing quantities.
The India-Bangladesh border is 4,096 kilometers long and passes through a mix of plains, agricultural fields, hills and rivers. Fencing the border, which the Indian government began years ago to check cross-border criminal activities, is yet to be completed. It is a difficult border to police, which explains the BSF's decision to make use of drones and smart fences for better surveillance.