Jacinda Ardern's Asia Trip Rekindles New Zealand's Independent Foreign Policy
New Zealand's independent foreign policy is back. That's a key underlying message from Jacinda Ardern's trip this week to Southeast Asia.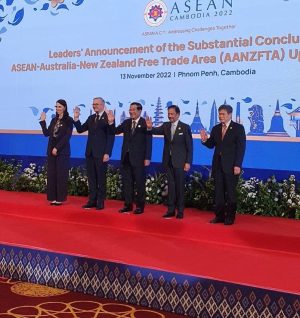 New Zealand Prime Minister Jacinda Ardern attended the East Asia Summit in Cambodia over the weekend. She will head to Thailand for the APEC leaders' meeting later this week. In between, Ardern is also making a surprise four-day bilateral visit to Vietnam.
As has become customary for much of Ardern's foreign travel, the Vietnam portion of this week's trip is being branded as a "trade mission," a strategy deployed in part to deflect potential domestic criticism of the prime minister for spending too much time on the diplomatic circuit abroad. Ardern all but admitted in interviews prior to embarking on her Asia trip that her no-show at the COP27 summit in Egypt's Sharm el-Sheikh was driven by an unwillingness to spend too much time outside New Zealand.
While it is certainly true that there is a strong trade foundation to New Zealand's ties with Vietnam – the country is New Zealand's 14th biggest export market – there is probably a little more to it than that.
So far in 2022, most of Ardern's international travel has been focused on countries in the Western-led camp that has been vocal in condemning Russia for its war on Ukraine.
In April, Ardern's first travel outside New Zealand since early 2020 was pointedly to Singapore and Japan – two of the few Asian countries that had sanctioned Russia. Trips to the United Kingdom, United States (to meet Joe Biden at the White House), Spain (as an invited guest at the NATO summit), Belgium (to sign a free trade deal with the EU), and Australia then followed.
But by mid-year, there seemed to be a realization inside Ardern's Labor Government that New Zealand had tacked too far toward the West in the first six months of 2022.
New Zealand's increasingly pro-Western foreign policy had begun to irk China. The warning signs from Beijing led Ardern to recalibrate in speeches in July and August, in which she emphasized New Zealand's traditional independent foreign policy and sought to put a little more daylight between Wellington and Washington. However, these recalibration speeches were themselves delivered to Western audiences in London, Sydney, and Auckland.
Until now, the shift had not really been reflected in the prime minister's travel schedule, which in recent months focused on the Pacific and also included a trip to London (for Queen Elizabeth II's funeral) and New York (for the United Nations General Assembly).
The return of in-person gatherings for both the East Asia Summit (EAS) and APEC formats is particularly welcome news for New Zealand, which as a small country receives fewer such multilateral opportunities.
Moreover, amidst heightened geopolitical polarization, the broadly inclusive nature of both the EAS and APEC – which bring together Russia, China, the United States and many smaller members from around the Pacific Rim – is now almost priceless.
And when viewed through a trade lens alone, APEC will give New Zealand's prime minister a particularly invaluable opportunity to develop connections with leaders who otherwise might not receive the attention from Wellington that they deserve.
This is particularly true for Latin America, which is represented at APEC by Chile, Mexico, and Peru.
Of the three, Mexico currently holds the greatest significance for New Zealand: trade in both directions is surging. The country now sits comfortably inside New Zealand's top 30 export markets, in 26th place.
Ardern has yet to visit Latin America since becoming prime minister in 2017, although she did hold a sideline meeting with Chilean President Gabriel Boric at the U.N. General Assembly in September. In June, Ardern also dispatched her education minister, Chris Hipkins, to Chile and Brazil to promote New Zealand's international education sector which had suffered greatly from border restrictions during the pandemic.
Ardern's international popularity – which has only increased during the COVID-19 era – means that she can easily secure sideline meetings with leaders at bigger gatherings.
Furthermore, the summits in Cambodia and Thailand – and especially the side trip to Vietnam – provide the prime minister with her best opportunity yet to learn about the foreign policy stances being taken by non-Western countries. Vietnam is a case in point.
Hanoi has long maintained friendly ties with Moscow, a friendship built on Russia's support and solidarity for the like-minded, communist Vietnam during the Cold War. In 2022, this strong relationship has seen Hanoi refrain from criticizing Moscow's war on Ukraine (at least in public) and led Vietnam to abstain on key votes in March and October, which condemned Russia in the U.N. General Assembly.
Moreover, Vietnam's Nguyen Phu Trong – the country's communist leader – recently chose to visit China for his first foreign trip since 2019. Trong's visit to Beijing was the first by a foreign leader since Xi Jinping received a third term during October's 20th Party Congress. The symbolism and warmth of the trip showed that Vietnam will not be easily swayed by U.S. pressure to throw in its lot with the West, despite the existence of genuine tensions between Hanoi and Beijing over the South China Sea. As if to avoid any doubt, Trong called Vietnam's relationship with China his "top priority" while in Beijing.
The bonhomie in Beijing represented a setback of sorts for Washington, which had offered a carrot to Hanoi by including it in the United States' new Indo-Pacific Economic Framework (IPEF) initiative earlier in the year. The IPEF is vague and uninspiring overall, but a focus on "supply chain resilience" is an indication that its main purpose is to be a vehicle that challenges China's economic dominance.
Still, the IPEF involvement – and Vietnam's coolness toward Xi's Belt and Road Initiative (BRI) and new Global Security Initiative (GSI) – shows that Hanoi is likely to continue to forge a foreign policy that walks a tightrope between both Washington and Beijing.
In Vietnam, this strategy is sometimes referred to as "bamboo diplomacy" – tough when required, but flexible when needed.
While in Vietnam this week, Jacinda Ardern may want to give some thought to Vietnam's approach. After all, there are some remarkable similarities between Vietnam's bamboo diplomacy and New Zealand's own "independent foreign policy" positioning that seeks to keep both China – its biggest trading partner by far – and traditional Western partners on side.
New Zealand's greatest foreign policy challenge is threading this geopolitical needle. The good news is that other countries in the Indo-Pacific – and further afield – are facing this challenge too. Ardern can learn from them.
This article was originally published by the Democracy Project, which aims to enhance New Zealand's democracy and public life by promoting critical thinking, analysis, debate, and engagement on politics and society.