Japan Should Support Timor-Leste's ASEAN Bid
As one Asian democracy to another.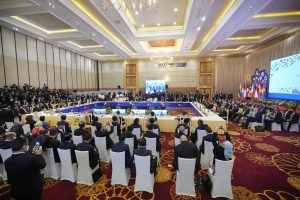 The ASEAN Summit held in Cambodia earlier this month agreed in principle to admit Timor-Leste to ASEAN. If Timor-Leste is successfully admitted, it will be the first new ASEAN member since Cambodia joined in 1999, nearly a quarter century ago.
Timor-Leste has a history of nearly 500 years of control by major European or regional powers such as Portugal and Indonesia, as well as a short interlude from 1942 to the end of the Second World War when it was occupied by Japan.
Timor-Leste expressed interest in ASEAN membership immediately after gaining independence in 2002. That year, ASEAN Chair Brunei invited the newly independent nation to attend the ASEAN Ministerial Meeting as a "guest." The joint communique for the ministerial meeting clearly stated that Timor-Leste will receive similar invitations to future ministerial meetings, and took note of Timor-Leste's intention to obtain observer status.
Subsequently, Timor-Leste joined the Treaty of Amity and Cooperation in Southeast Asia in 2007, and submitted a formal application for membership to the 2011 ASEAN Chair Indonesia. However, the decision to grant Timor-Leste observer status was not taken until the current ASEAN Summit.
Four points were agreed in Cambodia. First, Timor-Leste would be admitted as the 11th member of the ASEAN, in principle. Second, it would be granted observer status. Third, an objective criteria-based roadmap would be formalized based on the reports of the fact-finding missions dispatched by ASEAN to Timor-Leste, the roadmap would be presented to the next ASEAN Summit for adoption. Fourth and finally, all ASEAN member states and external partners would provide full support for the roadmap through the provision of capacity building assistance and any other necessary and relevant support.
If the roadmap for formal membership is adopted at the summit in Indonesia in the first half of 2023, Timor-Leste will be much closer to becoming ASEAN's eleventh member nation. However, President José Ramos-Horta, who won the general election in January 2022 and returned to the presidency in May, remains cautious, saying that formal membership for the nation will "not happen tomorrow" and could still take several years. Attending a forum in Jakarta in July, 2022, Ramos said, "It seems like the road to heaven—to reach the perfection of heaven—is easier than to reach the gates of ASEAN."
It has been eleven years since Timor-Leste applied for ASEAN membership. Since then, there have been several opportunities to welcome Timor-Leste as a member. In 2017, the then ASEAN Chair Philippines strongly supported membership for Timor-Leste to coincide with ASEAN's 50th anniversary, but Singapore lodged a strong objection, claiming that Timor-Leste was not adequately prepared. The principle of unanimity meant that membership was not granted (according to ASEAN sources).
Singapore's reluctance can be explained by ASEAN's history of repeatedly being exposed to crises when the original members have opened the doors to new members. For instance, some new member nations have acted as proxies for China at ASEAN meetings where disputes in the South China Sea were being discussed, or have taken advantage of the ASEAN principle of non-intervention in the domestic affairs of other nations to engage in human rights violations, military coups, or other repressive actions. As a result of ASEAN's frequent bouts of dysfunctionality, the international community has become skeptical of its role and indeed of the bloc itself.
Singapore has also cautioned that ASEAN could face new problems by accepting as a member Timor-Leste, a country with an economy and a population smaller than those of Laos, and one that is dependent on overseas aid. Specifically, Singapore worries about the country's ability to bear the costs of membership, its inadequate systems, and its closeness to China, among other issues. Singapore's concerns are reflected in the time that has passed since Timor-Leste's application for membership was submitted. Historically, it has taken about one year from application to new membership. In the case of Cambodia, it took about three years because formal membership was postponed due to political turmoil occurring immediately before admission. Timor-Leste has obtained observer status and agreement in principle to membership, but eleven years have already passed since its application.
Indo-Pacific strategy
The ASEAN Chair in 2023 is Indonesia, which strongly supported Timor-Leste's application in 2011, so expectations that Timor-Leste's bid for membership will be approved are growing. Although it is hard to say whether formal membership will be possible in 2023, the admission of Timor-Leste would be valuable positive reinforcement for the democratic camp in ASEAN, a grouping in which democracies and authoritarians are often at odds. According to the Economist Intelligence Unit, in 2021 Timor-Leste was rated as the second-most democratic country in Southeast Asia after Malaysia.
Timor-Leste will be required to adhere to the regional commitments that ASEAN has built over the 55 years since its founding. As a leading Asian democracy, Japan has a role to support efforts to formally admit Timor-Leste and help boost ASEAN's functions in a Free and Open Indo-Pacific. Support from Japan will do much to encourage both Timor-Leste and ASEAN.