Malaysia's Anwar Mulling Crucial Cabinet Appointments
Who the newly appointed prime minister chooses could determine the fate of his sprawling unity government.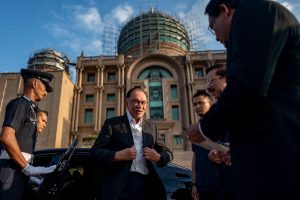 Barely a week after his landmark appointment as Malaysia's prime minister, Anwar Ibrahim has run headlong into his first serious challenge: assembling a cabinet.
Malaysia's king appointed Anwar to the top job on November 24, five days after an inconclusive general election in which none of the major coalitions garnered enough seats to form the government alone. He now sits at the head of a unity government that brings together four coalitions and 19 political parties, in addition to two independent MPs.
He faces the tricky of how to distribute the key posts in his administration, in a way that can ensure the stability of his administration while also upholding his own pledges of clean government and a break from the corruption of recent administrations.
Yesterday, Anwar said that he would unveil his cabinet "as soon as possible" but called for patience given the number of parties in his unity government. "I must hear all (their) views before deciding," he told reporters.
The challenge is all the greater given the high benchmark that Anwar has set for his administration. As part of a drive to reduce wasteful government expenditures, the 75-year-old leader has pledged to pare down the country's cabinet and is seeking the agreement of appointees to accept reduced salaries. Anwar himself has refused to draw a salary as prime minister and has announced that there is no room in his administration for patronage sinecures like "special envoys" or "advisers."
The reduced pool of ministerial positions, however, will make it harder to satisfy the various power centers in his coalition, running the risk that a disgruntled party could withdraw its support. How Anwar distributes his cabinet positions will be "a real test" of his leadership, Aira Nur Ariana Azhari, a senior manager of the democracy and governance unit at the Institute for Democracy and Economic Affairs, told Channel News Asia. "You want to appoint the best people to the best positions but at the same time… maintaining the support from all these different parties is extremely crucial," she said.
At the same time, Anwar has pledged that he will not simply award ministerial portfolios in exchange for political support. "I want them to support me based on my policies and my commitment towards good governance, my commitment to anti-corruption drive, and to resuscitate the economy," the prime minister said on Sunday.
The cabinet will presumably include representation from the four coalitions that form the bulk of the unity government: Anwar's Pakatan Harapan, the once-dominant Barisan Nasional (BN), Gabungan Parti Sarawak, and Gabungan Rakyat Sabah, the latter two of which are the dominant coalitions in the Bornean states of Sarawak and Sabah.
Perhaps the most challenging question is regarding whether to award senior cabinet positions to members of BN and its main constituent party, the United Malays National Organization (UMNO). While Anwar was once an UMNO member, he has spent most of his career opposing UMNO-dominated governments, and has paid the price, in the form of two long stints in prison on politically inflated charges.
Then there is Anwar's commitment to anti-corruption, a pledge that indirectly indicts a swathe of UMNO's senior leadership. Party President Ahmad Zahid Hamidi currently faces a number of corruption charges, while former UMNO Prime Minister Najib Razak is in prison for his role in the globe-spanning 1MDB corruption scandal.
There are already some reports emerging that the cabinet will exclude key senior members of UMNO. According to Free Malaysia Today, which cited a source with knowledge of the situation, the cabinet is unlikely to include former defense and foreign minister Hishammuddin Hussein and former prime minister Ismail Sabri Yaakob, both of the UMNO. Both men were widely reported to have opposed UMNO working with Anwar's Pakatan Harapan coalition, "so it will be a great surprise if they are appointed to the cabinet," the source told the publication.
A question mark also hangs over a number of MPs, including Zahid, who are currently in the midst of court proceedings. Responding to calls for parliamentarians with active legal proceedings to be excluded from the cabinet, Anwar has said that he will "take all views into consideration."
While Anwar's recent appointment capped off a remarkable political comeback that has been decades in the making, he does not have the luxury of a lengthy honeymoon. Faced with the challenge of holding together a diverse coalition in a deeply polarized political landscape, his first steps may well be the most crucial, and his choice of how to populate his cabinet could well determine whether he will be able to fulfill the high standards that he has promised the Malaysian people or go the way of Malaysia's last two short-lived administrations.