Malaysia's Political Parties Neglect Youth At Their Own Peril
For all the talk of the influx of first-time voters aged 18-20, the country's political parties have done little to appeal to them.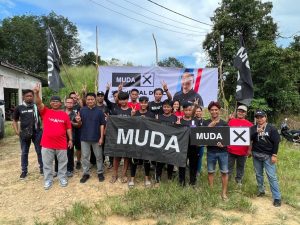 After months of speculation and years of political turmoil, Malaysia will hold early general elections on November 19.
Unlike the last election, Malaysia's 15th General Election (GE15) will see a vastly expanded electorate thanks to a 2019 constitutional amendment that lowered the voting age to 18 and instituted automatic voter registration. But for all the excitement about the "youth vote," political parties have done little to appeal to young voters.
To put the numbers into perspective, the electorate will grow by a staggering 41 percent since the last election in 2018 in large part because of newly registered youth. First-time voters aged 18 to 20 will account for nearly seven percent of Malaysia's roughly 21 million voters, while those aged 21 to 29 make up an additional 22 percent.
Malaysians who have come of age in recent years have little reason to be inspired by the country's politics. Youth who pushed the opposition Pakatan Harapan (PH) coalition to a historic victory over the Barisan Nasional coalition in 2018 watched with dismay as the reformist government was toppled after just 22 months in power and replaced by elements of the party they helped defeat at the polls.
Since then, the country has witnessed unprecedented political turbulence. Politicians, many of whom have been around for decades, gambled stability and legitimacy for political power while unemployment and economic hardship, especially for young Malaysians, skyrocketed under COVID-19.
Unsurprisingly, young Malaysians are distrustful of politicians. A recent study of voter turnout and preference among Malaysia's Gen Z (18-24) by Singapore's ISEAS-Yusof Ishak Institute found that 62 percent of respondents were "disgusted" with political parties. Sixty-four percent believed politicians would "say anything" or "lie" to the public to win an election. Similarly, the International Republican Institute's latest nationwide survey found that 57 percent of Malaysians aged 18-35 would like to see new parties in future elections, more than any other age group and a four-point increase since October 2021.
One might be mistaken in thinking that Malaysian youth are therefore politically detached. But well-organized youth-led protest campaigns in recent years around COVID-19 policies, economic relief, and civic rights attest to their engagement and mobilization. So does the establishment of the youth-led party MUDA (the Malaysian United Democratic Alliance), many of whose members are at the forefront of political activism.
Except for MUDA, Malaysia's established parties have been slow to recognize the youth's growing political power or adopt tailored outreach strategies to engage them in political and electoral processes.
To their credit, parties are fielding more youth candidates in GE15 as well as making encouraging pledges for youth economic empowerment. However, parties are fielding many of their youth candidates in challenging, if unwinnable, matchups, while PH, which is allied with MUDA, denied the young party a greater share of seats in negotiations. As for youth election promises, most ring hollow after years of inaction on young people's acute and especially vulnerable economic circumstances during COVID-19.
So, what can Malaysia's parties do to appeal to the youth? For starters, parties should more accurately reflect the population they serve. That means making room for more young members on party executive bodies and allowing members under 40 to join the general membership earlier where they can participate in party-wide voting, elections, and decision-making. Not only will this lead to greater youth representation within parties, but it will also send a powerful message to youth about their value.
Similarly, parties can attract young voters by offering more of them as candidates in both federal and state seats. Parties have no shortage of talented and motivated youth members, but patronage and leaders unwilling to step down have atrophied generational renewal and fossilized leadership in many parties.
Third, messages matter. The election narrative among the three primary coalitions is more focused on the politicians themselves – their dishonesty or untrustworthiness – than how they will improve citizens' daily lives. Youth, who are especially frustrated with ethnic identity politics and less attached to a candidate's political affiliation, are more interested in what politicians will do to address the issues that disproportionately impact them, like housing, the cost of living, and inflation.
Finally, research suggests that the lack of civic education contributes to youth apathy. Despite the constitutional amendment, most Malaysians still receive little to no such education in school. Politicians should ensure young Malaysians are ready to participate in democratic processes by pushing for more robust political literacy education along with loosening restrictions on political activism on university campuses. In addition to strengthening trust in the process, it will improve youth voter turnout.
GE15 is shaping up to be the most competitive election in modern Malaysian history. First-time youth votes are likely to decide the outcome. The question for Malaysia's political parties is whether young voters like what they see.