Old Wine in New Bottles: Political Parties and the Upcoming Election in Thailand
New electoral rules have incentivized politicians to create a raft of new parties as a way of joining the governing coalition.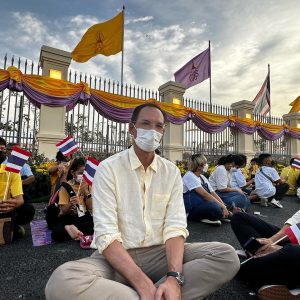 Thailand's Election Commission has tentatively scheduled May 7, 2023, as the date for the country's next general election, if the prime minister does not dissolve the House of Representatives and calls an earlier election. In preparation for the next election, major political parties, including members of the ruling coalition and leading opposition parties, are beginning to hold campaign rallies across the country.
Aside from these parties, a range of new political parties has been established, among them the Sang Anakot Thai Party (Building Thailand's Future), Ruam Thai Sang Chart (Uniting Thais to Build the Nation), Thai Pakdee (Loyal Thai), Chart Pattana Kla, the Thai Sang Thai (Thais Build Thais), and O-Kard Thai (Opportunity Thai) parties.
However, these new parties do not offer voters any new options; they have not introduced any new policies and seem to exist either to support the line of Prime Minister Prayut Chan-o-cha and his military-backed government or oppose it. These new parties were not set up to make any changes in Thai politics; rather their leaders are hoping to expand their chances of becoming part of the country's next ruling coalition.
Far from advancing any clear ideologies that might attract new party members, politicians in Thailand join parties to pursue narrow self-interests, including obtaining cabinet positions.  Failing to secure such interests, many politicians simply choose to abandon their original party for another. Frequent party switching in the past has contributed to the country having a weak party system. But under a new electoral system introduced this year, which is based on a two-ballot mix-system, many prominent politicians have seen greater benefits in establishing a new political party rather than switching to an existing party. As small parties need only garner approximately 71,000 votes per seat as the basis for allocating party-list seats, they can win party-list seats relatively easily. These small parties are therefore likely to have outsized negotiation power in a fractured parliament, allowing them more negotiation power by pledging support to the ruling party, thereby perhaps even garnering them cabinet seats.
Although these parties are new, their leaders and foremost representatives are not. Most were the members of other core parties, including the Democrats, the opposition Pheu Thai party, and the ruling Phalang Pracharat Party. Somkid Jatusripitak, for example, who was recently named as the chairman of the new Sang Anakhot Thai Party, was a deputy prime minister in Prayut's administration. The newly elected leader of the Chart Pattana Kla Party, Korn Chatikavanij, was the finance minister under the Democrats from 2008 to 2011.
Disappointed by their former parties, these politicians have sought new fortunes elsewhere, hoping their new parties might join in a coalition government. By forming new political parties, party founders have not yet presented any different policies on questions such as foreign policy, technological innovation, or environmental management. Most of their policy platforms overlap with the current government's policy agenda, especially in the economic realm. More importantly, they have not introduced any new political candidates who can play a vital role in attracting new supporters, particularly from the young generation.
In addition, most of these new political parties will have little chance to win a large number of district seats, particularly in the provinces, due to their lack of vote canvassing teams and weak political bases throughout the countryside. At the provincial level, constituencies are frequently controlled by influential local political families. Without support from these political clans, the new parties will be unlikely to achieve electoral victory.
Thus, to gain some seats in the upcoming election, new parties hope to compete for seats in the list system. However, to capture enough seats to nominate prime ministerial candidates, these small parties will face some difficulties due to the country's rigorous constitutional requirements. According to the 2017 Constitution, the prime minister can be nominated by parties that win at least 25 MPs. To reach this threshold, small parties may consider merging with other parties, maximizing their chance to enter Parliament and gain cabinet seats.
As seen in the case of the merger between Chart Pattana and Kla Parties in September, more than 60 former Kla members joined the new party to survive the new electoral system, and, potentially to ensure that Kla's leader, Korn Chatikavanij, can be nominated for the post of prime minister. Aside from this merger, there are widespread rumors about the merger between Sang Anakot Thai Party, led by Somkid Jatusripitak, and Thai Sang Thai, led by Sudarat Keyuraphan. Even the Thai Economic Party, the protégé of Palang Pracharath, is now rumored to be joining the opposition Pheu Thai Party, after Thammanat Prompao resigned as the party leader last month.
In summary, Thailand's new electoral system has motivated politicians to set up a flock of new political parties in a bid to join the next ruling coalition. After the next election, Thailand may therefore see the same parliamentary model as in Indonesia's current ruling coalition, where major and small parties joined together to form the government despite competing against one another in the 2019 presidential election. This pattern of Indonesian parliamentary politics in which the opposition is very weak, and the government can rule without sufficient checks on its power, will possibly be replicated in Thai politics as parties seek to maneuver themselves into better positions within the governing coalition rather than playing their role as opposition parties.