Russia Ties Will Not Impede India's Growing US Partnership
The U.S. not only needs India in the Indo-Pacific, but would also like India to play a larger role in South, Central, and Southeast Asia.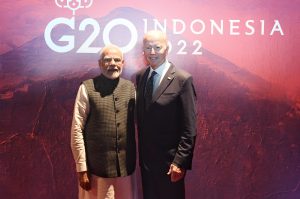 India's external affairs minister, Dr. S. Jaishankar, visited Moscow a week before joining Prime Minister Narendra Modi at the G-20 summit in Bali. India is hoping to use quiet diplomacy, based on its deep Cold War era relationship with the Soviet Union, to convince President Vladimir Putin to accept the U.N.-brokered grain deal pending an end to hostilities in Ukraine.
India benefits economically from its ties to Moscow and its military purchases from Russia are a legacy of the United States' Cold War alliance with its South Asian adversary, Pakistan. India's refusal to stop buying Russian oil and military equipment, and its abstention on U.N. votes condemning Russia, have upset many Americans. But India remains at the heart of the U.S. approach to its peer competition with China.
The United States may not like India's ties with Russia, but it seems willing to accept them as the necessary price for keeping India onboard in dealing with a rising China. The Biden administration's recently released National Security Strategy emphasizes India's centrality in America's Indo-Pacific strategy.
In September, over a period of 10 days, in two cities – New York and Washington – Jaishankar held several bilateral, trilateral, and multilateral meetings. Six months after his last visit to Washington, the Indian foreign minister met with key U.S. interlocutors at the National Security Council, and the departments of State, Defense, Commerce, and Homeland Security.
The same month, the U.S. Senate called for a stronger defense partnership between India and the United States, reflecting the strong strategic commitment of both nations to this partnership. The United States not only needs India in the Indo-Pacific, but it would also like India to play a larger role in South, Central, and Southeast Asia. India's ties with Russia might not even rise to the level of an irritant in its evolving partnership with the United States.
The Senate amendment to the National Defense Authorization Act (NDAA) 2023 introduced by Senators Mark Warner, Jack Reed, and Jim Inhofe echoed a similar House resolution proposed by Congressman Ro Khanna. It noted that India faced military aggression from China and that the United States should support India's defense needs and also help India "accelerate its transition away from weapons and defense systems manufactured in the Russian Federation."
During the U.N. General Assembly session in New York, Indian diplomats made clear India's historical preference for a multipolar world order and reiterated India's desire for strategic autonomy – the concept that India will make decisions independently and does not wish to toe another country's line or become a "camp follower."
This approach has helped India build strong ties with other post-colonial and developing countries – something that can be useful to the United States as it prepares to deal with a cash-flush and ascendant China seeking to outspend America in winning friends and influence around the globe.
India and the United States have overcome the distance and suspicions that arose out of India's refusal to align itself with the U.S. soon after its independence in 1947. The world's oldest and largest democracies have, over the last three decades, built a deep, multi-layered, and likely enduring partnership.
Public opinion in both countries also favors close relations. According to a 2022 Gallup poll, 77 percent of Americans have a favorable view of India. Last year, 79 percent of Indians had a favorable image of the United States. There are few countries in the world where public opinion is so strongly supportive of the United States.
India is a Major Defense Partner of the United States, and the two countries are more aligned today in the military realm than they have ever been in the past. India-U.S. defense collaboration includes information sharing, bilateral and multilateral military exercises, operational cooperation and coordination, and working together to support the regional security architecture.
The United States would like India to purchase more U.S. defense equipment and from purchasing almost no U.S. arms in 2008, India has purchased over $20 billion worth of military gear in the last decade. The Indian Navy is the second-largest operator of P-8I Poseidon maritime patrol aircraft globally and the Indian Air Force operates the second-largest C-17 fleet in the world after the United States.
The U.S. is slowly coming to understand India's preference for indigenous production. Under the U.S.-India Defense Technology and Trade Initiative launched a decade ago, the two countries are collaborating on a $22 million project to co-develop air-launched unmanned aerial vehicles (drones). There are ongoing discussions to add more items to the list, including counter-unmanned aerial systems.
Cooperation in trade and technology between India and the United States has also increased substantially. The United States is India's largest trading partner and bilateral trade in goods and services stands at around $160 billion. India-U.S. cooperation has grown in the fields of artificial intelligence, biotechnology, quantum technology, and semiconductors.
In 2021, Indian technology firms generated $103 billion in revenue, contributed $40 billion towards the U.S. GDP, and directly employed 207,000 people. But commercial exchanges still fell short of the promise of $500 billion in bilateral trade by 2020.
The United States is beginning to accept, albeit grudgingly, India's preference for multipolarity and its close relationship with Russia. It may also need to acknowledge that trade ties with India will always be prickly and will involve constant negotiations. But none of those factors can or should impede the evolving U.S. special relationship with India, based on shared concerns about China.