SIGAR Accuses Treasury, State, USAID of Withholding Data on Afghanistan Spending
Is there a difference between "reconstruction" spending and "humanitarian and development assistance"? The Biden administrations appears to think so.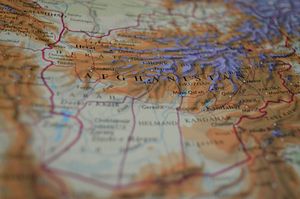 Since August 2021, the United States has provided more than $1.1 billion in assistance to Afghanistan, the Special Inspector for Afghanistan Reconstruction (SIGAR) found in its recently released 57th quarterly report. How those funds were spent is less clear than in previous reports. SIGAR says that it can't quite provide its usual accounting of U.S. government spending because "USAID and the Treasury Department refused to cooperate with SIGAR in any capacity, while the State Department was selective in the information it provided pursuant to SIGAR's quarterly data requests."
Treasury, USAID, and State — in SIGAR's telling — seem to be hiding behind semantics to avoid providing information to SIGAR that the agencies have offered for 14 years, including on programs that have operated across the pre- and post-withdrawal period. SIGAR says that in response to data requests, "State and USAID challenged SIGAR's jurisdiction, claiming without basis that U.S. programming in Afghanistan is unrelated to reconstruction activities, and is instead 'humanitarian and development assistance.'"
A State Department spokesperson who talked to Government Executive last week after reports of SIGAR's letter referencing the agency's reluctance to share information surfaced said: "But some of these allegations are simply false…The State Department has provided SIGAR written responses to dozens of questions, as well as thousands of pages of responsive documents, analyses and spreadsheets describing dozens of programs that were part of the U.S. government's reconstruction effort in Afghanistan, despite the fact that the United States stopped providing assistance for the purpose of the reconstruction of Afghanistan following the Taliban takeover in August 2021."
A USAID spokesperson offered Government Executive a nearly identical statement.
In its report, SIGAR cites its own founding documents, legislation hammered out in Congress in 2008, which granted it jurisdiction over all reconstruction spending in Afghanistan, including development and humanitarian aid:
Per the National Defense Authorization Act for FY 2008, § 1229(i)(2), SIGAR's authorizing statute provides that SIGAR has jurisdiction to audit, investigate, and report on projects and programs using: "any . . . funding mechanism" that supports "any of the following purposes:

(A) To build or rebuild physical infrastructure of Afghanistan.

(B) To establish or reestablish a political or societal institution of Afghanistan. [and]

(C) To provide products or services to the people of Afghanistan."
SIGAR"s previous 56 quarterly reports, as the body noted in its 57th, covered "humanitarian and development assistance" programs within the wider umbrella of reconstruction activities. 
In his introduction to the report, SIGAR John F. Sopko writes that his organization had notified Congress. Government Executive reported that two House Republicans — Reps. James Comer (R-KY) and Glenn Grothman (R-WI) — sent a letter to Sopko that accused the Biden administration of "obstructing [SIGAR's] work by failing to produce required information." The letter requests a briefing on "your continuing oversight efforts and any obstacles put in place by the Biden Administration."
While SIGAR's mission is apolitical, the withdrawal from Afghanistan — and blame for the war and the withdrawal's many foibles — has become steeped in partisanship, even as it seems that most Americans have mentally moved on. The Republicans' letter to Sopko, for example, refers to the withdrawal specifically as "President Biden's disastrous withdrawal from Afghanistan" — without acknowledgement of President Donald Trump's role in setting out the withdrawal trajectory and terms in the first place. 
It's clear from the statements provided by State and USAID spokespeople to Government Executive last week that the administration views its degree of cooperation with SIGAR as sufficient, with both statements alluding to the semantic difference between "reconstruction" and whatever U.S. agencies are paying for in Afghanistan now. But SIGAR doesn't see the distinction, its main concern remaining accountability for what U.S. taxpayer funds are spent on with regard to Afghanistan.
Sopko closed his introduction to the latest quarterly report with a familiar mantra: "With the support of Congress and the Administration, my colleagues and I at SIGAR will endeavor to keep fighting the waste, fraud, and abuse of U.S. taxpayer funds in Afghanistan."