South Asia Is Missing out on the Clean Energy Transition
Countries in South Asia must be technologically empowered in their fight against climate change, but new investments have stagnated.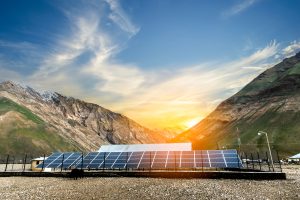 This year's "biblical flooding" in Pakistan and scorching heat waves in India are reminders of a harsh reality: Climate change is already inflicting insufferable miseries onto millions in South Asia. While the causes of changing weather patterns are rooted in aggregate global emissions, the intensity of devastation depends on highly localized factors. Although the vast majority of the total global CO2 emissions responsible for monsoon flooding originated half a world away, their devastating effects on lives, livelihoods, and public infrastructure are concentrated in South Asia.
The imperative of climate protection is thus the quintessential global public good that cannot be achieved by a single country or even the entire bloc of industrialized countries. Countries in South Asia – constituting about 25 percent of the world's population – must be technologically empowered in their fight against climate change,
Recent disasters have shown that all else being equal, communities with robust mitigation plans within jurisdictions that have mainstreamed climate adaptation to create climate-resilient built environments greatly minimize losses. While rich economies move rapidly into cleaner energy technologies, such as smarter grids and electric vehicles, to reduce emissions, South Asian countries are missing out almost entirely. They produce fewer new clean technology patents, are slower to adapt solutions when available, and thus continue treading low-efficiency energy pathways compared to advanced economies.
Out of $1.3 trillion invested in R&D to accelerate technological innovations in 2021, only about 11 percent are outside industrialized economies, including in South Asia. To scale-up global R&D investments into breakthrough technologies, however, let alone design new institutional approaches for an accelerated clean energy transition, research shows that the existing climate innovation policies in industrialized economies will be inadequate.
Tragically, South Asian countries, which are on the lower end of the technology spectrum, are also the ones facing the greatest climate risk. Three of the top 10 countries most affected by climate change are from South Asia: Afghanistan, Bangladesh, and Pakistan. Smaller countries in the region further risk being wiped off the map because of climate change; 80 percent of the island nation Maldives could be unlivable by 2050 due to rising sea levels.
Such countries lack the technological know-how to create homegrown solutions, local capital markets to enable scale-ups, and strong governance institutions to sustain robust markets required for innovations. Bringing new technologies to South Asia – both for demonstration and scale-up of tested solutions – promises to offer better returns on investment in terms of emissions reduction.
At this month's COP27 meeting, groups of rich and poor countries will debate long-standing topics like damage and loss, reparations via debt relief, and financing a net zero emissions future. Arguably, in the wake of the Russia-Ukraine war and a slowing global economy, the odds of achieving a global grand bargain on contentious issues are fairly low. The balance sheets of G-7 countries simply may not have the capacity to match the scale of the multi-billion-dollar commitments needed in South Asia.
But taking bold steps to integrate South Asian economies into their clean technology innovation ecosystems could achieve the same intended impacts. With unprecedented momentum behind new clean technologies, this is the right time to do it. Global energy investments since 2020 have increased 12 percent per year, compared to just 2 percent following the 2015 Paris climate deal. The biggest increases are in next generation technologies such as solar PV, energy storage, and electric vehicles.
However, investments in South Asia, like in other Global South markets, remain stagnant at 2015 levels. In partnership with multilateral development institutions and private capital markets, G-7 governments can offset their woeful inability to make adequate financial commitments by promising the deployment of new clean technologies in key South Asian markets.
With yearlong sunshine, winds, and river flows, South Asia boasts tremendous potential for renewable energy. But with a handful of notable exceptions, they are mostly on the lowest end of the technology frontier. Studies have shown that low-tech environments can accrue benefits from their "backwardness." Because most technologies that "followers" will adopt are well-established, or at least road tested, transitions are arguably less risky. With lower operational costs of infrastructure deployments and staff training, South Asia offers a greater return on investment. When India's Tata Power signed a 30 GW offshore wind power generation deal with Germany's energy giant RWE, they directly benefited from the transfer of mature technologies and processes fully tried and tested in Europe, thus bolstering the likelihood of success.
Given that countries in South Asia suffer from rusted central grids, huge line losses, and highly carbon-emitting transport systems, seed funding for deploying new clean technologies like solar panels, electric vehicles, and off-shore wind power plants will likely produce greater emission reductions in South Asia as compared to industrialized nations on the top rungs of the technology frontier ladder. Western companies seeking sites for low-cost, high-return demonstration projects at home may find more captivating audiences in South Asia, featuring a plethora of technology entrepreneurs and supporting policies from public institutions keen to jump on the clean energy bandwagon.